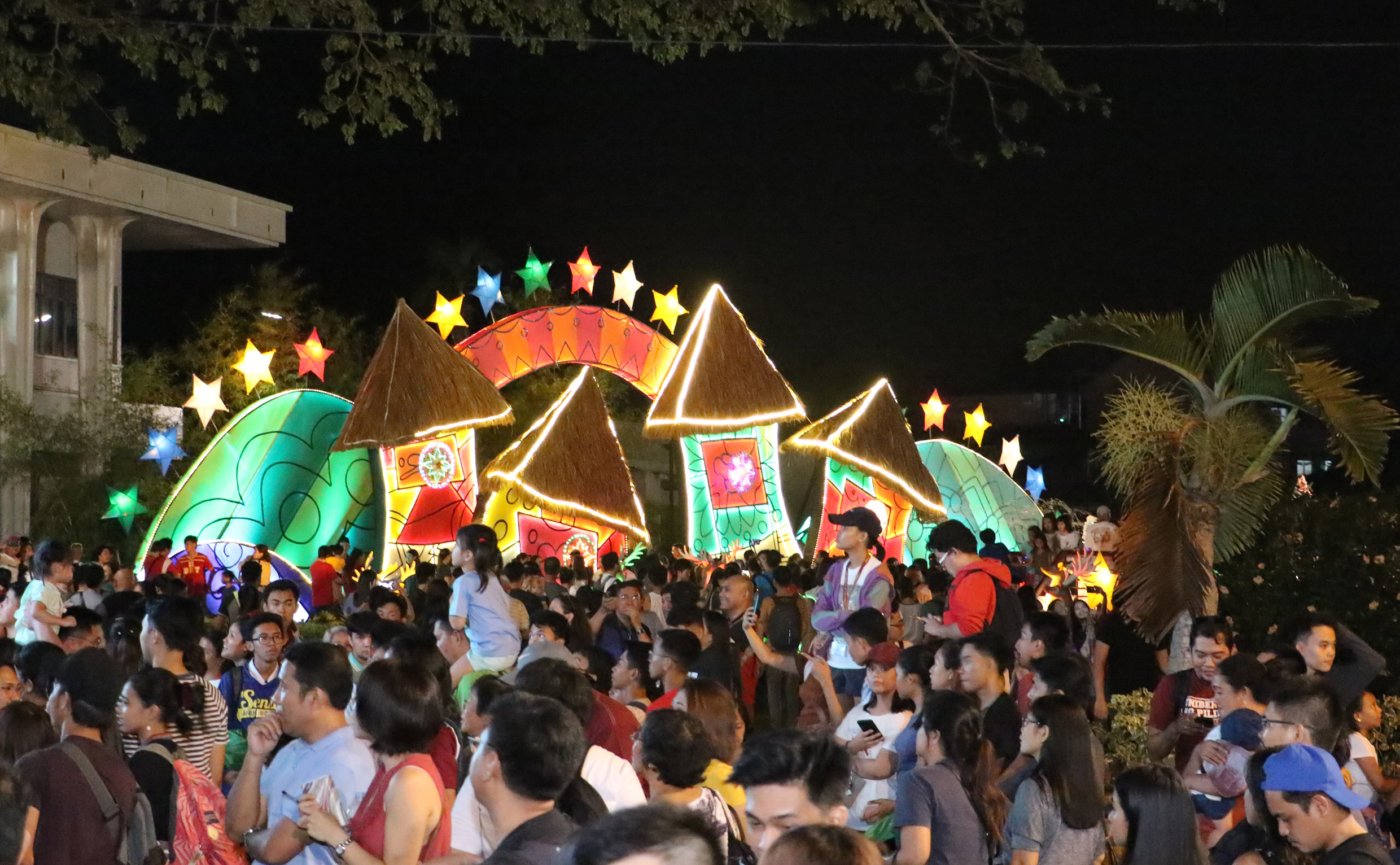 'Paskuhan sa Barrio' is UPLB's Christmas 2019 concept
UPLB's Christmas decorations this year call back to a simpler, rural ambience of the celebration.
This was revealed when the Christmas decorations were formally opened to the public at the lighting ceremony on Nov. 19.
This was a deliberate decision of the UPLB Landscape Management Committee, which chose to work around the theme "Paskuhan sa Barrio" with the Office of the Vice Chancellor for Planning and Development and the University Planning and Maintenance Office.
Ryan Tayobong, a committee member and an assistant professor at the Institute of Crop Science, said that they selected natural colors and used materials usually seen in barrios to achieve the decoration's overall effect.
To begin with, UPLB's 80-feet tall Christmas tree is dressed in generally muted, natural colors interspersed with spots of red, green, yellow, and silver from ornaments made of woven native abaca twine.
At night, this simple display lights up in warm gold with twinkles of multi-colored fairy lights and topped with an 8-pointed star.
At the bottom of the tree stands the #UPLB sign inspired by handcrafted holiday decors from the country's Christmas capital, Pampanga.
To the right is the ruralized Christmas Village formed of swaying bahay kubos and bamboo poles decorated with traditional lanterns or parol. Tayobong said that this installation symbolizes the Filipino's resilience and flexibility amidst many challenges.
It is also interspersed with blue and green colors and decorated with water fountains to allude to the Philippines's rich natural resources, a subtle nod to their team's agricultural roots.
They have also revamped the traditional Santa Claus and reindeers display with colored lights and lush plants at the Village's foreground.
At the center of the festivities is the traditional belen, with lighted life-size carved wooden figures forming the Nativity scene. This year, the belen sports a cabana-style roof commonly found among beach cottages to evoke a relaxed and peaceful atmosphere in the countryside.
At the lighting ceremony, UPLB students, staff, and officials and constituents of neighboring communities flocked to Carabao Park to take part in the annual tradition and witness the first night of the lighted decors, where they were treated to performances.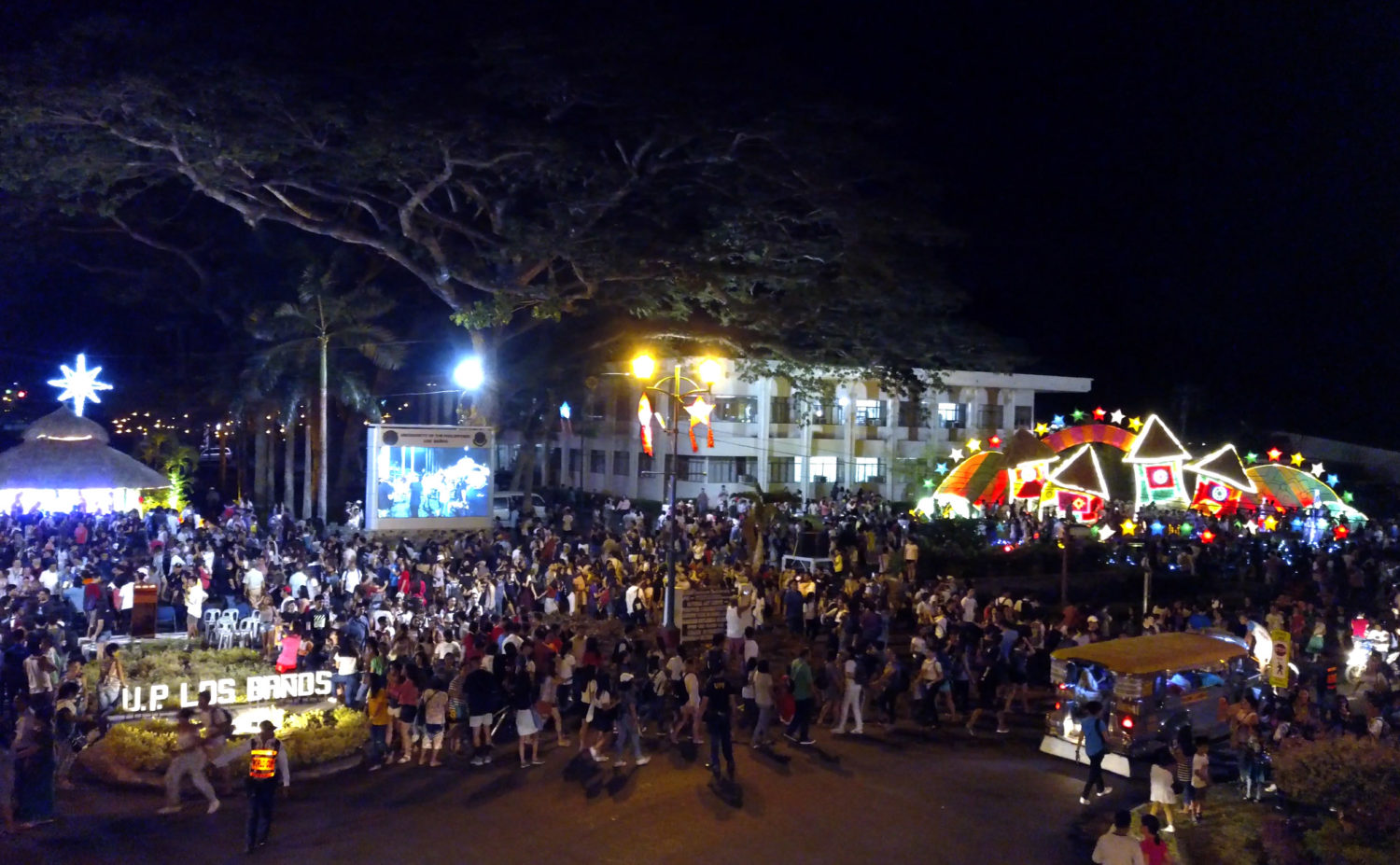 International champion UPLB Choral Ensemble performed a serenade with the Christmas carols Kasadya Ning Taknaa (the Cebuano and original version of Ang Pasko ay Sumapit), Jingle Bells Calypso, and Hallelujah Chorus, while Dr. Antonio Jesus Quilloy of the College of Economics and Management played Chestnuts Roasting on an Open Fire on the saxophone.
Near the end of the program, the UPLB Street Jazz Dance Company and the UPLB Filipiniana Dance Troupe hyped up the waiting crowd with their respective modern and traditional dance routines.
In a short speech given before lighting the decorations, Chancellor Fernando C. Sanchez, Jr. addressed the UPLB community.
"As we light our Christmas tree, let us be reminded of the light of hope in each and every one of our hearts. Let it never waver in the face of adversity, and instead burn brighter as we remember that we are never truly alone," Chancellor Sanchez said. (Jessa Jael S. Arana)