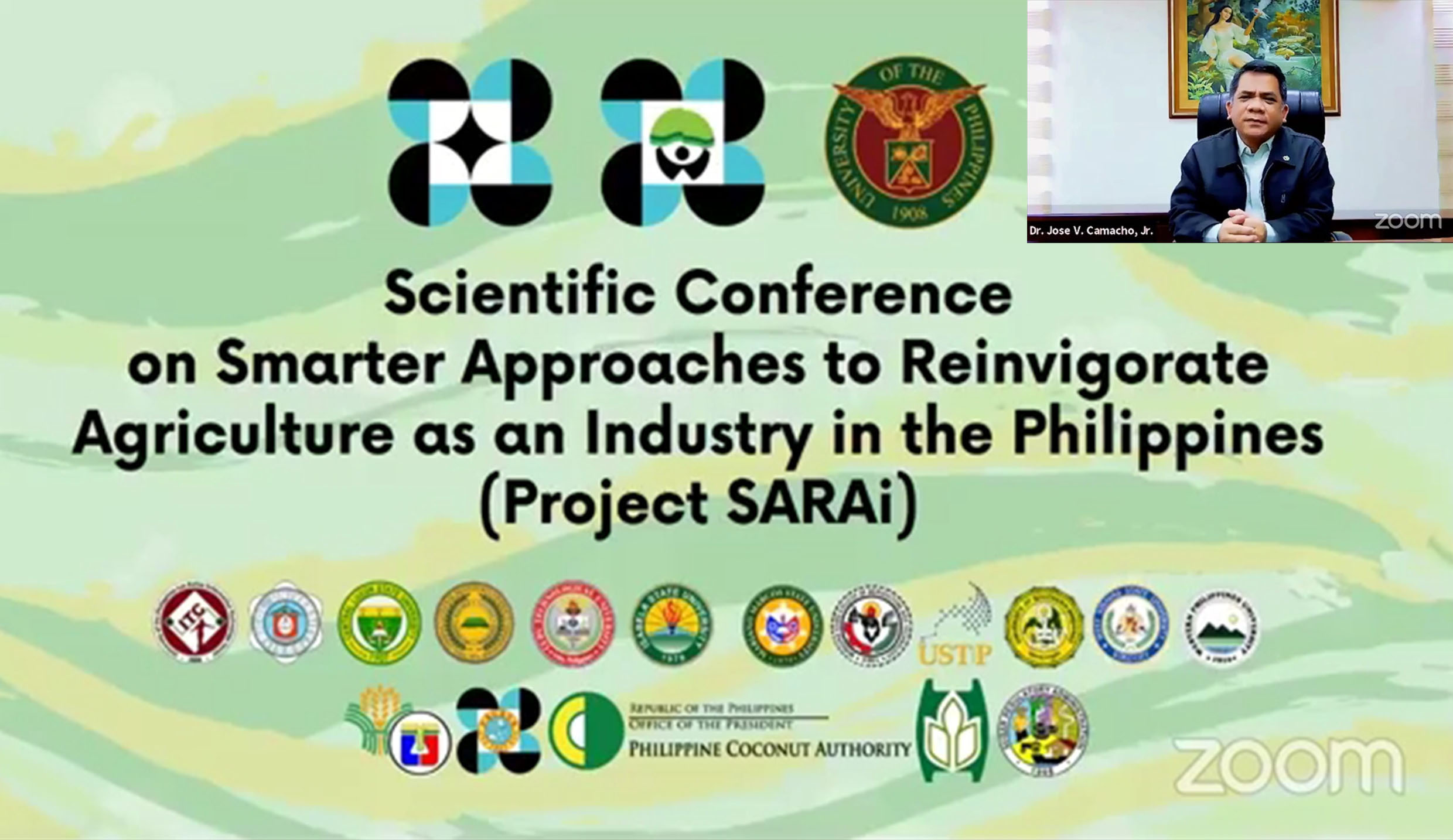 Project SARAi shares the science behind its technologies
The list of people occupying top-level management positions who participated in the scientific conference's opening and closing programs and 500 participants from state colleges and universities and government line agencies all over the country say it all: Project SARAi is relevant!
This was one takeaway from the Project SARAi Virtual Research Conference (vircon) held via Zoom and streamed on Facebook on Nov. 19-20. SARAi stands for Smarter Approaches to Reinvigorate Agriculture as an Industry in the Philippines.
Project SARAi provides technologies and decision support systems for 9 crops, enjoys collaborative partnerships with 11 co-implementing state universities and colleges (SUCs) plus UPLB and UP Diliman, 6 national government agencies; is being implemented by 167 researchers all over the country; and has just shared the science behind its technologies through 38 papers, 10 on agronomic studies, 20 on crop-environment interaction; and 8 on knowledge management and capacity building.
A second takeaway, this borrowed from Science and Technology Usec. Rowena Cristina L. Guevara's message at the opening program is that R&D is making change happen!
Indeed Project SARAi in its 7-year existence is changing the way things are done in agricultural production aims through the following technologies: SARAi-Enhanced Agriculture Monitoring System, SARAi Water-Balance Irrigation Decision Support System, Smarter Pest and Disease Identification Technology, SARAi Automatic Weather Monitoring System, and SARAi Knowledge Portal.
Thus, the conference was a show of force from science and technology leaders who took turns in commending, expressing support for, and challenging Project SARAi
The opening program was participated in by UPLB Chancellor Jose V. Camacho, Jr.; Science and Technology Secretary Fortunato De La Peña; Undersecretary Guevara of the Department of Science and Technology (DOST); and Executive Director Reynaldo Ebora of DOST-Philippine Council for Agriculture, Aquatic and Natural Resources Research and Development (PCAARRD).
On the second day, Agriculture Secretary William Dar also gave a message to the participants; as well as Dennis Layug, DA technical advisor on information technology, farm digitization, and marketing.
The closing program was graced by former UPLB chancellor, Dr. Fernando C. Sanchez, Jr., and Dr. Decibel Eslava, dean of the School of Environmental Science and Management (SESAM).
Dr. Ma. Victoria Espaldon, Project SARAi program leader gave the synthesis for the two-day conference.
Dr. Rhodora Aldemita, editor in chief and circulation manager of the Philippine Journal of Crop Science, Dr. Rico Ancog, managing editor of the Journal of Environmental Science and Management, and Dr. Rommel Sulabo, editor in chief of the Philippine Agricultural Scientist also attended the event. They urged the researchers to share their research results to the world by publishing them.
Messages from key supporters
Chancellor Camacho enumerated the accomplishments of the Project that "make it truly a flagship and remarkable endeavor that will surely influence the course of Philippine agriculture."
Of all the accomplishments, however, he highlighted the collaborative relationship that Project SARAi has developed with government agencies and Philippine state colleges and universities, as the most noteworthy.
He said that UPLB will continue to extend support and assistance to Project SARAi as it shares the same goal that he has of future-proofing the university.
Secretary De La Peña for his part said that the DOST expects outputs from Project SARAi to help transform food systems to make it more sustainable, productive, resilient, and profitable for farmers, and expressed his hopes that it can contribute greatly to the Department of Agriculture's "Paradigms to Level Up Agriculture."
DOST Undersecretary Guevarra expressed her hopes that through the virtual conference, the reach of Project SARAi will increase significantly and that more farmers will benefit from its outputs. She commended the people behind the continued success of Project SARAi as well as its partner-agencies.
Dr. Ebora congratulated Project SARAi for holding the event. He announced that he is hoping to get Project SARAi's help in the damage assessment to agriculture caused by Typhoon Rolly in Bicol through the recently approved S&T Action Frontline for Emergencies and Hazards Program of PCAARRD.
Agriculture Secretary William Dar also gave a message commending Project SARAi. Secretary Dar said that researches from the conference pivot towards crop diversification that is systematically guided by science.
According to him, DA is transitioning from rice to high-value crop production to generate better income.
Mr. Layug for his part said that through partnership between DA and Project SARAi, more people can be reached through digital agriculture.
In the closing program on the second day of the conference, former UPLB Chancellor Sanchez gave a speech posing a challenge for Project SARAi to communicate its results and technologies to a wider audience. He said, "Research not communicated is a research not done." He enjoined CHED, DepEd, and DA to collaborate with DOST PCAARRD and UPLB to further widen the reach of Project SARAi.
Dean Eslava of SESAM, which houses Project SARAi, enjoined everyone to not let all the research materials and outputs just gather dust in the libraries.
She also expressed a sense of satisfaction hearing young researchers of Project SARAi say that this is the first time that they have worked in a program that is truly interdisciplinary, intercollege, and transdisciplinary.
Dr. Eslava also expressed her thanks to Mr. Rofolfo Ilao and the Crops Research Division of PCAARRD for closely monitoring Project SARAi.
"SARAI has not only brought in smart technologies, it has also changed paradigms in terms of doing research," Dr. Eslava added. She thanked former Chancellor Sanchez for his support and urged the new UPLB chancellor, Dr. Camacho, to support its expansion.
Mainstreaming and sustainability of SARAi
With Phase II of Project SARAi about to end, the project team is pushing for it to be mainstreamed so that its products and technologies could be continuously used, maintained, and improved.
This is according to Project SARAi team leader, Dr. Christine Casal, in a discussion on mainstreaming the project. "Mainstreaming maximizes the government funds that went into its implementation and is a precursor to sustainability," she said.
Project SARAi is mainstreaming its technologies by popularizing its activities, products, and technologies, deploying these products and technologies, and forging partnerships to expand the network of practitioners of smart agriculture.
In her conference synthesis, Dr. Espaldon, who led the project since 2013, said that the research conference is not only aimed at presenting the science behind the technologies but also at providing policy recommendations, and eventually publishing the manuscripts.
The research conference was attended by farmers, extension workers, researchers, policy makers, teachers, and students.
Dr. Espaldon also discussed opportunities to put Project SARAi on the ground, asking those in the audience to contact SARAi if they are interested in adopting the technologies.
Project SARAi is looking at its institutionalization and planning to conduct R&D in different regions to cover other high-value crops, and possibly livestock and fisheries; capacity building; instrumentation; and curriculum development.
The policy papers in the pipeline that are based on the Project SARAi experience are on the following: establishment of a Philippine crop forecast center at DA with the Integrated Crop Monitoring and Forecasting (ICMF) Center in UPLB as the scientific laboratory; support for regional center of development for SARAi/ICMF; support to SARAi livestock, fisheries, and other high-value commodities research and development; and its inclusion in science/agri-environment curricula at the Department of Education and in higher education institutions. (JMBo)