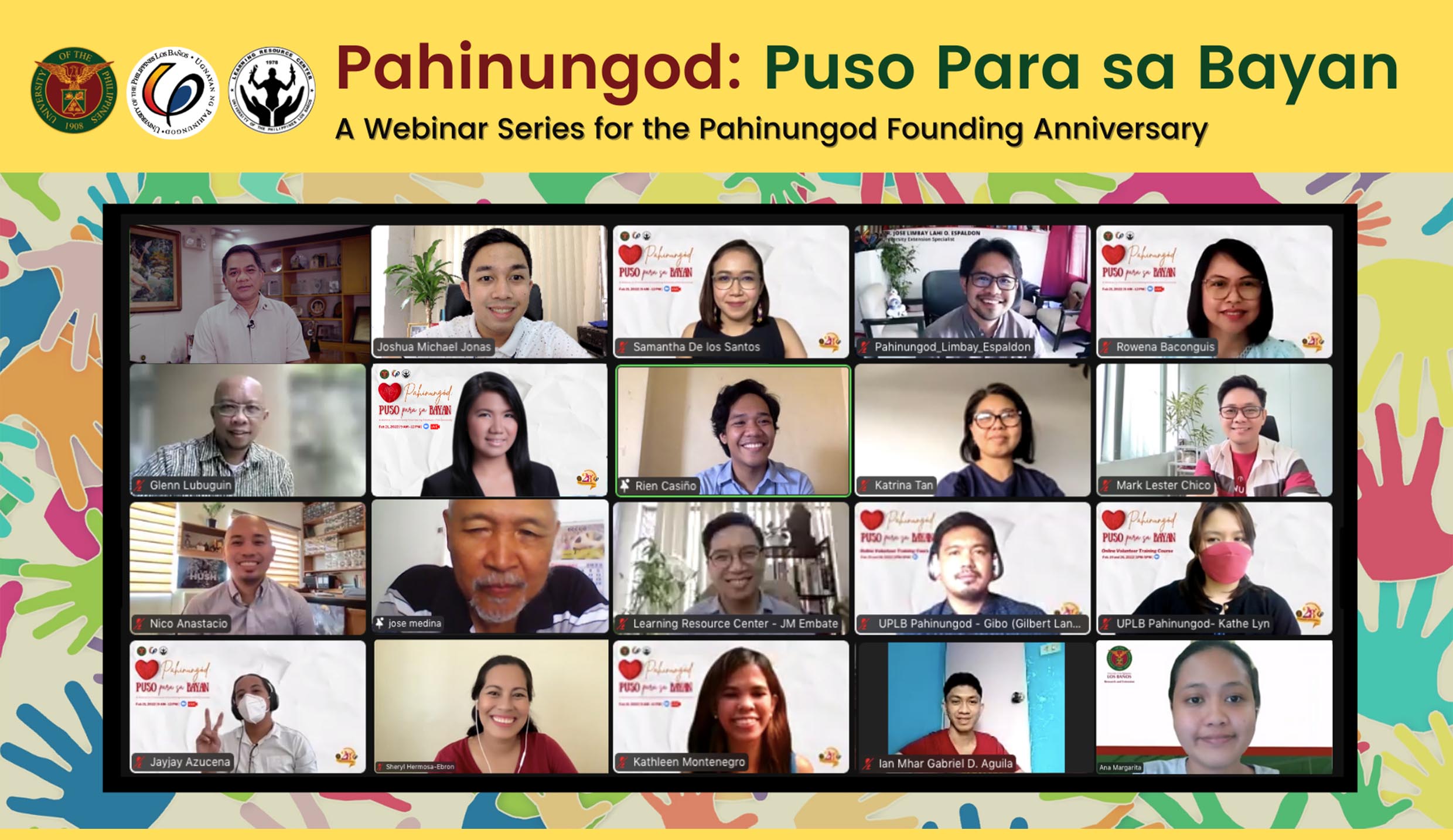 'Puso para sa bayan': Stories of volunteerism from UPLB
"Service to the people" is a UP brand given life by its people — students, personnel, and alumni — whose stories of volunteerism inspire the future generation of volunteers.
This was the highlight of the special webinar held on Feb. 21 by the UPLB Ugnayan ng Pahinungod in partnership with the UPLB Learning Resource Center (LRC) in celebration of the former's 28th founding anniversary.
Fittingly, the theme was "Pahinungod: Puso Para sa Bayan" as it featured a two-part talk rich with stories and insights from Pahinungod volunteers, scholars, and directors. As UPLB Chancellor Jose V. Camacho, Jr. said in his message for the program, UPLB has a "strong tradition and legacy of public service".
"Our faculty members, REPS, and students are willing to dedicate their time and expertise to go beyond the confines of the university and to actively reach out to communities that need our knowledge, ideas, expertise, and above all, compassion," Chancellor Camacho said.
This dedication was reflected in the stories shared by four Ugnayan ng Pahinungod volunteers, two of whom were former Pahinungod directors and the other two, beneficiaries of LRC's Agricultural and Rural Development Scholarship (ARDS) Program.
Spirit of honor, academic excellence, and volunteerism
One of the ARDS scholars, Ian Mhar Gabriel D. Aguila, who is taking up BS Mathematics and Science Teaching, shared to the webinar audience that his passion for volunteering began with his curiosity about Pahinungod.
Ian considers volunteering as a "life-long responsibility." More than the help that he gives to communities, it is what he gets from immersing with them that he values the most. "Nabibigyan nila ako ng saya at bagong perspectives," he said.
He considers his experience with the Pahinungod Volunteer Camp, community immersions, and bonding with co-volunteers as some of his happiest moments with the volunteer corps.
Ian's sentiment was shared by John Joshua A. Azucena, who was an active Pahinungod volunteer and also an ARD scholar. "Sa aking paglubog sa komunidad at sa grassroots sector ay doon ko natutunan na hindi ako 'yung may ibabahagi sa kanila. Kung hindi, sila yung may ibabahagi sa akin," he said.
(In my immersion in the community and grassroots sector, I learned that I am not the one who has something to teach them; it is they who teach me.)
Now a Special Science Teacher II at the Philippine Science High School, John said his experience with Pahinungod, which he considers family, shaped the kind of educator he hopes to become.
Indeed, what LRC OIC-Director John Mervin L. Embate said rings true – that a real Iskolar ng Bayan should know how to use their mind and heart to be successful in life and serve the people.
For Diana Ruth Arcega, her volunteering experience helped her realize the essence and value of being a UP student: "honor, excellence, and service." The UPLB alumna who is now a member of the International Committee of the Red Cross in the Philippines believes that everyone has their own strengths and the heart to serve.
The last speaker, Dr. Nico Jayson Anastacio, university researcher and assistant to the dean of the UPLB College of Public Affairs and Development, emphasized the "big WHY" in volunteering. "We have to go back to our fundamental reasons why we volunteer. We have to be clear of our 'big WHY' we are doing this". The opportunities that Pahinungod gave him helped him to better understand the realities on the ground.
Pahinungod through the years
The second half of the webinar was a panel discussion featuring four previous directors of the UPLB Pahinungod – from Dr. Jose Medina who served from 2000 to 2010; Dr. Rowena dT. Baconguis from 2010 to 2013; Dr. Katrina Ross Tan from 2013 to 2016; and Glenn S. Lubuguin from 2016 to 2020.
Jose Limbay Lahi O. Espaldon, current Pahinungod director, also joined in the discussion that revolved around the role of Pahinungod in academe, as well as the challenges and experiences of the directors through the years since it was first established.
Despite the challenges due to limited funding and support, organizational problems, and restricting and changing regulations, Pahinungod came up with various initiatives that would cement their reputation as the volunteer service program of the university.
From programs for improving reading comprehension, environmental awareness, culture and the arts, and livelihood, all were initiated to help the communities through the volunteers.
The COVID-19 pandemic was another problem that affected Pahinungod. The pandemic, which began in 2020, was a "major blow" to the organization, so they needed to be creative and flexible on finding ways to deliver their programs.
When asked about their realizations in working with communities, Dr. Tan echoed the sentiments of the volunteers that it is the communities that enrich the lives of the volunteers. "The community knows how to identify their problems and issues and how to resolve it. They just need assistance to achieve it," she said.
Asked about her vision for the Pahinungod 5-10 years from now, Dr. Baconguis said that she wanted to see Pahinungod as a recognized model of volunteerism within the context of higher educational institutions.
Dr. Medina suggested having a manual as a guide for volunteers and to integrate volunteerism as a foundation of education. Dr. Tan, for her part, wanted Pahinungod to be popularized, especially as a leading volunteer institution in the country that has an impact beyond the university and the communities. Lubuguin said he would like to see the volunteers being exposed to international opportunities and of Pahinungod professionalizing volunteer development programs.
Director Espaldon responded positively to the recommendations of the former directors and laid out the ongoing initiatives and plans of Pahinungod. In his closing statement, he thanked all the speakers, volunteers, staff, including the participants of Pahinungod offices from other UP campuses.
The first part of the webinar was moderated by Samantha Geraldine de los Santos of CPAf, while the second part was moderated by Director Mark Lester M. Chico of the UPLB Office of Public Relations. (Joshua Michael G. Jonas & Ana Margarita S. Palma)