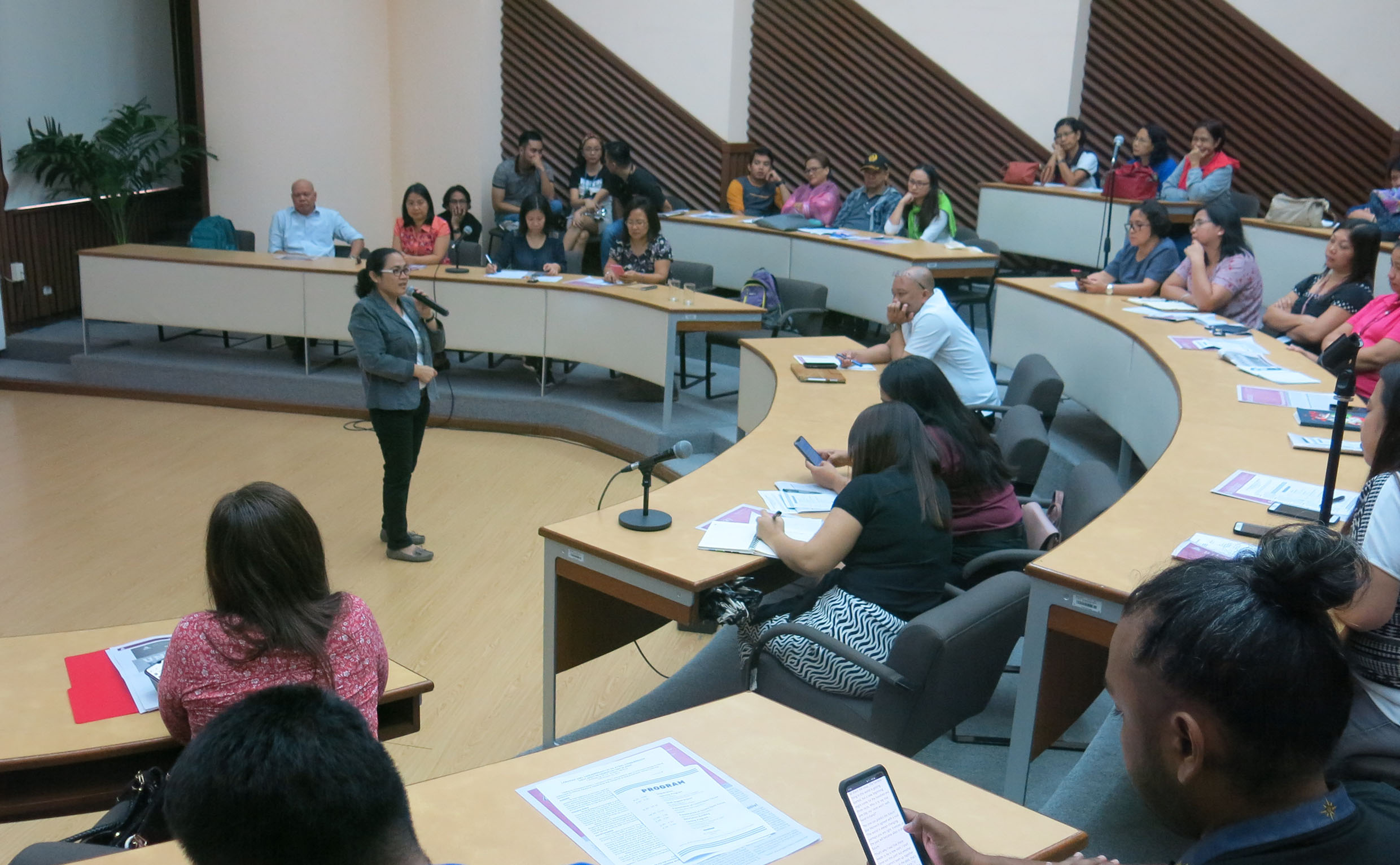 Regent Pedrano initiates dialogue with UPLB REPS, admin staff
UPLB research, extension, and administrative staff were given the opportunity to raise their concerns to Staff Regent Mylah Pedrano at a forum held in Drilon Hall at the SEARCA headquarters in the UPLB campus on Oct. 15.
The visit was part of the Office of the Staff Regent's (OSR) Ikot (rounds) Consultation for Administrative Staff and REPS (Research, Extension and Professional Staff) to the constituent universities (CUs).
During the forum, Regent Pedrano reported the activities of the OSR in the last three months since she was sworn into office on July 24.
Among the issues that she was able to raise to the UP Board of Regents (BOR) were additional benefits for administrative staff and REPS, salary increase and promotion for all, regularization for non-UP contractual workers, and improving work conditions.
Her office, she added, is cooperating with the UP student and faculty regents and organizations such as ACT Teachers to make these concerns more visible to both the UP administration and the national government.
The OSR is also pushing for a more democratic and transparent leadership by initiating the Staff Regent Volunteers (StaR), an organization which will be composed of volunteer members from the REPS and administrative staff. It will have a branch in each CU to help them gather more information about the needs of the UP staff.
Regent Pedrano also presented the targets for her term until 2021.
These include institutionalizing a UP System-wide yearly conference for administrative personnel and REPS where issues and concerns may be discussed and resolved; and holding the "Takbo Para sa Insintibo," a fun run for incentivizing 10% of the Enhanced Hospitalization Programme (eHOPE) for REPS and administrative staff who have remained healthy and had not been hospitalized within a year of coverage.
She has also proposed the harmonization of faculty sick leave benefits (FSLB) and expanded service recognition pay (eSRP). She reported that the BOR has already decided during their 1348th meeting to create a committee to study it.
Regent Pedrano also articulated the continuing advocacy to have administrative staff and REPS observers during BOR meetings.
She also cited the need to have a retirement literacy program for UP employees to help them prepare for retirement.
An open forum that followed saw more suggestions from the attendees, such as creating an official website for the OSR for easier consolidation of agreements through online petitions and creating a council for the administrative staff as a counterpart to the recently approved REPS Welfare Council.
Present during the consultation was Glenn S. Lubuguin, assistant to the vice chancellor for research and extension, who expressed support for the administrative staff and REPS on behalf of the UPLB administration. He underscored the vital role of meaningful dialogue to fulfill the rights of UPLB workers.
Regent Pedrano, a college librarian from UP Cebu, is the 6th staff regent to serve the UP system and the first to come from the REPS sector. (Jessa Jael S. Arana)
Aligned with our commitment to: