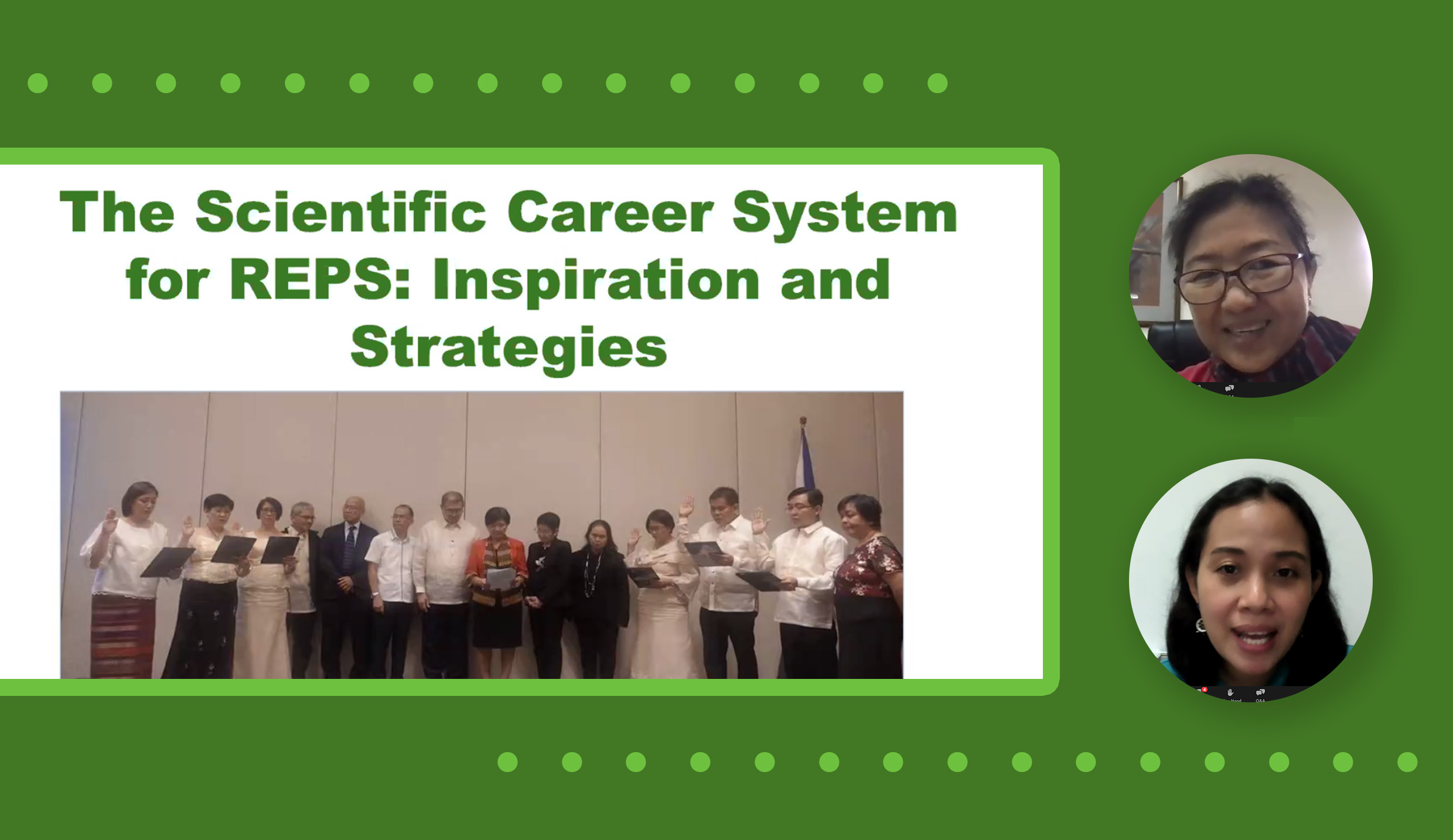 REPS oriented on becoming career scientists at webinar
For their 11th anniversary, the UP Society of Research, Extension, and Professional Staff, Inc. (UP REPSS) organized an online conference on Dec. 11 to familiarize the research, extension, and professional staff (REPS) with the Scientific Career System (SCS).
Dr. Fe Dela Cueva, Scientist I and deputy director of the Institute of Plant Breeding, discussed the benefits of becoming a career scientist under the SCS and achieving career progress through their scientific productivity and professional standing.
Promotion under the SCS is accompanied by a corresponding salary grade upgrade based on their ranking, starting from SG 26, equivalent to PhP 109,593.00 monthly salary, for Scientist I. Those who are conferred the title of Scientist V are entitled to the same rank and salary grade of an undersecretary in a government agency.
Aside from receiving a salary increase, REPS who will qualify as SCS-conferred scientists will also be entitled to the Magna Carta benefits under Republic Act 8493 including hazard pay, longevity pay, and subsistence allowance; representation and transportation allowance; exemption from logging in their attendance on the Bundy clock; and SCS-funded grants for publication, travel, and membership in international scientific organizations.
Dr. Dela Cueva said that REPS who have earned their master's or doctorate degree and have 10 years of productivity may apply as career scientists. The applicants are screened by the Scientific Career Evaluation Committee of UPLB.
To help REPS keep track of their productivity and progress, she encouraged them to constantly update their curriculum vitae to easily account for the points that they can use in their application.
REPS can earn points from publishing articles in scientific journals, taking on student advisees, and having patented work. All their published books, manuals, pamphlets and handbooks, and oral presentations in international and national conferences can also be counted in their productivity.
Since promotion in the SCS is independent of the promotion in the UP System, Dr. Dela Cueva emphasized that becoming a career scientist will allow REPS to have more control over their career progression. Moreover, higher research productivity from career scientists will help increase the university's world rankings.
Dr. Dela Cueva further advised the REPS to collaborate with other scientists and be passionate and resilient in their field. She reminded them to always practice research ethics and exercise integrity; and to rest but never quit.
Dr. Merdelyn T. Caasi-Lit, Scientist II and vice chancellor for research and extension (VCRE), followed up Dr. Dela Cueva's discussion by sharing her own experiences in becoming a career scientist.
In her testimony, Dr. Lit said she initially found her reward in the mental satisfaction in doing research and in the privilege of working in the UPLB campus.
She underscored the importance of "sipag, tyaga, sakripisyo, tiis" in working as a researcher and encouraged REPS to make the most of the SCS which offers a clear and wide path where they can progress in their career at their own pace.
Dr. Lit also ensured the REPS of the commitment of her office (OVCRE) to implementing more programs to help the REPS advance in their careers. "Ikaw ang gagawa ng points. Tutulungan ka namin," she said.
In a brief message, Chancellor Jose V. Camacho, Jr. acknowledged the role of the REPS in future-proofing UPLB and encouraged them to seize the opportunity offered by the SCS for career growth.
"I hope that you will understand and utilize this system to realize your full potential as researchers, scientists and staff of this university," he said.
He also gave recognition to the UP REPSS for their effort to organize and convene for the advancement of REPS welfare in UPLB and thanked them for their unceasing dedication to work for REPS welfare."I look forward to continuing working with all of you to future-proof the university and prepare it for what will be even more challenging times ahead," Chancellor Camacho added (Jessa Jael S. Arana)