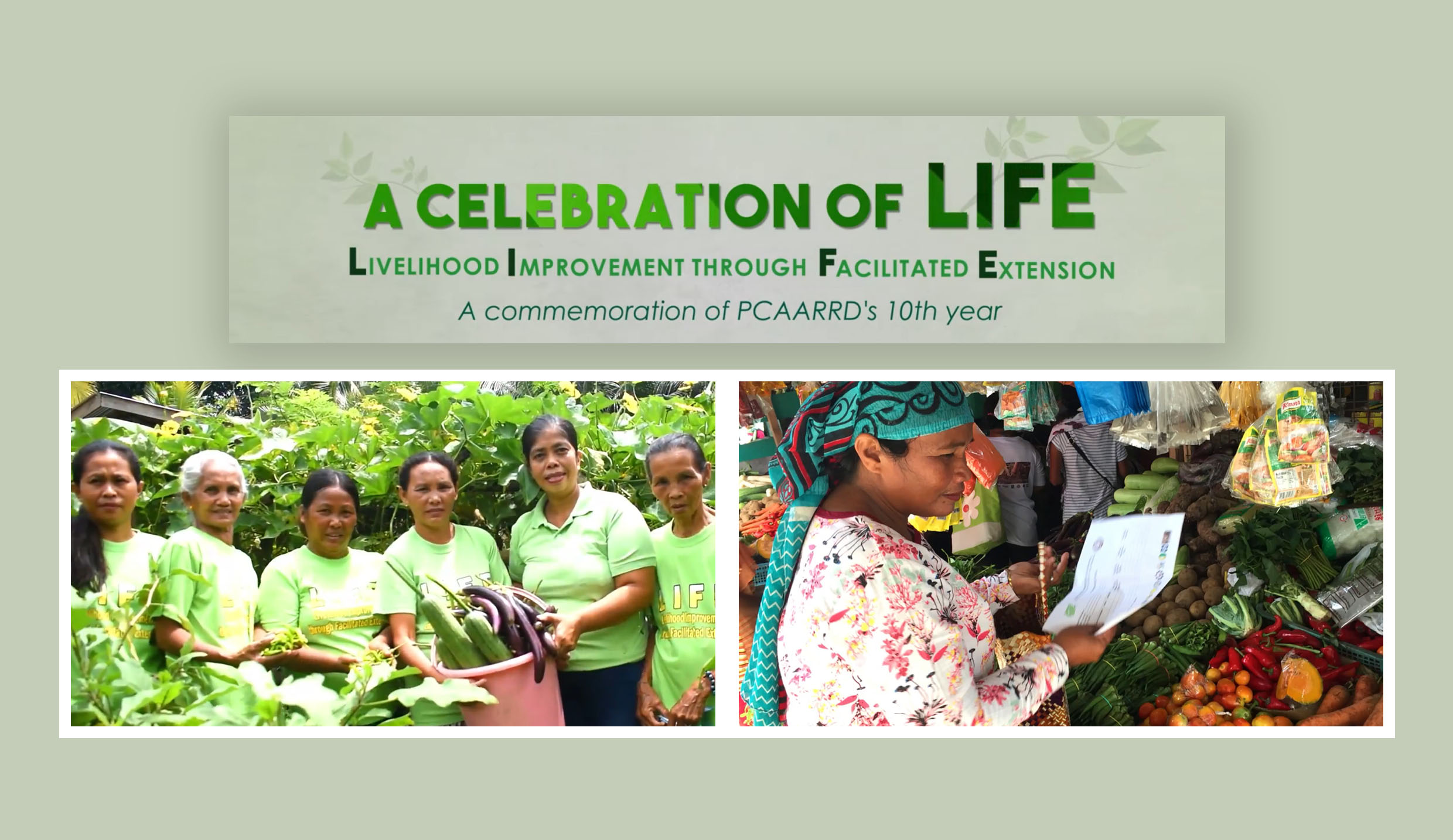 Research collab brings LIFE to PH conflict areas
A research collaboration project by national and international development agencies and state universities like UPLB, is bringing new life to conflict areas in Mindanao. This is through an innovative extension model that combines farmer education with community building and institutional partnerships.
Known as the Livelihood Improvement through Facilitated Extension model, or simply LIFE Model, it focuses not just on disseminating knowledge to the communities, but also on incorporating strategies that address contextual needs and concerns that affect its stakeholders. This approach is particularly crucial in unstable settings, such as in agricultural communities that are amidst sociocultural and political conflicts.
It is the core mechanism of the program "Enhancing Livelihood Opportunities in Conflict-Vulnerable Areas in Mindanao through the LIFE Model," or PCAARRD-UP Mindanao-Landcare LIFE (PULL) Program and was presented to the public in an online forum on June 22.
Dr. Reynaldo V. Ebora, executive director of the Philippine Council for Agriculture, Aquatic and Natural Resources Research and Development of the Department of Science and Technology (DOST-PCAARRD), said that LIFE Model is the result of the ACIAR-Mindanao Agricultural Extension Project (AMAEP) implemented by the Landcare Foundation of the Philippines, Inc., the Royal Melbourne Institute of Technology (Australia), UP Mindanao, and UPLB in Ipil, Zamboanga Sibugay; Koronadal, South Cotabato; and Ampatuan, Maguindanao in 2013.
From this initial project, they observed positive changes in the social, human, and political aspects of the farmers' livelihoods, prompting PCAARRD to scale up the project in 2017 and expand it through institutional strategic partnerships in Mindanao.
Dr. Emma Ruth V. Bayogan, director of Center for the Advancement of Research, Development, and Engagement in Mindanao (CAIRM) in UP Mindanao and Program Leader of PULL, described some successes of the project, such as diversifying the farmers' livelihoods and improving their incomes by 31 to 89%, helping farmers learn new knowledge and skills in various areas such as farming and literacy, and facilitating the continuation of traditions, such as basket weaving.
Testimonials from the communities further illustrated these positive changes.
Mambai Mahin, secretary of Teduray Farmers and Producers Association in Maguindanao, shared the challenges Teduray farmers faced before the intervention of the PULL program. Many of them could not farm as they wanted, and received threats whenever they attempted to farm land. The limited lands available would also become sources of conflict, causing them to avoid interaction with each other.
"Back then we would not visit each other because we hardly greeted each other, whatever one was doing, they were left to do it themselves. But now, we share whatever it is we learned. We teach those who were not part of the project," she said in Tiruray.
She also said that the community-managed farms that they built through the program provided them with constant sustenance and a source of income especially during the pandemic.
Jaidy Cadag, president of Nga-Bango Blaan Aksasato Farmers, one of the PULL project's partner communities, shared about their group's experience after undergoing training in vegetable production. With their new knowledge, they were able to establish and maintain a community nursery. The program also helped them organize and receive support from the government to put up a cooperative store.
"Before, we could hardly face people because we were embarrassed, but now our association has leveled up. We have developed our trust and cooperation," she said.
In his short message, Chancellor Jose V. Camacho, Jr., who was also a part of the project through AMAEP, emphasized the importance of utilizing a holistic approach that takes into account the social and economic circumstances and needs of communities along with environment and ecological concerns.
"In Mindanao, political and social conflict is a context of policies and programs that must be put in place for its social and economic development. If research and extension work is to be effective and useful, taking conflict into account is inevitable," he added.
Today, the LIFE Model is also implemented in project sites in Surallah, South Cotabato; and Datu Abdullah Sangki in Maguindanao. Dr. Bayogan said that UP Mindanao is institutionalizing the LIFE Model in its extension and public service work through its Land Reservation Management Office and Office of Extension and Community Services, starting with its partnerships with Compostela Valley State College for the LIFE Model's implementation in Laak, Davao de Oro.
"We are also exploring its implementation in the Bangsamoro region of Muslim Mindanao through the UP Pahinungod program and we plan to implement it in other areas of Mindanao," said Dr. Bayogan.
The online showcase of the LIFE Model is one of the 25 events organized by PCAARRD to commemorate their 10th anniversary with the theme, "Harnessing the gains of GALING-PCAARRD towards a more resilient AANR sector." (Jessa Jael S. Arana)