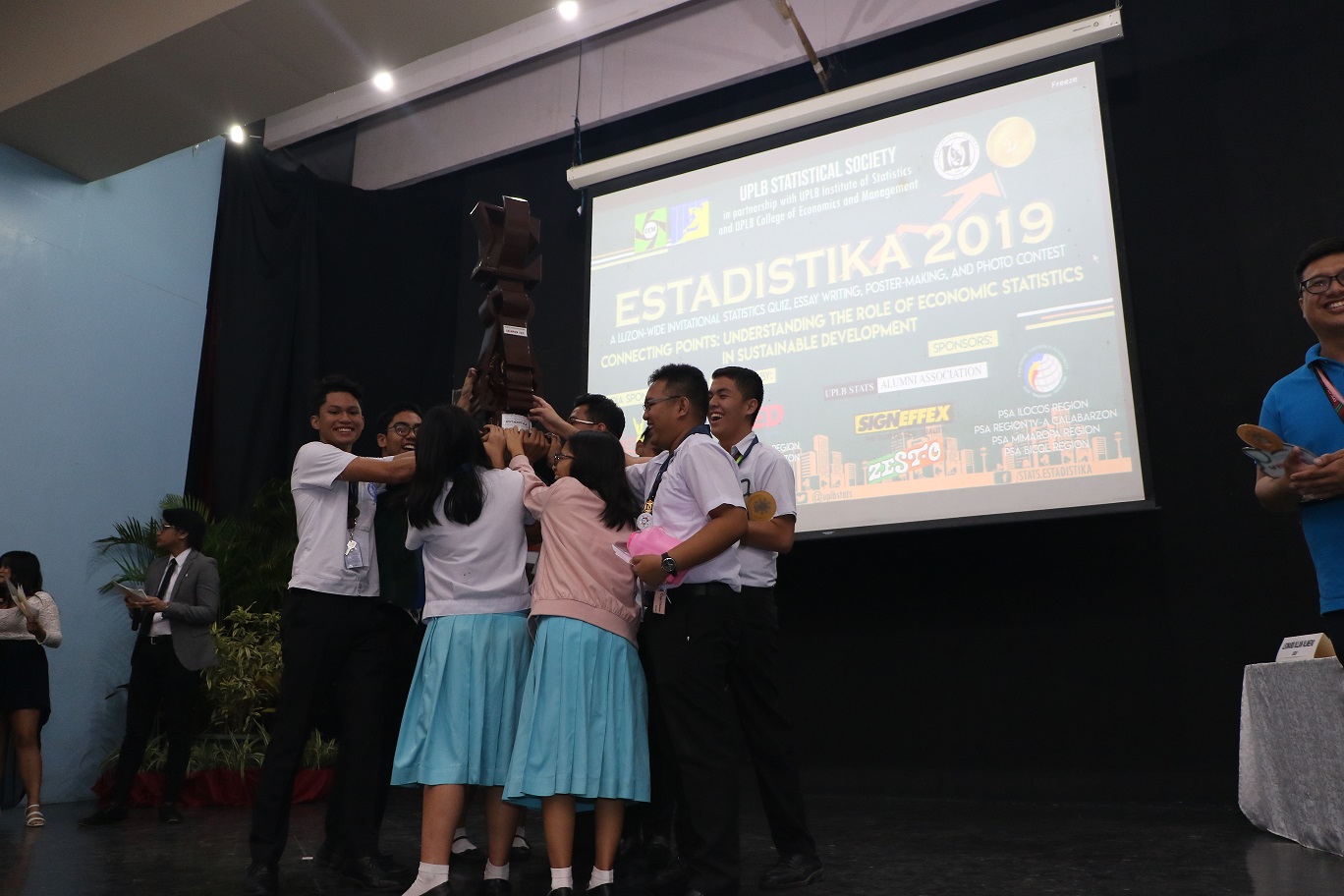 'Ruralites' dominate Luzon-wide stat quiz
Students from the UP Rural High School (UPRHS) bagged all of the top three placements in the Luzon-wide Invitational Statistics Quiz on Feb. 23 at the CAS Auditorium, UPLB.
The team of Ivan Ely Batikin, Irene Kyla Boholano, and Cyrus Toring clinched the championship in the final round of the quiz competition of ESTADISTIKA 2019, an annual statistics advocacy event for high school students of the UPLB Statistical Society (STATS).
Fellow "Ruralites" Aiskhylos Akiyama, Cresel Lawas, and Lenard Tandang placed first runner-up; while Isaac Acerdano, Ryan Anthony Maghuyop, and Mariko Tsuji, the second runner-up.
These UPRHS students bested the delegates from 24 public and private high schools all over Luzon.
Aside from the quiz competition, ESTADISTIKA 2019 also featured three other contests that tested the creativity of high school students as applied to statistics.
Students from the First City Providential College in Bulacan shone in the photo and poster-making contests. Angelina Ramos won in the photo contest, while Miguel Emmanuel Borbor and John Jeremie Bondad placed first and second, respectively, in the poster-making tilt.
On the other hand, Maria Roliza Sophia Legion of Pag-asa National High School bagged the top plum in the essay writing contest.
With the theme "Connecting points: understanding the roles of economic statistics in sustainable development," ESTADISTIKA continued to promote the significance and application of statistics on its 13th year.
During the opening program, keynote speaker Dr. Yolanda Garcia, a professor at the UPLB Department of Economics and a BS Statistics graduate, explained the role of statistics in the endeavors of the public and private sectors.
Dr. Garcia underscored how the processed data from statistics influence evidence-based policies and the planning, monitoring, and evaluation of development activities.
She also underscored the role of statisticians in providing right information for right decisions at the right time through developing and maintaining reliable data and easily accessible database.
Dr. Crisanto Dorado, vice chancellor for administration, also graced ESTADISTIKA 2019 and delivered the opening remarks on behalf of Chancellor Fernando C. Sanchez, Jr.
"Applying statistics to economic data lets us predict how markets will behave, identify what sectors of industry contribute most to the economy, and perhaps, most importantly, it allows for the crafting of laws, policies, and programs that are based on scientific data," Dr. Dorado said.
Aside from the competitions, UPLB STATS also oriented the ESTADISTIKA participants about BS Statistics. The UPLB Institute of Statistics, which offers BS, MS, and PhD programs, is a CHED Center of Excellence in Statistics Education. (Mark Jayson E. Gloria)