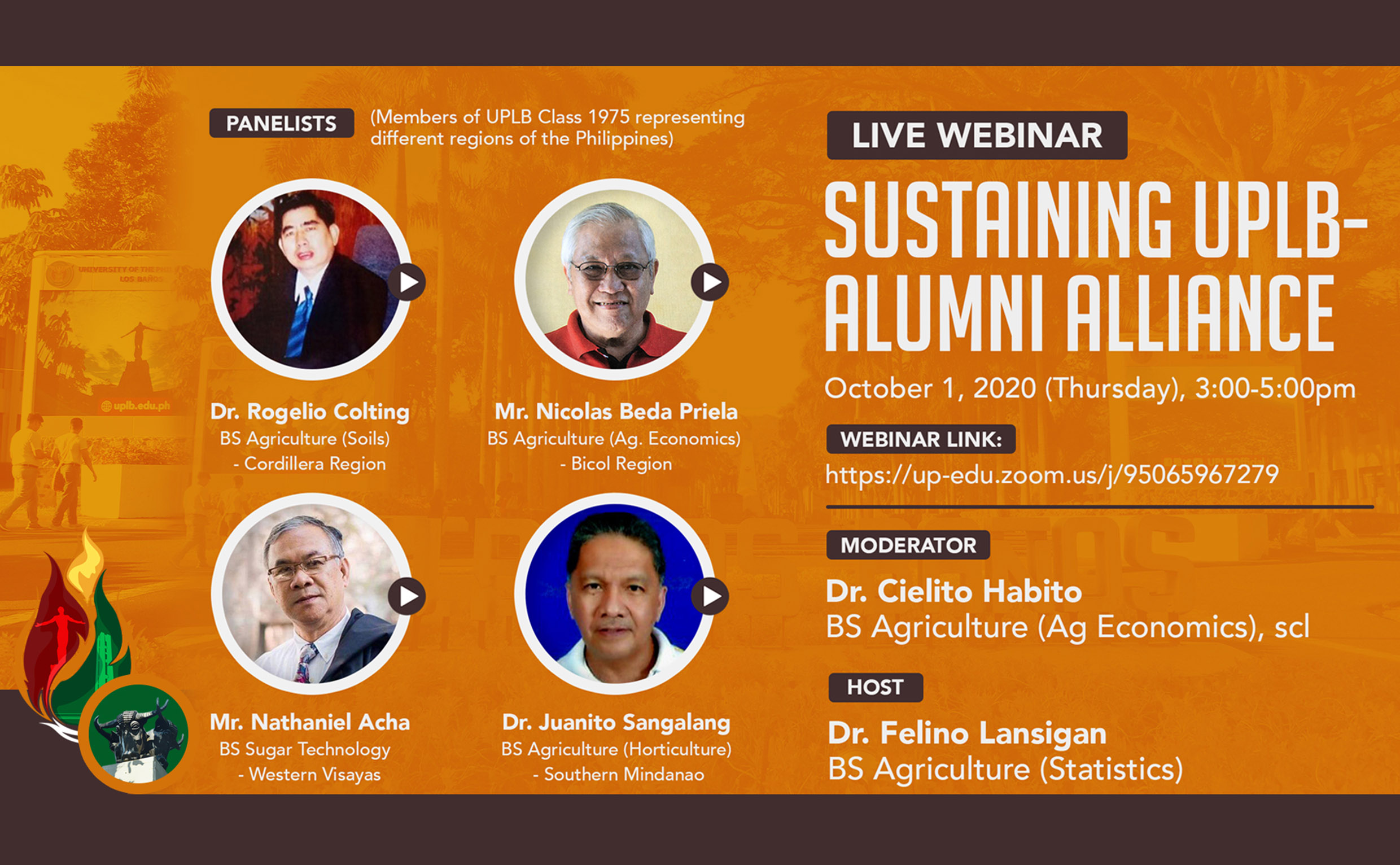 Sapphire jubilarians talk about university-alumni bond
The UPLB Class of 1975, this year's sapphire jubilarians, zoomed in on the theme "Sustaining UPLB- alumni alliance" on its webinar on Oct. 1 as part of the series of online discussions leading to Loyalty Day.
Dr. Felino Lansigan (BSA, Statistics), dean of the College of Arts and Sciences and webinar host, said that the UPLB alumni are assets of the university who can help realize its goals and human capital potentials, among others.
Four panelists from Class '75, who come from different regions, addressed the issues, priorities, and strategies on sustaining the alliance between the university and the alumni towards enhancing UPLB's relevance to nation-building and development.
Dr. Juanito Sangalang, (BSA, Horticulture) who hails from Southern Mindanao, presented the different profile and demographics of the UPLB alumni across ages and years of graduation. He provided insights and possible reasons why participation in Loyalty Day by the alumni is seemingly fading.
He suggested to further strengthen UPLB's reach to alumni through an effective system for gathering alumni information; establishing and helping empower regional and provincial alumni associations; appointing one alumni coordinator per region; and holding alumni symposia to discuss important local and national issues.
Dr. Rogelio Colting (BSA, Soil Science) from the Cordillera shared to the audience how the UPLB alumni in the region have maintained their UPLB bayanihan sprit through active community and charity works.
Their group, he said, has partnered with other state universities in the region in conducting outreach activities, such as relief operations during calamities and disasters, one of which was Typhoon Ondoy that hit Itogon, Benguet. They are also involved in distributing vegetables from Benguet to Laguna and Batangas during this pandemic.
Nathaniel Acha (BS Sugar Technology) from Western Visayas focused his discussion on the agriculture industry, starting with relevant data about this vital sector.
He presented ways to optimize the value of production per hectare per year in major agricultural crops in the country. He also talked about maximizing water use in agriculture and proposed the institution of a water engineering course in UPLB through collaborating with universities abroad.
Fellow speaker Nicolas Beda Priela (BSA, Agricultural Economics) from Bicol Region reminisced his early beginnings as a student in UPLB. The self-proclaimed "promding isko" showed his university ID which he continues to safe keep since he left the university.
Priela, who now sits at the Regional Development Council of Bicol, credited UPLB for his knowledge, interest, and involvement in development affairs.
The session lasted for more than two hours and was moderated by Dr. Cielito Habito (BSA, Agricultural Economics), summa cum laude and Class '75 valedictorian, who once served as the director-general of the National Economic and Development Authority.
Dr. Violeta Villegas, also a sapphire jubilarian, closed the program by encouraging her batchmates to keep in touch online with each other and with UPLB despite the ongoing COVID-19 pandemic, and to start preparing for their golden jubilee in 2025.
Joining the webinar were Dr. Ruben L. Villareal, former UPLB chancellor, and For. Leo Ballesfin, president of the UPLB Alumni Association. The webinar was livestreamed on UPLB's Official YouTube channel and on Zoom, and was attended by alumni based in the Philippines and abroad. (KEAraguas)