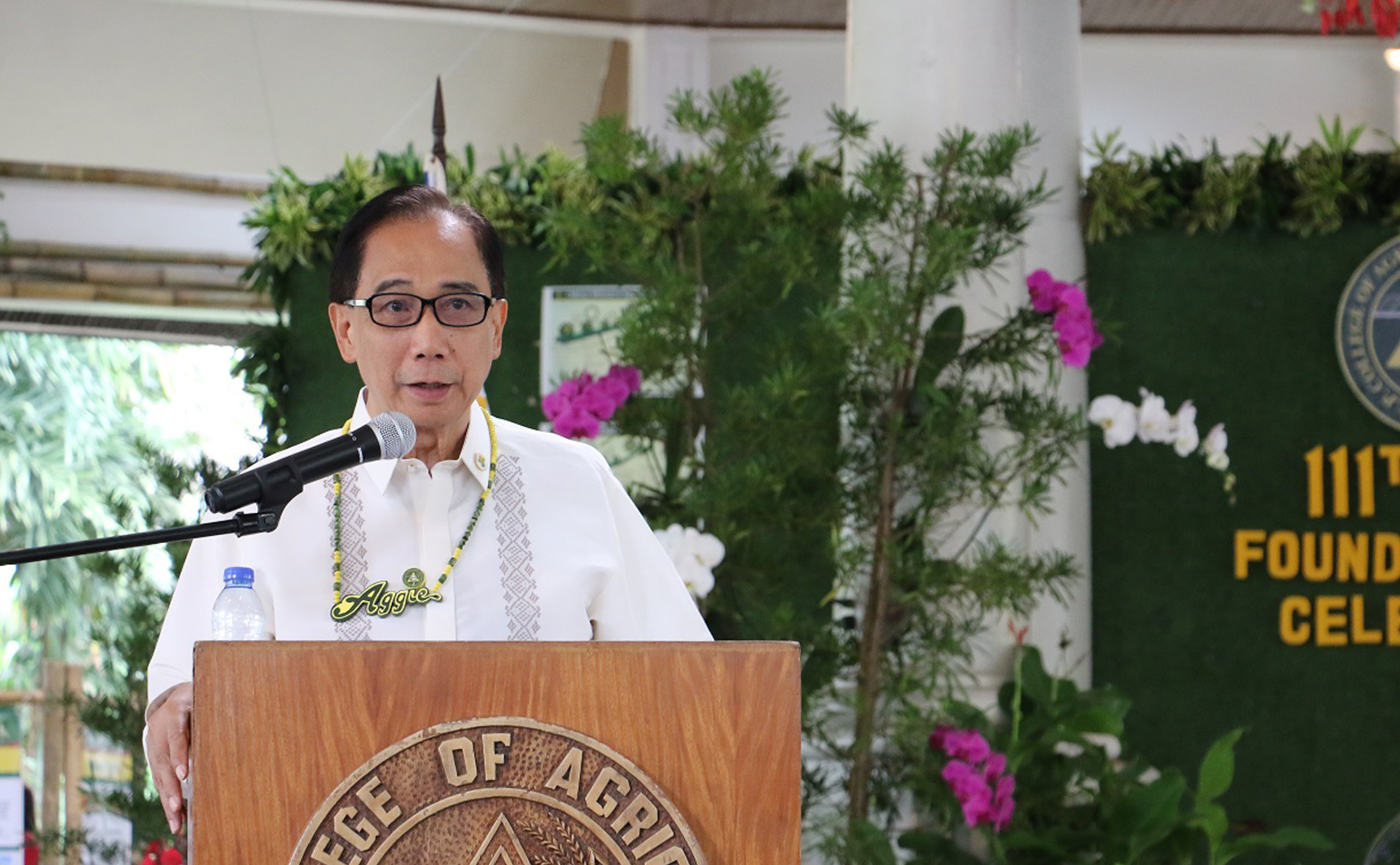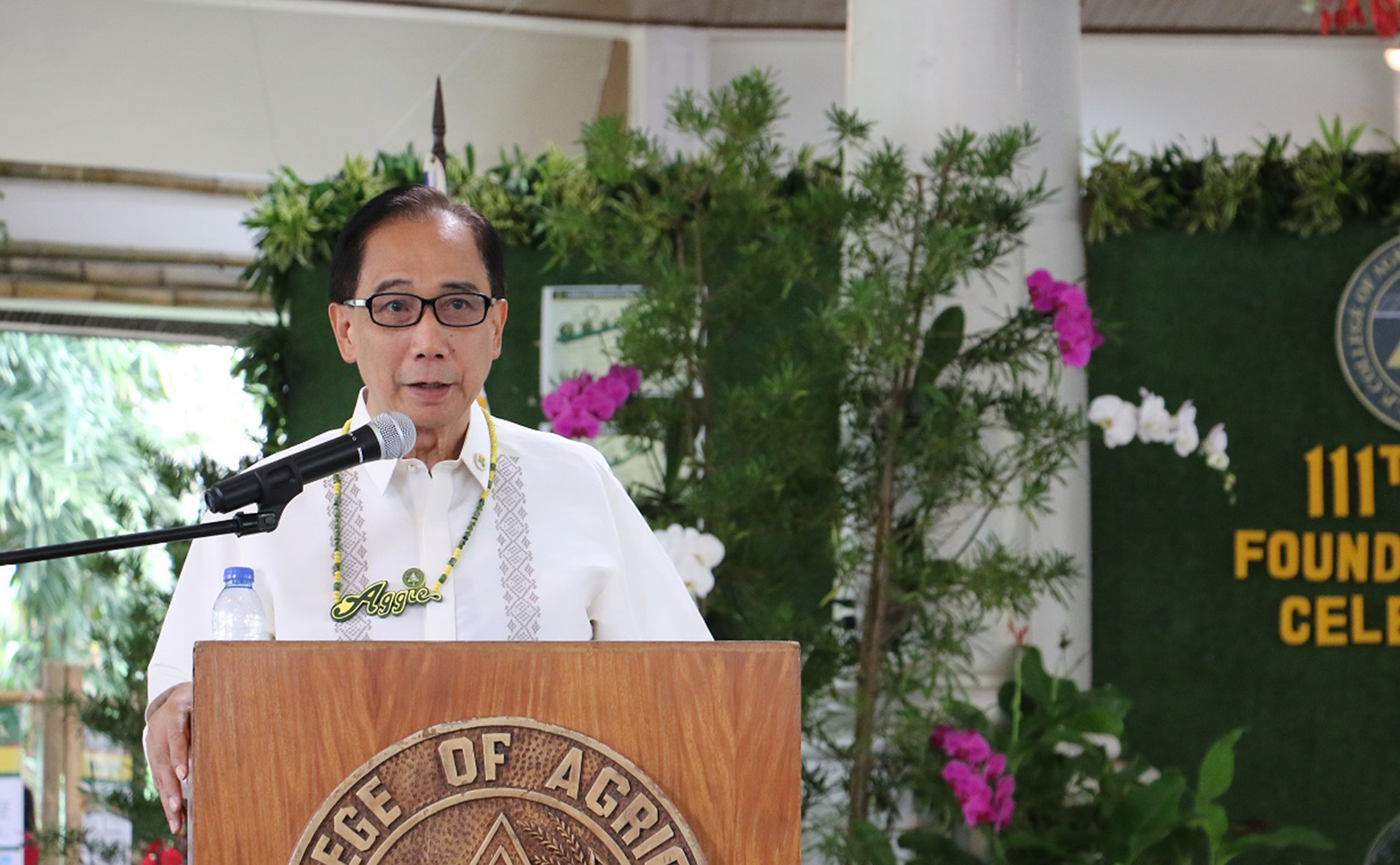 Sec. Dar enjoins CAFS in DA's new agri paradigm
A prosperous agriculture is in the line of sight of the College of Agriculture and Food Science (CAFS). This much was evident as it opened its week-long 111th Foundation Day celebration at the Seniors' Social Garden on Mar. 3.
With the theme, "Enhancing agricultural productivity of Filipino farmers through CAFS technologies," the opening program was highlighted by the attendance of Agriculture Secretary William Dar; an informative exhibit that marked the milestones of the college; and a generous gift of fresh produce to its guests.
In his inspirational message, Sec. Dar enjoined CAFS to continuously work with the Department of Agriculture (DA) under its new paradigm for Philippine agriculture that seeks to prosper farmers and fisherfolk.
Sec. Dar said that DA is now aiming for "a food-secure Philippines with prosperous farmers and fishers." This vision, he explained, comes in two parts.
The first part is about establishing food security, which he differentiated from food self-sufficiency. He said that DA aims to increase local food production so it can address as much as 80% of the country's total needs and close the remaining gap with imports.
Sec. Dar said that as of now, taking all factors in mind, self-sufficiency is still not yet realistic. Thus, there is more emphasis on making sure that food is available, accessible, and affordable to all Filipinos.
The second part of the vision, said Sec. Dar, is about putting farmers and fisherfolk at the center of development. This entails not only increasing the volume of production but also reducing costs to make agriculture more competitive, leading to more income for farmers and fishers.
The endeavor for "masaganang ani, mataas na kita" (plentiful harvest, high income) is anchored on sustainability and resiliency and aided by technology and innovation.
Sec. Dar recognized CAFS as a key partner in accomplishing this vision and implored the college to help DA upscale technologies in the community setting. "You have to make an impact," he told the audience, as he committed to provide more research funds for UPLB.
For his part, Chancellor Fernando C. Sanchez, Jr. echoed the role of CAFS in transforming Philippine agriculture and making it more sustainable.
"We must begin to look at the problems plaguing Philippine agriculture as a system instead of individual problems that are only unique to a particular sector at a particular time," he said.
"Working towards the development itself of a Philippine Food System shows that UPLB, and all its colleges and research institutions, is serious in its vision and commitment towards making a stronger and more resilient Philippine agriculture," Chancellor Sanchez added.
Dr. Elpidio Agbisit, dean of CAFS, cited the hard work of its staff as instrumental to the agricultural productivity and research milestones that the college has recorded through the years.
Right after the program, CAFS opened its exhibit aptly titled "111 research and technologies towards one agriculture, one goal, one future," which featured 111 CAFS-developed technologies, including crop and ornamental varieties, and alternative pesticides and growth enhancers.
Guests also received various farm produce such as fresh fruits, vegetables, and spices, and CAFS product samples as giveaways.
Joining the CAFS constituents during the event were Dr. Alexander Madrigal, regional director of the Department of Science and Technology-CALABARZON; Dr. Glenn Gregorio, director of SEARCA; Dr. Luis Rey Velasco and Dr. Ruben Villareal, past UPLB chancellors and their fellow past CAFS deans; Dr. Cristino Collado, former undersecretary of DA; and UPLB-based Academicians of the National Academy of Science and Technology. (Jessa Jael S. Arana)