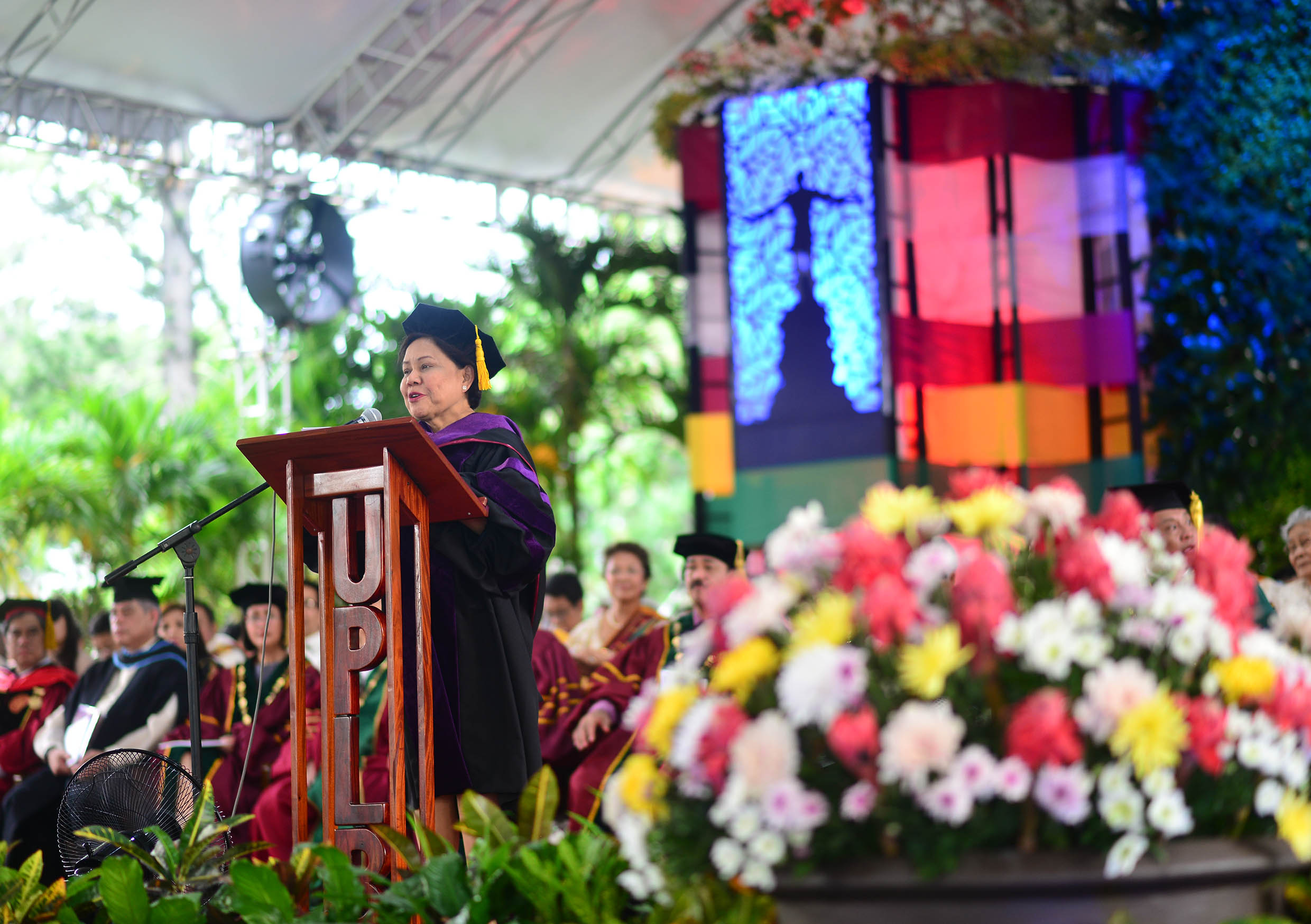 Sen. Villar calls on UPLB grads to be involved in food security
Senator Cynthia A. Villar enjoined the UPLB Class of 2018 to take part in improving the country's agriculture sector, saying that the youth has one of the highest potentials in helping increase its productivity.
UPLB's Class of 2018 is composed of 2,005 bachelor's degree graduates and 389 who received their master's and doctorate degrees. Fifty-six also completed their certificate programs.
"There are a lot of exciting opportunities and untapped potentials in the agriculture sector, most especially for the students here in UPLB where agriculture is a priority," Sen. Villar said, as she delivered her speech as the guest speaker and recipient of Doctor of Laws, honoris causa, during UPLB's 46th Commencement Exercises on June 23 at the DL Umali Freedom Park.
"It would surprise many of you to know that farming is already considered by an increasing number of youngsters here and in other countries as smart, cool, and sexy. Farming is not anymore the stereotypical image of physically tilling or plowing the land," she added, as she underscored the need to address food security in the country.
Senator Villar, who chairs the Senate Committee on Agriculture and Food, talked about the problems faced by the agriculture sector. She pointed out that food production should increase by 70% in 2050 due to the increasing global population.
Top graduate Paul Joshua C. Marquez, BS Agriculture, summa cum laude, said in his valedictory address that he is willing to devote his entire career for the Filipino farmers and that he aspires to be a future secretary of agriculture.
"Gusto kong maging bayani kaya ide-dedicate ko ang buhay ko para sa kapakanan ng mga magsasaka at gagawin ko ito buhat ang lahat ng mga natutunan at karangalan na hatid ng UP. (I want to be a hero that is why I am dedicating my life to the farmers. I will do this with the help of knowledge and honor given to me by UP)," he said.
Thirty-five and 223 others graduated magna cum laude and cum laude, respectively.
Witnessing the conferment of the honorary degree on Senator Villar were members of her family, namely: former Senator Manuel Villar, her husband and children Camille, Manuel Paolo, and Public Works and Highways Secretary Mark Villar.
The UP Board of Regents (BOR) led by its chair, Dr. J. Prospero E. de Vera, officer in charge of the Commission on Higher Education; co-chairperson, UP President Danilo L. Concepcion; and members, namely:  Hon. Patricia B. Arinto, faculty regent; Hon. Analiza S. Fulvodora, staff regent; Hon. Ramon M. Maronilla, alumni regent; Hon. Ma. Shari Niña G. Oliquino, student regent; Hon. Frederick Mikhail I. Farolan; Hon. Angelo A. Jimenez; and Hon. Francis C. Laurel were also on hand at the conferment. Former regent Nelia T. Gonzalez also witnessed the event.
The BOR approved the conferment at its 1335th meeting on May 31, 2018. During the program, Senator Villar donated a professorial chair to the College of Agriculture and Food Science for small farm management.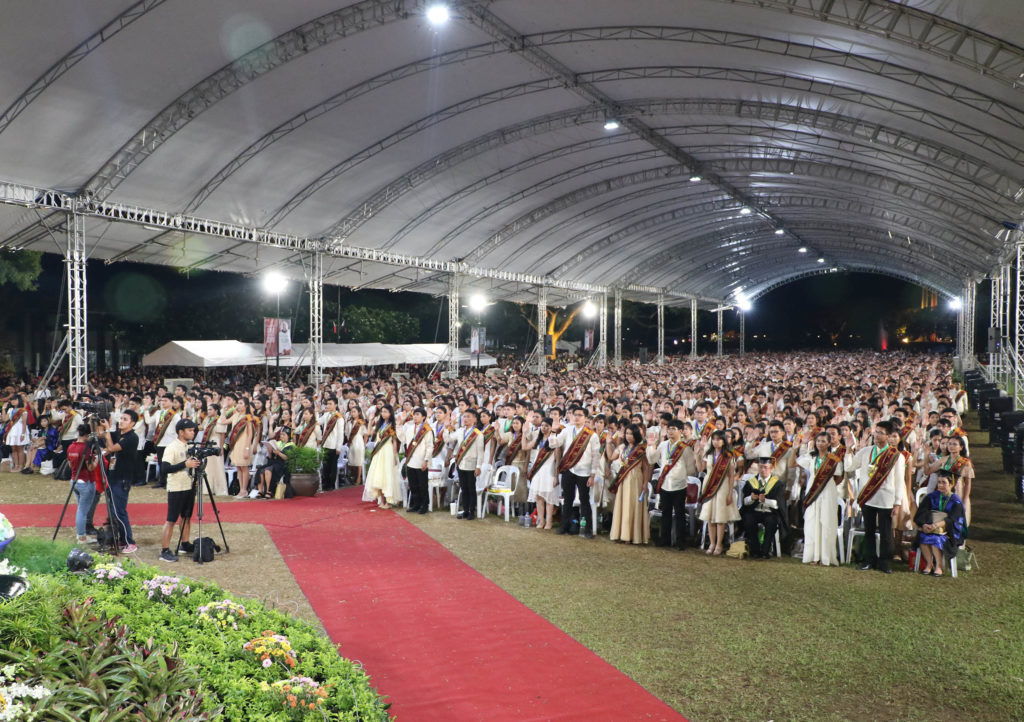 Chancellor Fernando C. Sanchez, Jr. presented the candidates for graduation to President Concepcion, who declared them graduates. Assisting President Concepcion and Chancellor Sanchez in the distribution of diplomas and medals was Dr. Myrna G. Carandang, university registrar.
Alumni Regent Maronilla and For. Leo R. Ballesfin, presidents of the UP and UPLB Alumni Associations, respectively, inducted the graduates to the respective alumni organizations.
Also present during the event were Atty. Ma. Gabriela R. Concepcion, wife of President Concepcion and a professorial lecturer at the UP College of Law; Dr. Jose Wendell P. Capili, UP assistant vice president for public affairs; Dr. Ruben L. Villareal, past UPLB chancellor; UPLB officials; and professor emeriti of UPLB. (John Glen S. Sarol)