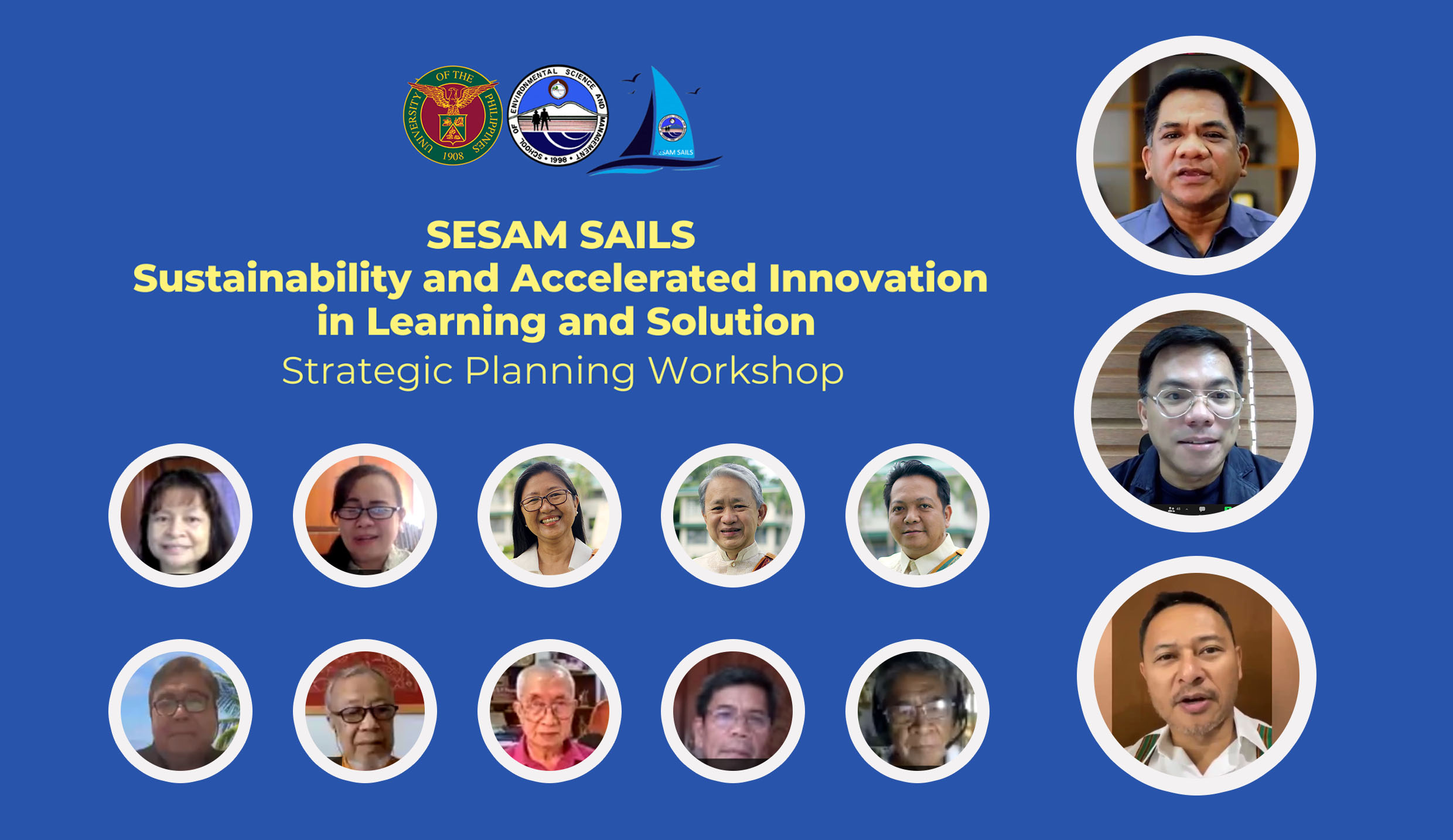 SESAM sets sail under new dean with strategic planning workshop
"Why is sustainability difficult to implement, much more to achieve?"
This is one of the questions that led SESAM to come up with SESAM SAILS or Sustainability and Accelerated Innovation in Learning and Solutions — a branding for SESAM under Dr. Rico C. Ancog as the new dean of the school.
"Work is love made visible." Dean Ancog quoted this from Khalil Gibran as he opened the SESAM 2021 strategic planning workshop that was held on June 2, 3, and 6 via online mode.
The SESAM strategic plan that will be crafted from the workshop will be the school's response to the needs of the times. As Dr. Ancog said, the active participation in crafting a good strategic plan is how SESAM can show affection for the environment and to SESAM.
Chancellor Jose V. Camacho, Jr. welcomed the participants and recognized how SESAM keeps itself at the forefront of research, extension, & instruction. He highlighted SESAM's accomplishments that it made through its dedicated personnel and partnerships with other international and local institutions.
He said that SESAM needs to re-examine itself as a unit to further achieve growth and relevance to the demands and challenges of the times.
Chancellor Camacho said that with the banner "SESAM SAILS," SESAM will continue to take active part in the shared vision and mission of future-proofing UPLB. He further said that he expects that the workshop can come up with a good guiding map as SESAM sails through the current and future challenges.
Addressing SESAM during this event, Senator Sonny Angara had this to say: "Hopefully, you can help the country recover swiftly from the pandemic. Environmental issues have been pushed to the back burner because health issues have taken front row during the time of the pandemic."
SESAM pillars, namely: Dr. Ben S. Malayang III, Dr. Percy Sajise, Dr. Enrique Pacardo, Dr. Nicomedes Briones, and Dr. Antonio J. Alcantara, graced the event and shared valuable insights and what they envision for SESAM.
"As the School moves on forward, I believe that it must aim and envision itself as needing to cover new grounds or on opening new frontiers in doing environmental science and management," Dr. Malayang said. He ended his message by stating that the culture of integrating disciplines in environmental science and management, and doing it well, is still "some distant mountain range yet to be climbed."
Dr. Maria Victoria O. Espaldon and Dr. Decibel V. Faustino-Eslava also shared their experiences as the past deans of SESAM. They expressed excitement with the new leadership as they encouraged everyone to strive and continue to "sail" with Dean Ancog as the new captain of the School.
Celebrating with SESAM were UPLB vice chancellors, namely: Dr. Merdelyn T. Caasi-Lit (research and extension), For. Robert P. Cereno (community affairs), and Dr. Fernando O. Paras, Jr., (planning and development) who presented their plans for the university in research and extension, student and staff welfare, and infrastructure development, respectively. Also present were UPLB Foundation, Inc. Executive Director Dr. Enrico P. Supangco and SEARCA Director Dr. Glenn B. Gregorio who both applauded SESAM on its achievements.
Allan B. Anoyo, a representative from the Bids and Awards Committee gave a brief orientation on the guidelines and processes in procurement. Dr. Feliciano G. Calora, Jr, deputy executive director for research and development of the Department of Science and Technology-Philippine Council for Agriculture, Aquatic, and Natural Resources Research and Development (PCAARRD), presented the agency's harmonized national research and development agenda (HNRDA).
Day 2 of the three-day workshop was dedicated to a brainstorming of ideas and discussion of plans and actions for the four divisions: instruction, extension and public service, research, and administration.
The results of the workshop were presented on Day 3. The strategic planning workshop served as the venue for sharing their vision and plans on the operational and administrative aspects, in instruction, and on infrastructure development of SESAM.