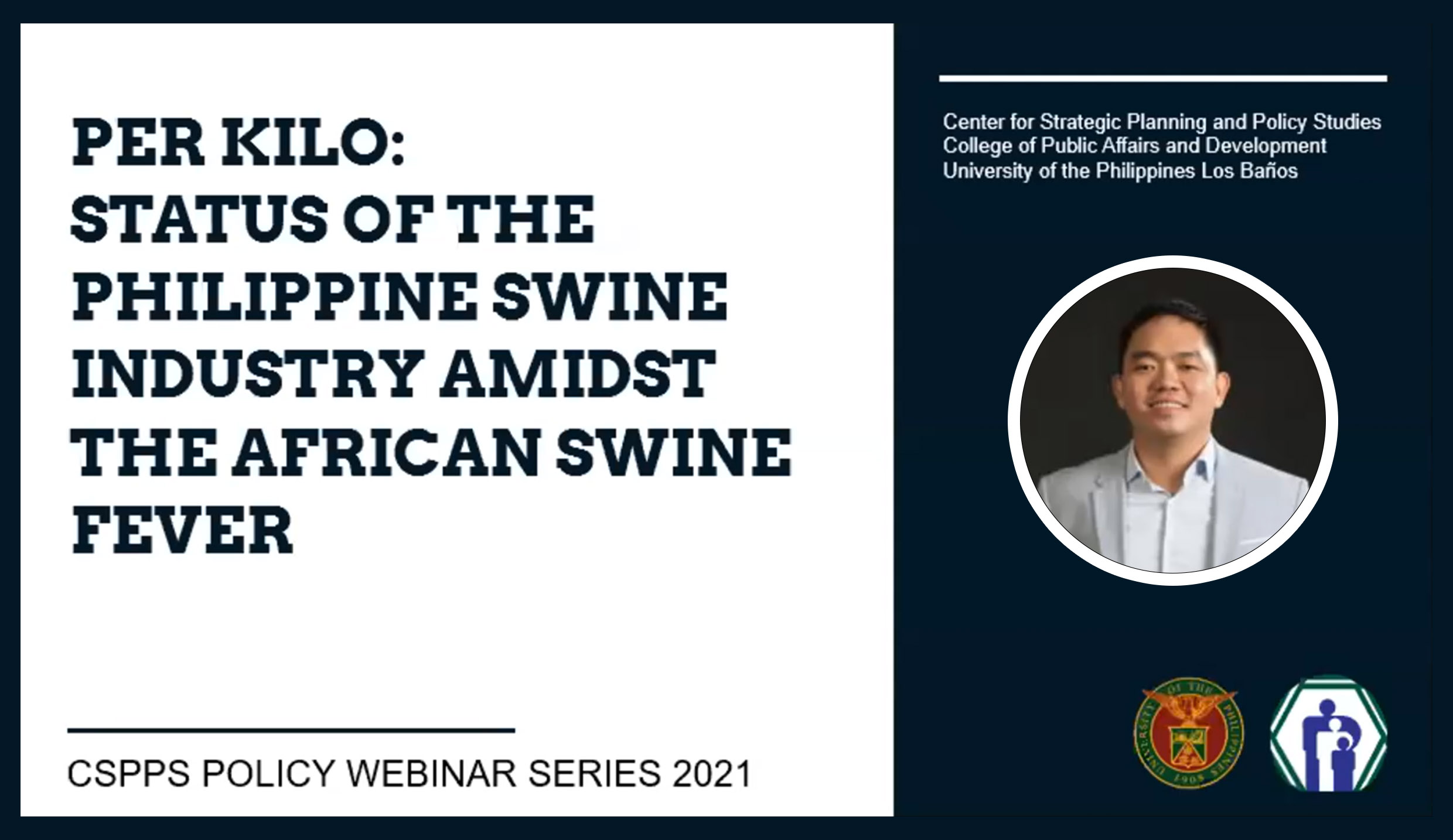 Swine virologist proposes policies to prevent further spread of ASF
The Center for Strategic Planning and Policy Studies of the College of Public Affairs (CPAf-CSPPS) held a policy forum that not only outlined recommendations from an expert and a multi-awarded veterinary medicine practitioner but also promoted a better understanding of African Swine Fever (ASF).
Dr. Eugene Mende, a doctor of veterinary medicine who finished his masters with specialization in infectious disease of swine at the University of Minnesota, spoke at the virtual policy forum in February.
"Per Kilo: Status of the Philippine Swine Industry Amidst the African Swine Fever," the first of the CSPPS policy webinar series for 2021 also had small-holder farmers and commercial hog raisers, as well as academics, researchers, and students in the audience.
Dr. Mende explained how ASF spread in China and in North Luzon and cited lessons that could be learned from the experience in these places.
He traced how ASF spread due to the decision of hog growers in Rodriguez, Rizal to cut their losses and sell ASF-infected pigs to viajeros who in turn sold these in marketplaces in Bulacan and Pampanga, provinces that are known for high density hog farms.
He said that to prevent further spread of ASF in other areas, the practice in San Juan, Batangas of allowing the buying and selling of hogs at a centralized trading post may be practiced.
Dr. Mende also lamented the ineffective, uncoordinated; and in some instances, the lack of quarantine programs and protocols across local government units. This, he said, contributed to the spread of ASF.
According to him, a system of cleaning and disinfection at entry points with permit stubs issued to viajeros and feed trucks may be practiced to prevent this from happening.
He cited as evidence of proper quarantine protocols helping control the spread of ASF the decline in its incidence during the COVID-19 lockdowns in the country.
The lack of incentives to report possible infection in their farms due to lack of indemnification and fear of being wrongly blamed for bringing the virus into the area has held back hog growers from reporting observations and confirmed ASF cases, Dr. Mende said.
He recommended that funds be allocated for purposes of indemnifying those whose farms got infected. He also said that violators of protocols should be made to pay heavy penalties.
Dr. Mende further blamed the further spread of ASF on the lack of testing. Hog growers preferred to sell their pigs than spend on a costly test. Moreover, test kits were not widely available in the provinces.
Aside from recommending that widespread testing be conducted, he said that transparency in reporting must be followed through with controlled and monitored selective culling of infected pigs.
According to Dr. Mende, their organization has submitted to the Department of Agriculture their recommendations for the swine industry to recover.
The CPAf-CSPPS seminar series is aimed at promoting public awareness in food security and sustainability, water and development, social policy and institutions, and local governments. (JMBo)