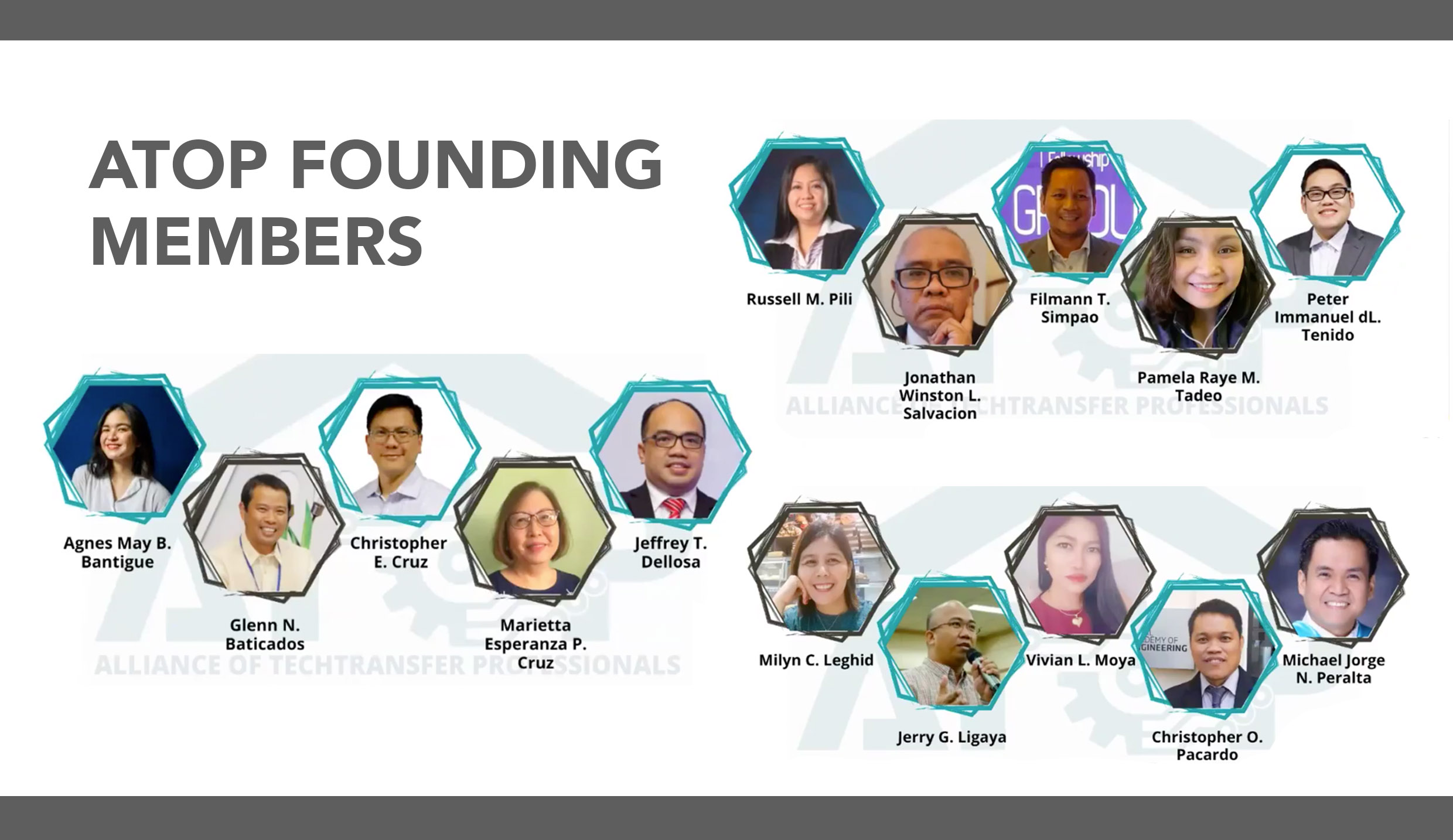 TTBDO head, other technotransfer champions formalize alliance
The Alliance of Technotransfer Professionals of the Philippines (ATOP) has served notice of its existence through a virtual launch of the organization via Zoom on Dec. 3.
ATOP is an independent organization of professionals that promotes intellectual property management and knowledge and technology transfer to transform research outputs into innovative products and services.
ATOP is composed of technology transfer champions from industry, government, and academe; with the director of UPLB's Technology Transfer and Business Development Office Glenn Baticados being a founding member.
It was initiated by a small group that aims to professionalize technology transfer in the Philippines by providing a venue for sharing, for the organization to be accredited as a member of the global intellectual property organizations, be an independent voice in matters pertaining to intellectual property, and expand and deepen knowledge about technology transfer so that it will become part of mainstream knowledge.
The one-day program was opened formally by Atty. Christopher E. Cruz, director of the De La Salle University (DLSU) Intellectual Property Office and manager of the DLSU Innovation and Technology Office.
Supporters of ATOP graced the virtual launch, giving messages of encouragement to the group.
These were Science and Technology Secretary Fortunato dela Peña; Atty. Roel Barba and Atty. Nelson Laluces, both directors general of the Intellectual Property Office of the Philippines (IPOPHL); Dr. Tirso Ronquillo, president of the Philippine Association of State Universities and Colleges; Dr. Richard Abendan, chief of party of US Agency for International Development-Science, Technology, Research, and Innovation for Development; Atty. Michael Andrew Ong, director of the World Intellectual Property Office (WIPO) Asia-Pacific Bureau; and Dr. Ashley Stevens and Dr. John A. Fraser, both consultants of WIPO. Also in attendance was Stephen Susalka, chief executive officer of AUTM.
Giving the keynote was Marc Sedam, vice provost for innovation and new ventures of University of New Hampshire Innovation (UNHInnovation) and chair of the Board of Directors of the Association of University Technology Managers.
Big names in IP and technology transfer joined the launch through the panel sessions that were held in the afternoon of Dec. 3. The panelists were Dr. Luis Sison, director of the UP System TTBDO and project leader of the UPSCALE Innovation Hub; Russel Pili, chief technology transfer officer of the Philippine Council for Industry, Energy and Emerging Technology Research and Development of the Department of Science and Technology; Dr. David Hall, chief of party to the USAID Opportunity Education Development Center, Inc.; Dr. David Simmons, counselor of WIPO-Asia-Pacific Bureau; and Glenn Estrella, entrepreneur and venture acceleration head of 917 Ventures.
Panel discussion moderators were Jorge Peralta, Innovation and Technology Services Office manager of the University of Santo Tomas; Marietta Esperanza Cruz, consultant of the USAID STRIDE.
Director Baticados, in his closing remarks of the one-day program, invited techtransfer professionals and champions of innovation to join ATOP.
To view the program, please log in to https://www.facebook.com/AToPhilippines/videos/1824903337657529