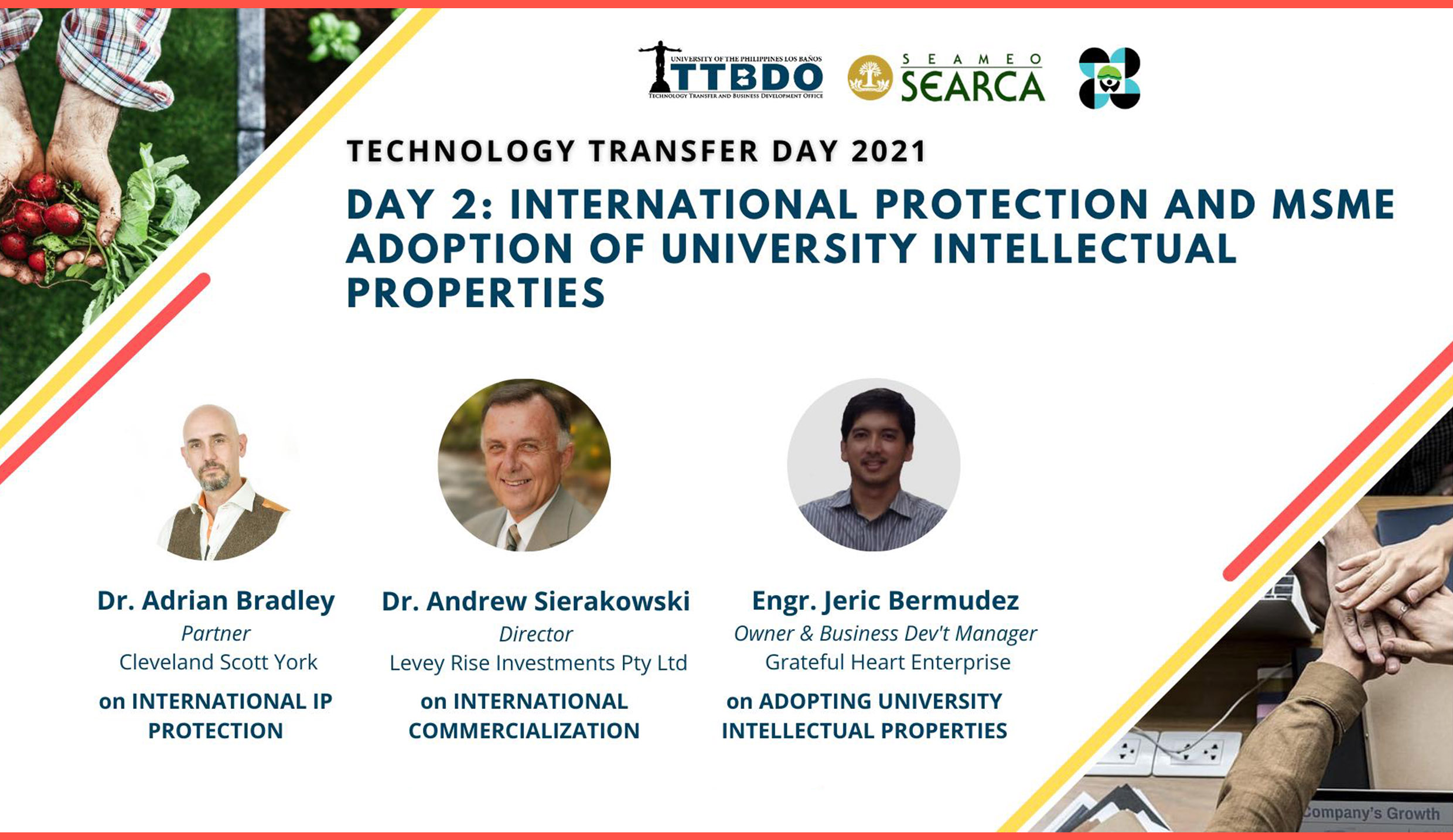 TTBDO highlights protection and adoption of intellectual properties
As part of its celebration of Technology Transfer Day, the Technology Transfer and Business Development Office (TTBDO) held a special webinar to discuss international Intellectual Property (IP) protection and commercialization on April 23.
These were led by Dr. Andy Sierakowski, the director of Levey Rise Investments Pty Ltd., Dr. Adrian Bradley, a patent attorney specializing in health-related technology and a partner at Cleveland Scott York, and Jeric Bermudez, the CEO of Grateful Heart Enterprise.
Dr. Sierakowski discussed technology transfer in the context of the university and public sector and how these institutions could successfully commercialize their technologies by pursuing partnerships with the industry.
He said that universities can commercialize through industry research contracts, creation of spin-off companies, or through licensing, all of which are interrelated.
Before applying for a patent, he suggested that technology developers and institutions first conduct a thorough market research with their technology transfer officers to ensure a good understanding of how their product can solve a market need or problem.
He also emphasized that universities must focus on market needs and assessment and not just on IP protection, so that the technology can have a significant impact on its target users and clients, and therefore perform better in the market. Engaging industry partners early on during research and development can also help universities and technology developers stay aligned with market needs.
Dr. Bradley's discussion revolved around international patent protection and how developers can apply their patents through the Paris Convention or the Patent Cooperation Treaty (PCT) System to manage patent applications overseas.
Since patent protection is limited per jurisdiction, patent applicants may face challenges in IP protection if they wish to protect their work in other countries.
Through the Paris Convention, patent applicants can file an initial patent trademark in their home jurisdiction and apply a corresponding application for the same invention in other countries with the same filing date as the original application.
Dr. Bradley said this is a good option for developers that have decided earlier on in which countries they want to market their product.
On the other hand, filing through the PCT system buys developers more time and can allow them to strategize first in which countries they should apply for a patent or if they should commercialize through other options.
Lastly, Bermudez shared their company's experience in applying for a license to use UPLB's trademarks and logos in their products. He said that applying for a license not only protects the trademark owners but also benefits the licensee because it gives their products more value and ensures that their designs will not be easily copied.
In her closing message, Dr. Merdelyn C. Lit, vice chancellor for research and extension, recognized the importance of protecting intellectual property, especially for researchers and technology developers, to help protect their brand identity and maintain their competitive advantage. This also secures their income and extends it to possible partners through commercialization options such as licensing and franchising.
The webinar followed TTBDO's technology commercialization and pitching event held on April 21. (Jessa Jael S. Arana)