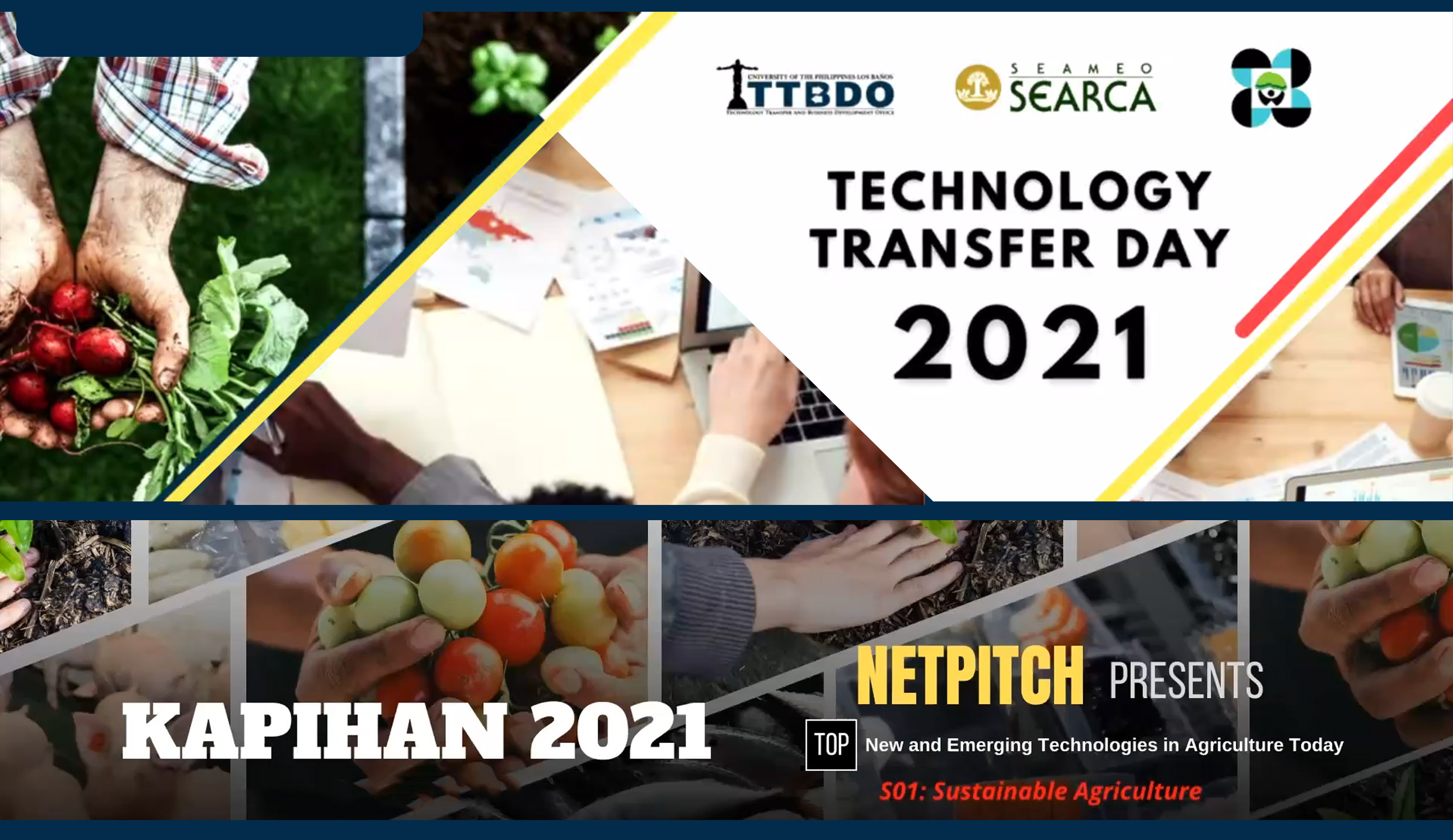 TTBDO holds seminar and "NETPITCH" on techno transfer day 1
The Technology Transfer and Business Development Office (TTBDO) celebrated technology day on April 21 with a seminar on commercialization and on biologics and soil amendments in the morning and a technology pitch in the afternoon.
The morning session was opened by messages from Chancellor Jose V. Camacho, Jr. and director of the Southeast Asian Regional Center for Graduate Study and Research in Agriculture (SEARCA), Dr. Glenn Gregorio.
Chancellor Camacho talked about how UPLB has produced better biofertilizers and biopesticides since the 1980s.
He said that these products have gained wider acceptance due to the increasing concern over the effects of synthetic fertilizer on food and the environment and the growing consumer preference for organic food products.
For his part, Dr. Gregorio committed to be one with TTBDO in properly informing the public about biofertilizers and biopesticides, which he said are relevant with food security being an issue not only in the country but in other parts of the world.
He revealed that SEARCA under its 11th Five-Year Program ATTAIN, or Accelerating Transformation through Agricultural Innovation has identified agri-technologies as a crucial ingredient to strategically move forward initiatives that benefit farmers.
TTBDO co-sponsored the whole-day event with SEARCA and the Philippine Council for Agriculture, Aquatic, and Natural Resources Research and Development (PCAARRD) of the Department of Science and Technology.
Commercialization
The morning session had for its first resource speaker Dr. Richard Cahoon, president of Bio Property Strategy Group, Inc., an international Intellectual Property consulting firm.
Dr. Cahoon is an adjunct professor at the Department of Global Development of the College of Agriculture and Life Sciences at Cornell University. He had also served as director of technology transfer of Cornell University for 20 years.
From his extensive experience in R&D, business development, and commercialization, Dr. Cahoon drew ten elements of commercialization of new technologies that he shared to the participants.
These ten elements are viability, inventiveness and market relevance, property control position, value proposition, champion/s to push the technology, partnering, making the connection, commercialization allies, investments, and perseverance, patience, luck, and resilience.
Joel C. Laserna, a UPLB alumnus and president of Philippine FarmFix Solutions, Inc., an agro-chemical company that markets pest and disease management products, was the second speaker.
Laserna discussed the biologics and soil amendments products that his company carries, in addition to agricultural chemicals for banana and pineapple. His company also pioneered the use of drones in the agriculture industry in Davao.
Biologics are products that have living organisms as components such as biofertilizers, biopesticides, and biostimulants. Soil amendments, on the other hand, are organic and inorganic nutrients that are added to the soil to improve its ability to support plant growth, development, and productivity.
According to Laserna, Farmfix is on the lookout for technologies that it can also market, thus his constant and continuous networking with UPLB.
Dr. Glen Baticados, former director of TTBDO and project leader for UPLB Intellectual Properties and Technology Commercialization, gave the closing remarks and a recap of the morning program.
"NETPITCH"
In the afternoon, TTBDO held Kapihan 2021 which was named "NETPITCH," a play on the name of a popular streaming service for movies and television shows.
NETPITCH served as the venue for pitching five of new and emerging UPLB technologies in agriculture to a virtual audience that included partners and investors.
These technologies were WiltCure, a biopesticide for controlling Fusarium wilt in solanaceous crops; Hi-Yeast, a microbial antagonist that prevents fruit and vegetable decay caused by pathogens during postharvest handling; Micromix, a biostimulant to increase yields of solanaceous crops and cucurbits; NaturaGrow Fertilizer, a liquid organic plant supplement that is used to improve flowering and fruiting of various plants; and NaturaGrow Microbial Inoculant, a plant growth enhancer.
The program was formally opened by Director Noel A. Catibog of PCAARRD-Technology Transfer and Promotion Division who cited UPLB-TTBDO as part of a network of state universities and colleges and research and development institutes that have filed almost 1,300 intellectual property applications for patents, utility models, trademarks, and copyrights, which he said is unprecedented in the agriculture, agroforestry, and natural resources or AANR sector.
He thanked UPLB-TTBDO for holding the technology pitch program as it is integral in facilitating technology commercialization. He invited UPLB to be part of a consultation meeting with key stakeholders for 18 commodities aimed at determining research gaps and technology needs.
The developers of the technologies that were pitched are Dr. Eufrocinio Marfori for WiltCure; Dr. Severina B. Exconde for HiYeast; Dr. Mannix Pedro for MicroMix; and Dr. Blesilda Calub, for both NaturaGrow Fertilizer and NaturaGrow Microbial Inoculant.
A question and answer session followed the technology presentations and a walkthrough on the commercialization process by Jayza Maye Jalbuena, technology transfer officer.
TTBDO Director Romel M. Carlos closed the program by enjoining potential investors and partners to a more "in-depth collaboration" for a vibrant culture of innovation and agri entrepreneurship in the country.
Dr. Carlos also invited the investors to consider locating at any of the two special economic zones that are going to be established in UPLB, the Agro-Industrial Park and Information Technology Park. (Josephine Bo)