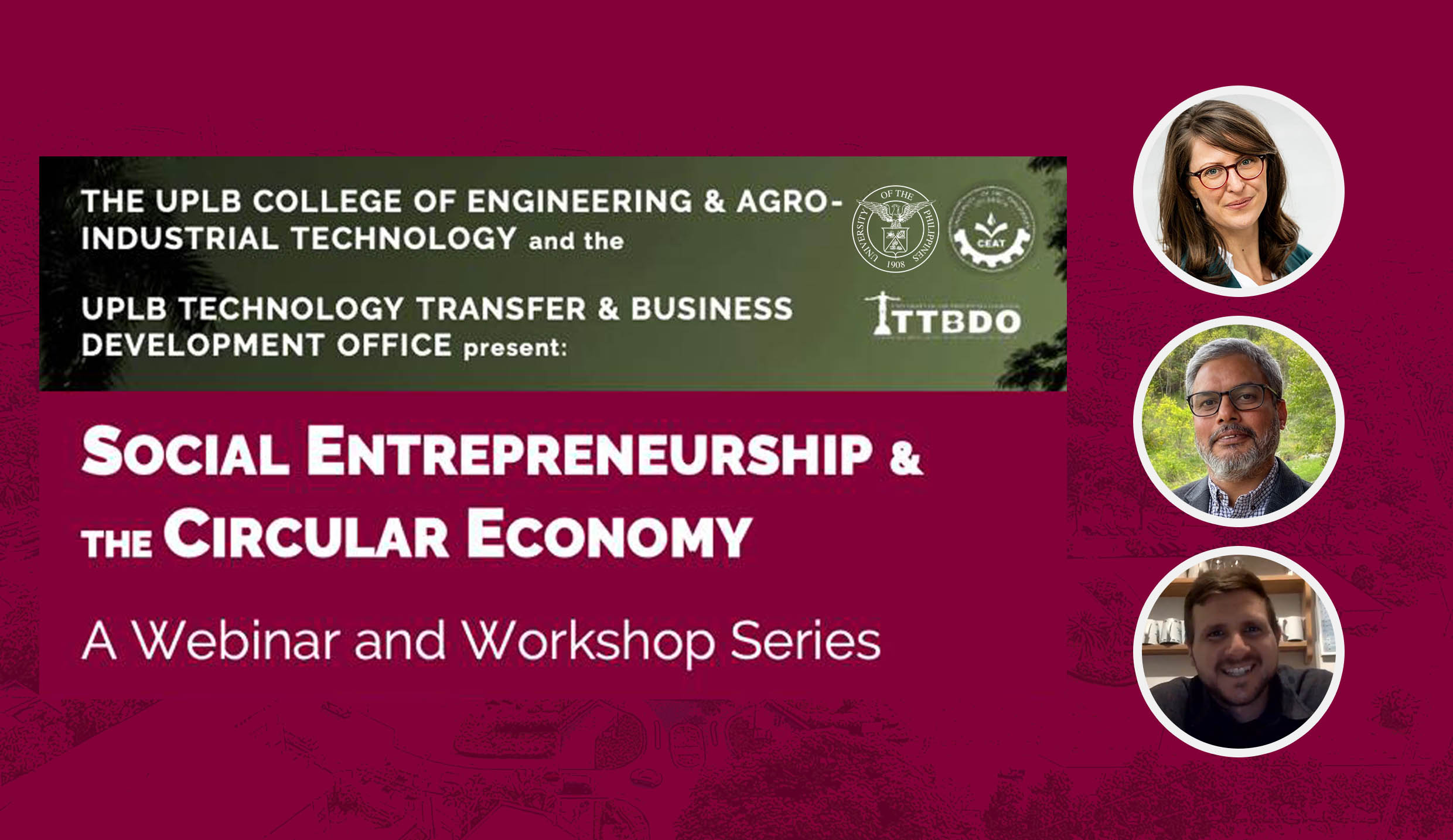 TTBDOxCEAT conclude workshop-webinar series on bio & circular economy
A workshop and a roundtable discussion concluded the last two days of the 8-day workshop-webinar on the bio and circular economy held via video conference.
The workshop-webinar series was organized by the UPLB Technology Transfer and Business Development Office (TTBDO) and the College of Engineering and Agro-Industrial Technology (CEAT).
On May 18, Day 7, common perceptions of social entrepreneurs and the challenges of embedding shared value in an organization were taken up at the workshop-webinar with innovator and entrepreneur, Felix Bock, as the resource person.
Bock, founder and CEO of circular economy startup, ChopValue, which recycles and transforms used chopsticks, shared his experience in changing the ways of businesses.
Bock said that his journey in the business began with his curiosity and brought him to enabling business establishments' involvement in the circle economy.
A circle economy is defined as an economic system that eliminates waste by continuous use of resources such as the example of Chop Value, which collects used chopsticks from a location, and then sanitizes, recycles, and repurposes them to lessen production waste.
Bock encouraged other companies who would like to replicate their business not to just replicate their product but to adopt their thinking.
Following Bock's talk was a presentation by Dr. Meike Siegner, visiting professor at the Innovation for Social Impact Partnership (ISIP).
Dr. Siegner discussed the dangers of mission drift where the social mission of an enterprise can be sacrificed to pursue profit, or the profit can be lost due to an overly ambitious social mission.
The second part was an interactive session in which the participants presented examples of existing business organizations that practice social entrepreneurship.
The last day of the workshop-webinar series on May 19 featured Dr. Rajat Panwar, professor of sustainable business management at the Walker College of Business at Appalachian State University in North Carolina, USA .
Dr. Panwar presented examples of sustainable business practices and discussed how corporate sustainability needs a paradigm shift and why sustainability efforts have remained ineffective.
He suggested solutions such as the umbrella approach, an all-systems approach to mitigate environmental impacts rather than a narrowly defined problem.
Dr. Panwar's presentation was followed by a round-table discussion on introducing sustainable business management and embracing techno-entrepreneurship and circular economy strategies.
Day 8 of the workshop-webinar series was attended by UPLB students, faculty, staff, and administration personnel.
Formally closing the activity was Kevin dela Cruz, entrepreneurship manager of Philippine Development Foundation.
Dela Cruz shared a study showing that the Philippines is a contributor to the heat index map to which he offered three solutions, namely: behavior reflection, system learning refining, and development of new approaches.
Wrapping up the session was Dr. Romel M. Carlos, director of TTBDO, who encouraged a collaborative culture of partnership toward future-proofing UPLB.
Carlos recommended going against the culture of individualism and to progress from individual to collective success.
He said that he hopes to hone the innovative and entrepreneurship mindset of students in preparation for their post-university life.
According to Dr. Kevin Yaptengco, faculty member at the Agricultural, Food and Bioprocess Engineering Division of CEAT's Institute of Agricultural and Biosystems Engineering, the event was attended by 70-100 online participants per day during its run. The participants included UPLB constituents and from other universities.
The series of webinars may be viewed online at the UPLB Technology Transfer and Business Development Office (TTBDO) Official Facebook Page. (KEAraguas)