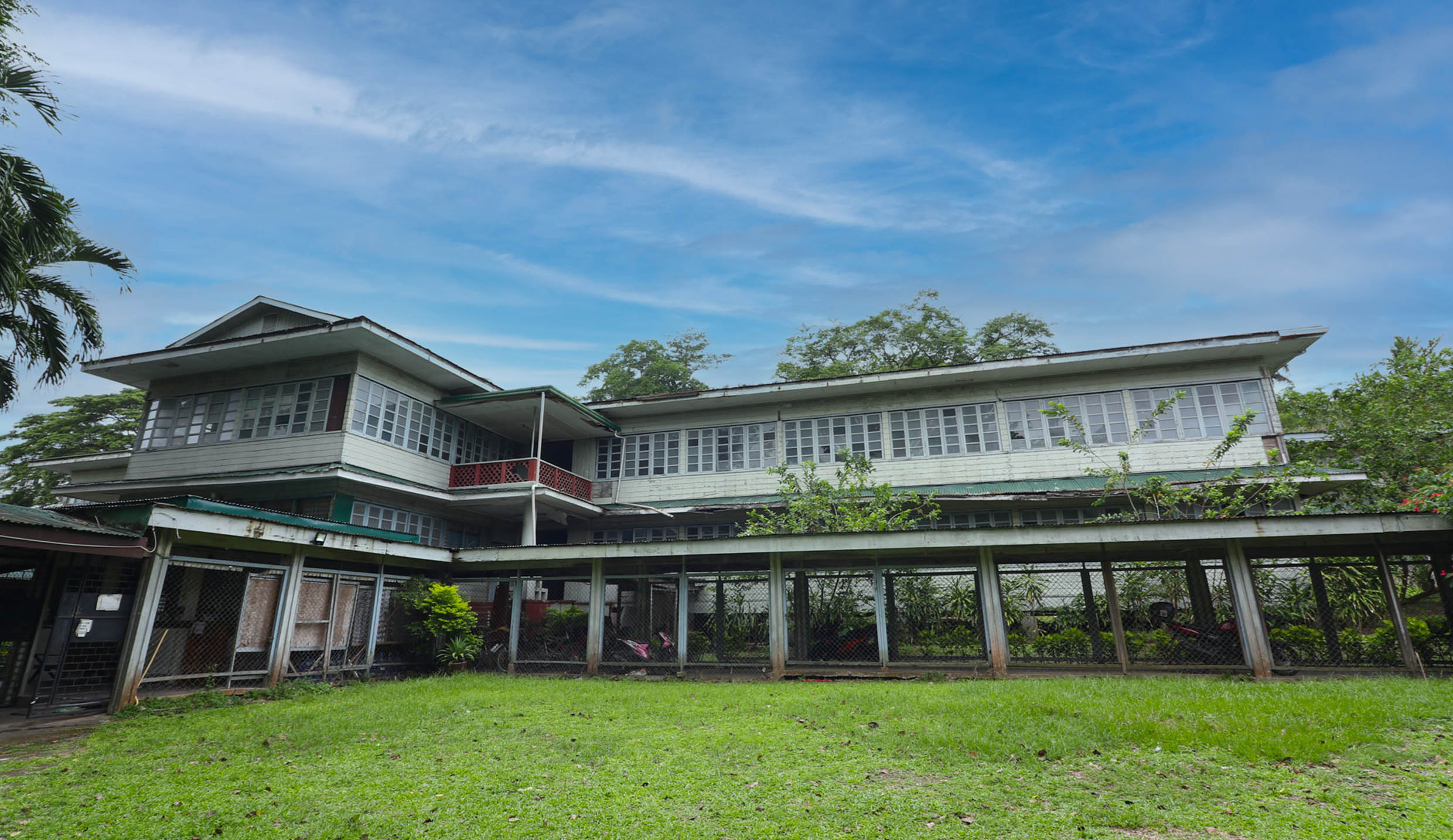 UP administration consults former residents on next steps for Men's Dorm
Ten years since the old Unit 1 of Men's Dorm was shuttered after the building was evaluated and found unsafe, UP administrators, led by no less than President Danilo L. Concepcion, held a conversation with the dormitory's former residents to get their opinions on the next steps that will be taken for the building.
What state is the building really in? Is Unit 1 going to be torn down? Is it going to be renovated and a new building put in its place? What are the alumni dormers' role in the next steps that will be taken?
In 2010, the building was evaluated to be in need of major renovation. It was found to be termite-ridden and in an advanced stage of deterioration and was declared to be a potential fire hazard. Because of this, the administration during that time recommended the building to be demolished and a new one built in its place.
Men's Dorm alumni expressed their concern about the plan with some of them forming the "Restore the Unit 1 Men's Dorm Movement," thus the decision to consult them about the project.
The consultation via video conference sought to clarify questions and concerns and bring the two parties to an agreement on what to do with the structure. It was led by President Concepcion himself who told the consultation participants that there are no final plans yet for Men's Dorm, particularly old Unit 1.
"Kung may isang tao sa Unibersidad na may policy na i-retain ang mga structures na kakambal ng ating kasaysayan, mga structures na dapat nating i-preserve, ako po iyan," President Concepcion assured the alumni dormers. He suggested that there should be an alumni representative who will be consulted by the committee in-charge of the plans for Men's dorm.
("If there is one person in the university who is for the retention of structures that should be preserved as part of our history, I am that person.")
President Concepcion encouraged the alumni to commit themselves to help bring back the former glory of the dorm to serve more students in the future.
Chancellor Jose V. Camacho, Jr. presented a tentative proposal for a new building that will be built in place of old Unit 1, saying that this is the perfect opportunity to start the plan for Men's Dorm while students are on remote learning. He also showed to the participants pictures of the sorry state in which old Unit 1 is in.
Chancellor Camacho said that according to the proposed new building, the first floor will be dedicated for offices and common facilities like tv room, study room, cafeteria, assembly hall, and kitchen. The other floors are for the residents' rooms. Each room will still have two double deck beds to be occupied by four students.
According to him, if the pandemic continues, only two residents may occupy a room, and instead of common toilet and bathrooms, each room will have its own toilet & bathroom.
A number of former residents of Men's Dorm participated in the consultation sharing with each other their memories and experiences of living in the dorm.
"Sobrang colorful ng ating memories and experiences dito. Ito ang nagsilbing bahay, tahanan, kanlungan, at sandigan po nating lahat na nagstay dito sa Men's Residence Hall most especially noong panahon ng hell week," John Mervin L. Embate said. Embate is the director of the UPLB Office of Student Housing (OSH).
(We all have colorful memories living here in our house, our home, our shelter. This was our refuge especially during hell week.)
Jickerson Lado, assistant to the vice chancellor for student affairs (AVCSA), summed up the former dormers' stories into stories of how much they enjoyed staying there. "The amenities offered before may not be much, but it helped the former Iskos and Iskas survive their college lives. It seemed that good memories weighed more than the amenities. Men's Dorm is a melting pot of students, especially freshies. It witnessed different emotions and stories from its residents that will be forever cherished. Ang inyong pagtingin sa dorm ay hindi lang bahay, ito po ay buhay," AVC Lado added.
(Men's Dorm for you was not only a house; it was also your life.)
Among the former dormers who took part in the consultation were Dr. Leocadio Sebastian (BS Biology '83, MS Genetics '87) who shared his memorable experiences at the Men's Dorm through a video. Dr. Sebastian, one of the recipients of the Agricultural and Rural Development Scholarship (ARDS) as a student in UPLB, is a successful agricultural scientist in the local and international realm. He is currently undersecretary and chief-of-staff of the Department of Agriculture.
Another video presentation showed a compilation of pictures and videos from alumni who reminisced their cherished memories and stories as former dormers.
The virtual space became an opportunity for the Men's Dorm residents to also suggest what they think should be the facilities and amenities of a proposed building to replace old Unit 1. In essence, they wanted the dorm to be homey and at the same time, functional, and also be able to earn its own income.
They also proposed "going green" by using solar panels, putting a water catchment system, and a waste disposal area. Facilities, they said, should also include back-up generators and water tanks. Former dormers also said that the rooms should be well-lit, airy, and be safe and inclusive.
Cory Mariano, one of the former Men's Dorm heads, and Ms. Ruejelle Cabral, current dorm manager, attended the consultation. Also present at the consultation were UP Faculty Regent Aimee Lyn Barrion-Dupo, Vice Chancellor for Administration Rolando Bello, UPLB Alumni Association (UPLBAA) President Leo Ballesfin, CEAT-AA President Pantaleon Tabanao, CPAf-AA President Paulo Velaso, UP Professional School for Agriculture and the Environment Director Maria Catalina de Luna, Office for Institutional Development in Higher Education Program Coordinator Rocky Marcelino, dormitory heads from OSH, OVCSA, representatives of the UPLB Alliance of Dormitory Association, University Student Council, and UPLB Perspective. The consultation was held on June 23 with Embate moderating the proceedings.
Men's Dorm Residence Hall now has an e-mail address: [email protected]. (Paully May Valencia)