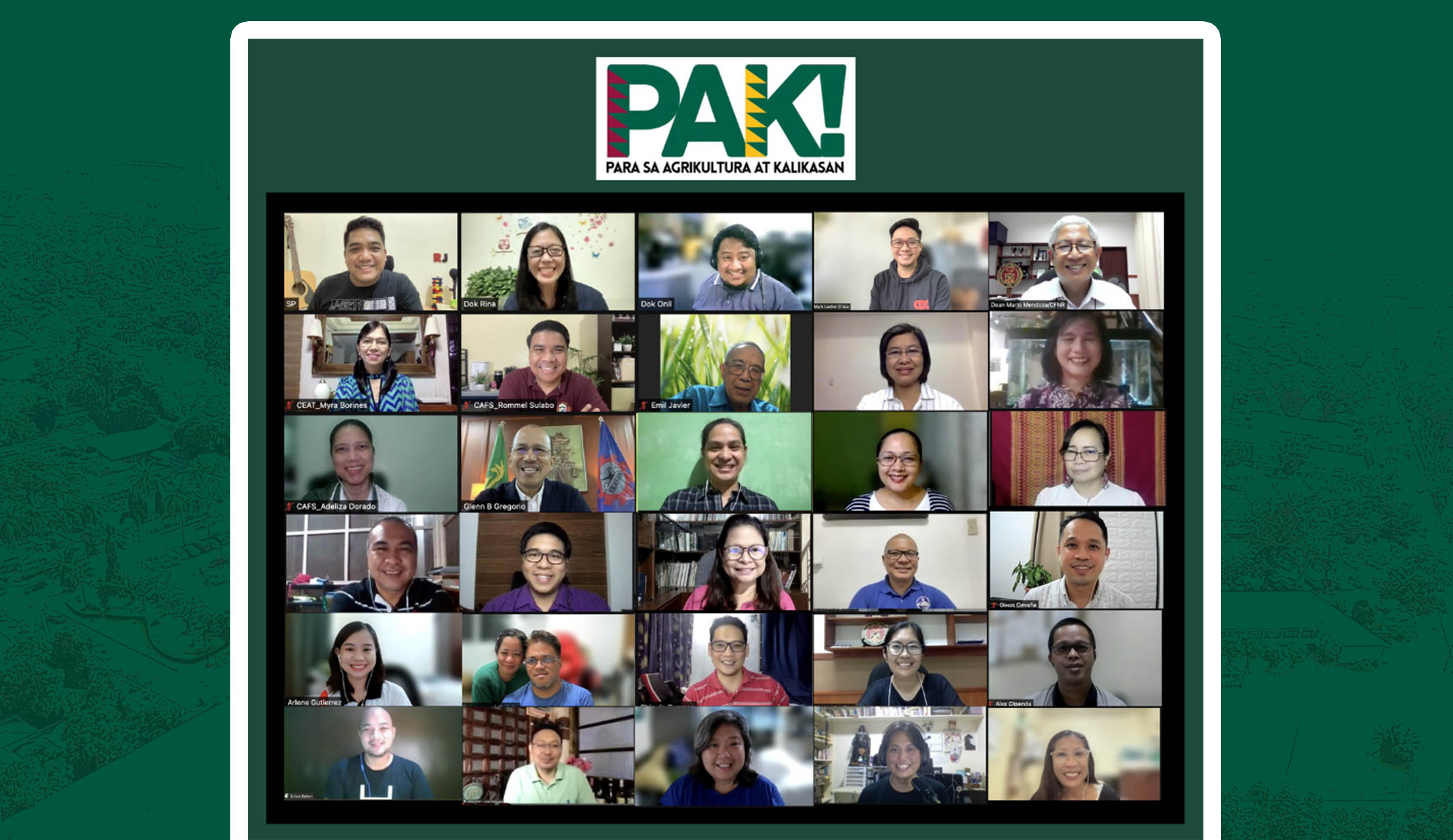 UP PSAE & Radyo DZLB air "PAK! Para sa Agrikultura at Kalikasan"
The UP Professional School for Agriculture and the Environment (UP PSAE), together with Radyo DZLB, recently concluded a six-episode online magazine program entitled, "PAK! Para sa Agrikultura at Kalikasan."
PAK! aimed to provide information about agriculture and environment that is on-point (tumPAK), impactful (may imPAK), and useful (kaPAKipakinabang).
The episodes were hosted by Dr. Maria Catalina "Dok Rina" T. de Luna, director of UP PSAE and Dr. Ronilo Jose "Dok Onil" D. Flores, associate dean of the UPLB Graduate School.
Its three segments were "Agree to AGRI," which covered agriculture-related topics; "ENVIsion," a discussion on issues concerning the environmental; and (3) "Level UP PSAE," which featured current and future UP PSAE programs and trainings.
The first episode aired on Nov. 3 with the topic, "Agrikultura Noon, Ngayon, at Bukas," (Agriculture in the past, today, and tomorrow).
It guested National Scientist Emil Q. Javier, former UP president and UPLB chancellor, and Academician Glenn B. Gregorio, the director of the Southeast Asian Regional Center for Graduate Study and Research in Agriculture.
Dr. Adeliza A. Dorado and Dr. Rommel C. Sulabo, of the College of Agriculture and Food Science, together with Dr. Myra G. Borines, of the College of Engineering and Agro-Industrial Technology discussed the Master in Food Engineering and Master in Animal Nutrition degree programs.
The second episode, which aired on Nov. 10, focused on Ecohealth and ONE Health. It featured Dr. Vachel Gay V. Paller, director of the Institute of Biological Sciences (IBS) of CAS-UPLB and Phillip A. Alviola, faculty member at the Animal Biology Division of IBS.
Faculty members Dr. Charina Gracia B. Banaay, Dr. Walter A. Laviña, and Joseph Carmelo K. San Pascual, talked about the different short and cognate courses offered by IBS.
In the third episode on Nov. 17, Dr. Maria Victoria S. Espaldon and Dr. Decibel V. Faustino-Eslava, UP scientists and project leaders at the School of Environmental Science and Management (SESAM), gave an overview and shared the accomplishments of Smarter Approaches to Reinvigorate Agriculture as an Industry in the Philippines or SARAi program.
The session also had Forester Sofia A. Alaira and Dr. Thaddeus P. Lawas discussing the certification trainings of the Continuing Education and Training Division of SESAM.
The fourth episode of PAK! aired on Nov. 24. It was on the topic, "Kinabukasan ng Kagubatan at Likas-yaman" (Future of Forests and Natural Resources) and featured Dean Marlo D. Mendoza of the College of Forestry and Natural Resources (CFNR) and Dr. Alex S. Olpenda, dean of the College of Forestry and Environmental Science of Central Mindanao University.
Dr. Analyn L. Codilan and Dr. Dixon T. Gevaña, both faculty members at CFNR, explained about the Continuing Professional Development webinars, trainings, and graduate programs offered by the College.
The fifth episode broadcasted on Dec. 1 covering the topic AgriPinoy (Agripreneurship) or agriculture entrepreneurship. It featured Brian A. Belen, an agriculturist, farmer-entrepreneur, and founder of the ABF Integrated Farms and Agribusiness Center, Inc., together with Emmanuel and Mary Grace Belviz, owners of the Belviz Farms and Rosario's Delicacies.
Arlene C. Gutierrez and Renen Szilardo C. de Guzman, both faculty members at the College of Economics and Management, talked about the executive program and short courses offered by the College.
The last episode on Dec. 8 had for its guest Dr. Jabez Joshua Flores, lecturer and research assistant at the UP Open University, together with Maria Edna Carolina Lee, an applied clinical psychologist and program director of The Nature Sanctuary, Cebu, discussed "Permaculture for a Sustainable Future."
Featured in the episode, as well, were Dr. Jomar F. Rabajante, dean of the Graduate School (GS) and Dr. Pamela A. Custodio, School Secretary, who emphasized the role of GS in future-proofing UPLB.
The recording of the episodes can be accessed on the Facebook Page of Radyo DZLB – https://www.facebook.com/RadyoDZLB/videos (Joshua Michael G. Jonas)