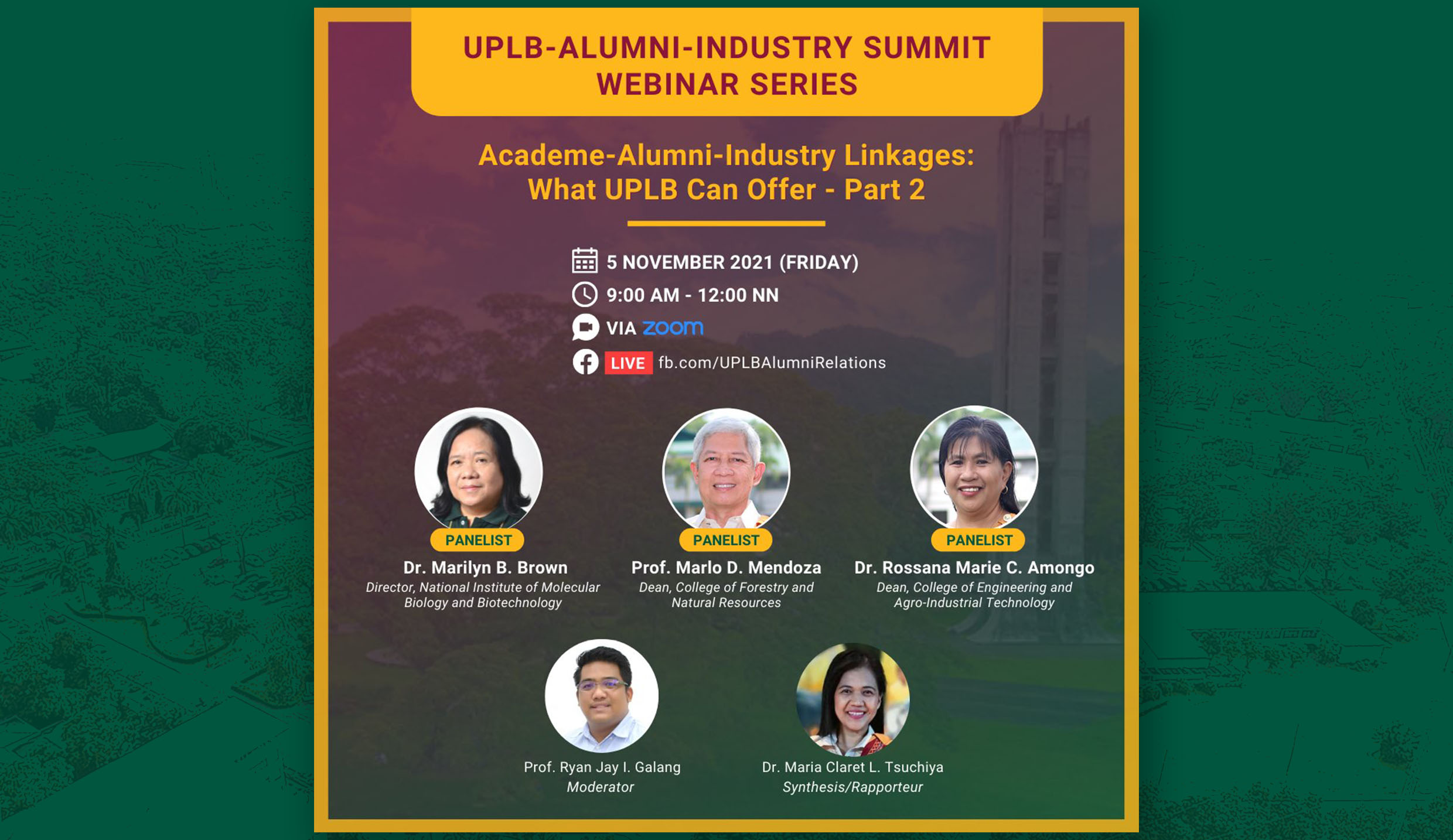 UPLB-Alumni-Industry Summit webinar to take place on Nov. 5
The Office of Alumni Relations (OAR), in partnership with the UPLB Alumni Association (UPLBAA), will conduct the sixth and last part of the UPLB-Alumni-Industry Summit webinar series from 9am to 12pm on Nov. 5 via video conferencing.
The webinar will be the second part of "Academe-Alumni-Industry Linkages: What UPLB Can Offer," which delves on the technologies and knowledge products that are available at UPLB for commercialization and use by other higher education institutions.
By holding the UPLB-Alumni Industry Summit, OAR is aiming to facilitate the building of partnerships with industry and state colleges and universities in the country.
The panelists for the webinar are Dr. Marilyn B. Brown, director of the National Institute of Molecular Biology and Biotechnology or BIOTECH; Dean Marlo D. Mendoza of the College of Forestry and Natural Resources; and Dean Rossana Marie C. Amongo of the College of Engineering and Agro-Industrial Technology.
Dr. Maria Claret L. Tsuchiya, faculty member at the Institute of Biological Sciences, will be the rapporteur while Ryan Jay I. Galang, a researcher at the College of Development Communication, will be the moderator of the webinar.
The UPLB-Alumni Industry Summit webinar series is aimed at formalizing the alliance between UPLB, the alumni, and the industry. (Kyle Ramiel Dalangin)