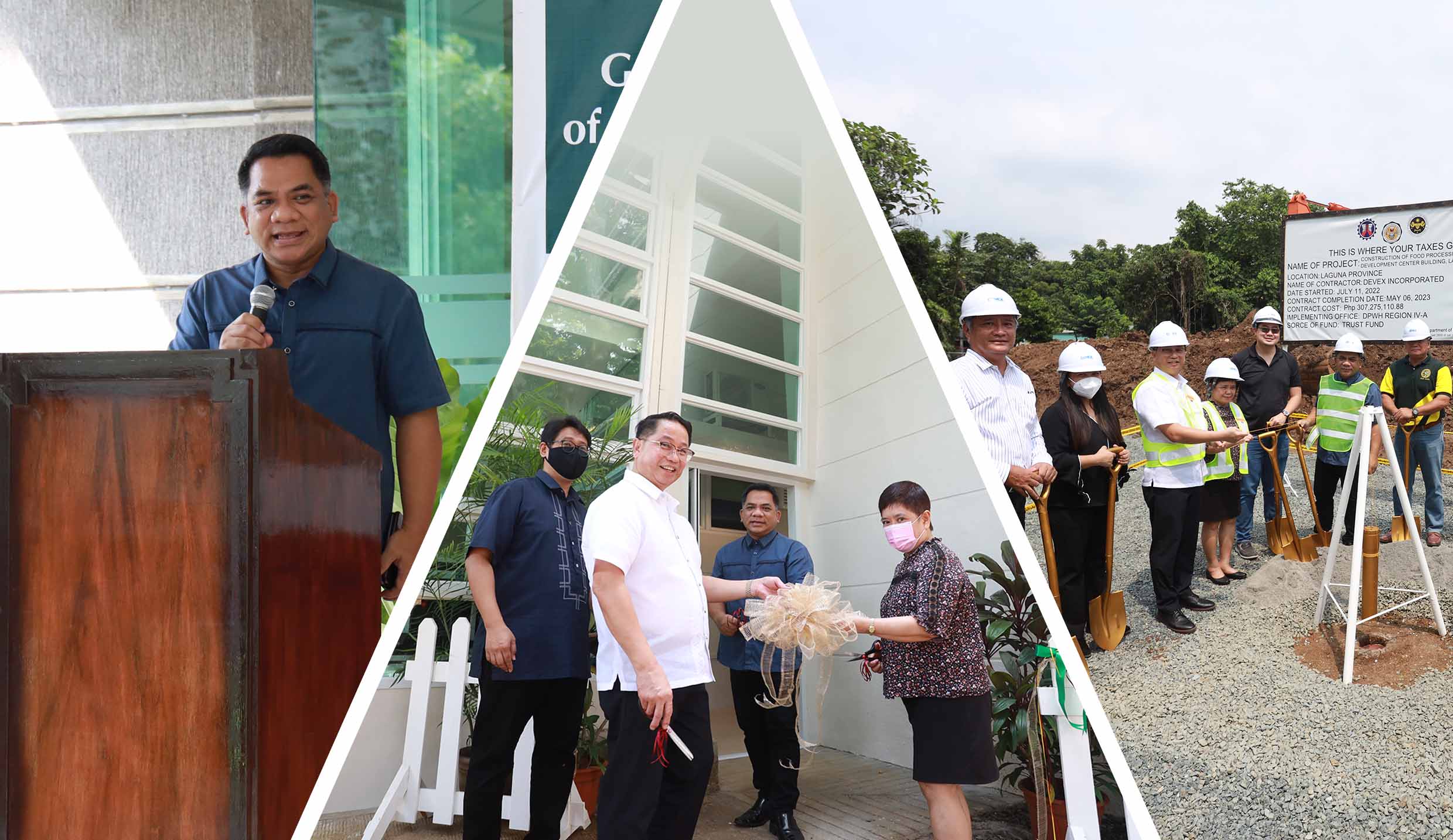 UPLB breaks ground for new infrastructure projects 
A series of groundbreaking ceremonies was held on Aug. 11 for three new infrastructure projects and a major facility renovation project in UPLB.
The new infrastructure projects are the Microbial Bank of the Philippine National Collection of Microorganisms (PCM) at the National Institute of Molecular Biology and Biotechnology (BIOTECH), the Food Processing Research and Development Center Building of the Institute of Food Science and Technology (IFST), and the Agricultural and Economic Development Studies Building of the College of Economics and Management (CEM).
On the other hand, major renovation work will be implemented on the Operating Room Complex of the University Health Service (UHS).
Before the groundbreaking rites at the four different sites, a short program was held at the Rural Economic Development and Renewable Energy Center (REDREC).
Chancellor Jose V. Camacho, Jr. said in a speech during the program that infrastructure development is part of future-proofing UPLB.
According to him, the infrastructure projects were just four out of eight in the pipeline that were planned and will be implemented amid the challenges of the pandemic and after months of partnership and collaboration.
In his project briefing, Engr. Michael Angeles of the Department of Public Works and Highways Region IV-A, described the features and disclosed the cost of the infrastructure projects as follows:
The Agricultural and Development Studies Center, which will serve as a multipurpose building, will cost over PhP 90,613,371.86.
The Food Processing Research and Development Center, which is an extension of the IFST, is allotted a budget of PhP 307,275,110.88.
The Philippine National Collection of Microorganisms Building, which will serve as a Microbial Bank for BIOTECH, is allotted PhP 50,277,212.93.
Finally, the rehabilitation of the UHS Operating Room will cost PhP 38,613,901.
UP President Danilo L. Concepcion said that upgrading university facilities was among the priorities of the administration, as well as increasing the university's course offerings and student intake – with six new courses and more in development.
Concepcion explained that because of this expansion, more facilities are required to accommodate the additional faculty members, administration staff, and students.
"Tutulong ako upang matiyak na lahat ng nasimulan ay matatapos natin," President Concepcion said.
The program was immediately followed by a ribbon-cutting ceremony for the new elevator at REDREC. The groundbreaking ceremonies at the four sites then followed. Among the attendees were members of the DPWH, particularly Chief of the Maintenance Division Engr. Salvador Salvaña. (Kristel Hope Villafuerte)
Aligned with our commitment to: