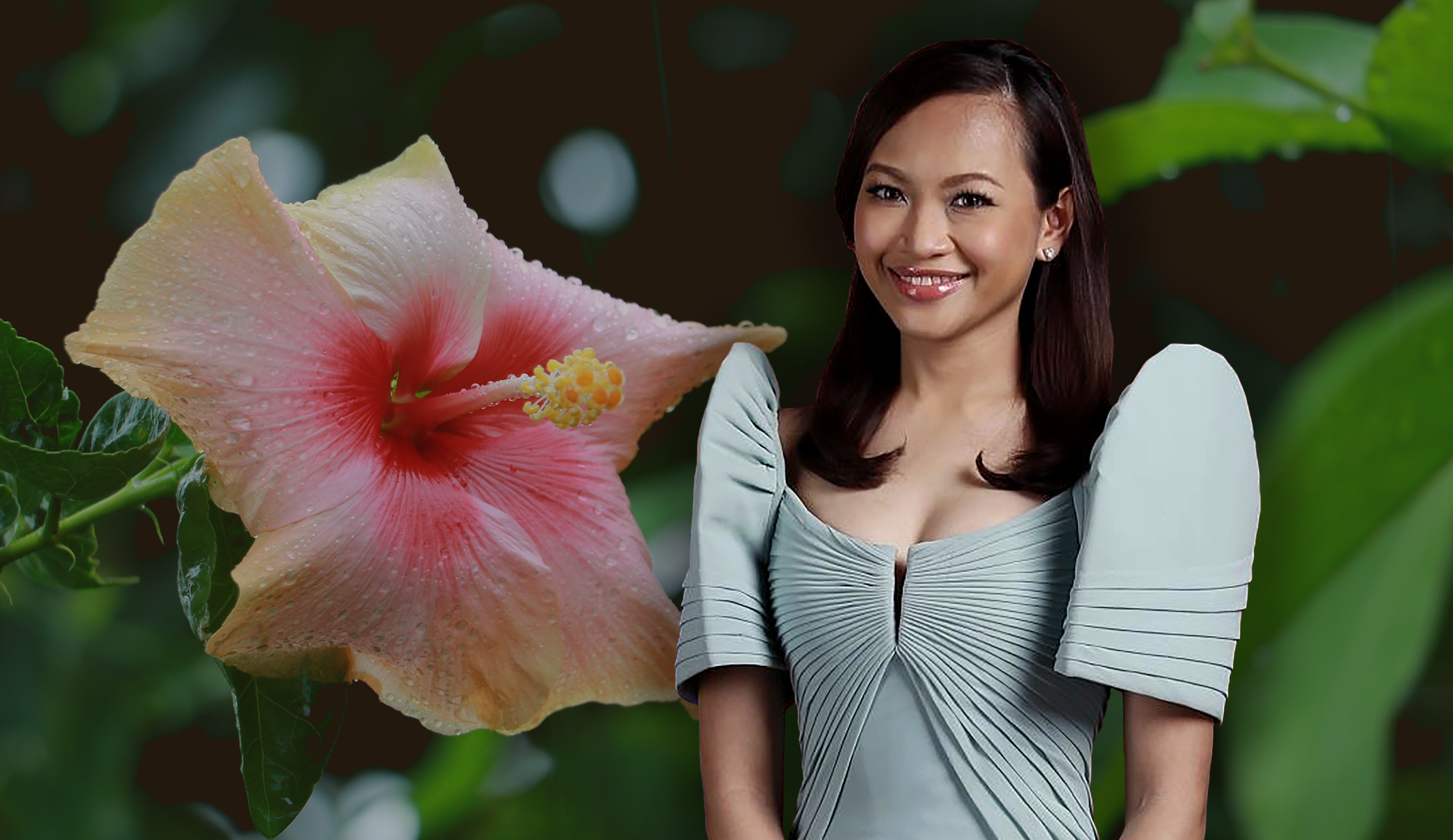 UPLB-bred hibiscus now bears the name of PH justice usec
Hues and shades of red and orange lent color to an otherwise gray, rainy Saturday afternoon through an online gathering where a new 'gumamela' hybrid was named after a highly esteemed young lawyer, an advocate for the rights of vulnerable sectors, and a public servant.
The Hibiscus rosa-sinensis 'Emmeline Aglipay-Villar' was officially launched on Oct. 24, with Atty. Emmeline Aglipay-Villar herself, an undersecretary of the Department of Justice, witnessing the virtual event that paid tribute to her and her body of work.
The hibiscus hybrid was developed by Dr. Pablito Magdalita, a professor and UP Scientist at the Institute of Crop Science, College of Agriculture and Food Science (CAFS).
The development of new hibiscus hybrids and naming them after notable Filipinas are unique traditions practiced by UPLB for more than 20 years now. A number of heroes, scientists, artists, and leaders have been named after this tropical flower.
H. rosa-sinensis 'Emmeline Aglipay-Villar' belongs to the Women in Public Service Series, a growing collection of hibiscus hybrids named after women leaders who have served the nation through their work in the public sector, as well as in their private capacity.
The newly named tricolor hybrid blooms with a spinel red petal with cadmium orange edges and red eye. Spinel red resembles pink, Atty. Villar's favorite color, while its multi-colored appearance, topped by an orpiment orange stigma, paint the lawyer's multiple roles in life.
"I've never, ever, in my wildest dreams imagined that a flower will be named after me," Atty. Villar admitted, as she delivered her message of response during the virtual event that gathered her family and friends and a number of UPLB officials and personnel.
"I dedicate this honor to all the women and children who are victims of abuse and exploitation. Let this [hibiscus hybrid] be a symbol of hope for all of us and may it remind us that despite all the pain and suffering, flowers bloom," Atty. Villar declared.
She has championed the rights and welfare of Filipino workers, women, children, and vulnerable groups. These are reflected in her work as a lawyer; a court attorney at the Supreme Court (2008-2010); a congresswoman representing the Democratic Independent Workers' Association (DIWA) Party-list (2010-2018); an undersecretary of the Department of Justice (2018-present); and president and founder of Hope for Lupus Foundation, Inc. (2016-present).
"What I seek to achieve with all the work that I've been doing is justice. Justice which seeks to remove the cause of inequality and inequity; to eradicate the systemic barriers that continues to oppress the most vulnerable," the UP College of Law Class of 2006 alumna said.
"I've always sought to uplift the plight of the marginalized and the oppressed, not only by protecting and defending their rights, but through little changes in the system," added Atty. Villar, a holder of BA Economics (magna cum laude, 2002) from De La Salle University and a recipient of the Ten Outstanding Young Men of the Philippines (2012) and Ten Outstanding Students of the Philippines (2002) awards.
Joining Atty. Villar during the event was Public Works Secretary Mark Villar, who expressed his gratitude to UP and UPLB for the honor given to his wife.
UP President Danilo L. Concepcion, UPLB Chancellor Fernando C. Sanchez, Jr., and CAFS Dean Elpidio Agbisit, Jr. graced the online event that was held via Zoom and delivered their messages for Atty. Villar.
Her parents, brother, and friends gave their testimonies, too, while Harmonya: The String Ensemble of UPLB, serenaded the honoree with classic Filipino songs. (Mark Jayson E. Gloria)
Aligned with our commitment to: