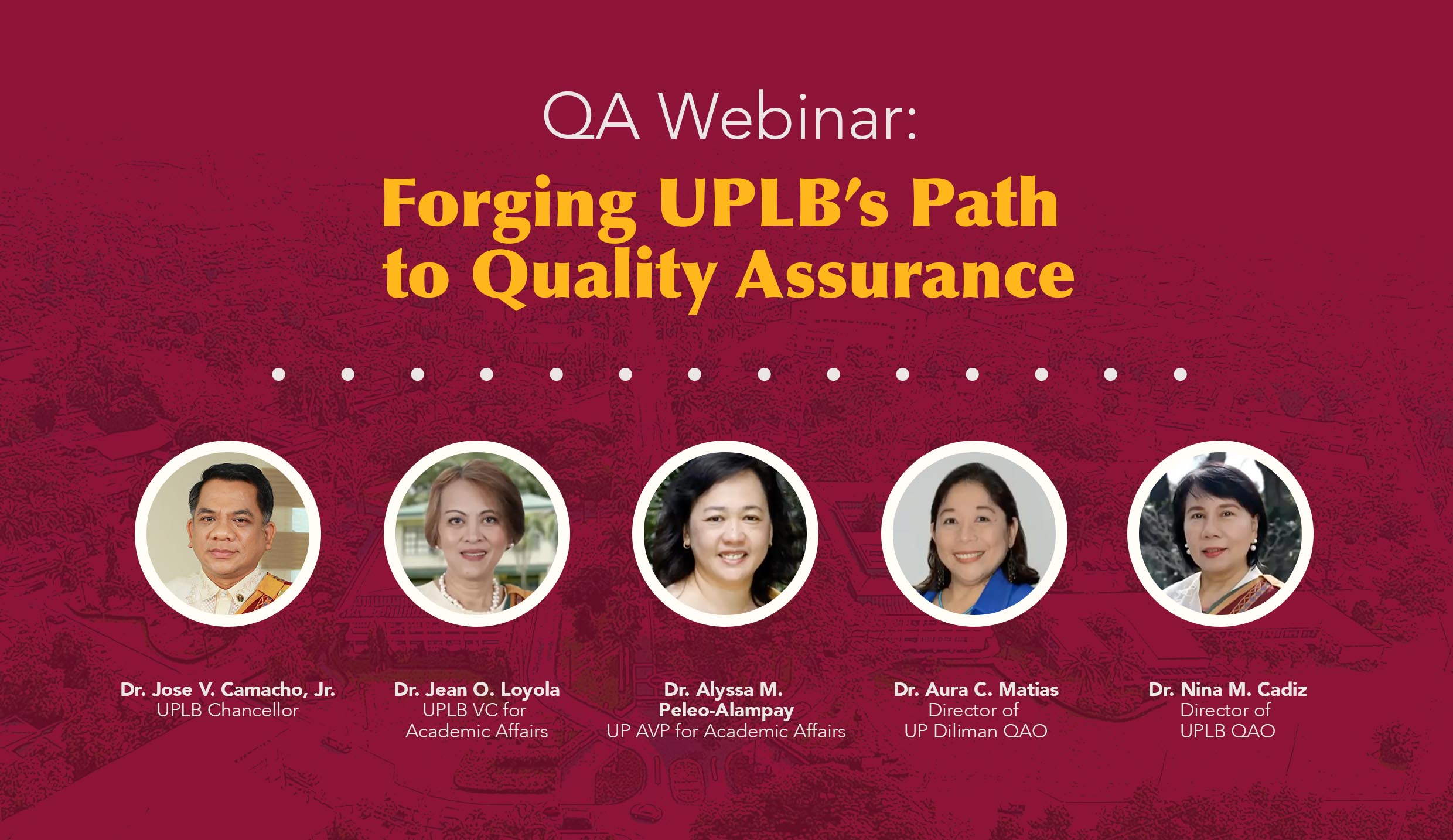 UPLB challenged to have a quality mindset at QA webinar
The pursuit for quality is a continuous and astute aspiration.
This summarizes the quality assurance (QA) webinar conducted by the Quality Assurance Office (QAO) to 200 participants from various UPLB units as part of its third year anniversary celebration on Dec. 3 .
The webinar, with the theme "Forging UPLB's Path to Quality Assurance," sought to increase the constituents' awareness of QA.
A message from Dr. Jean O. Loyola, vice chancellor for academic affairs, primed the participants for the webinar by emphasizing that QA is an integral part of Chancellor Jose V. Camacho, Jr.'s vision to future-proof UPLB.
According to Dr. Loyola, UPLB's digital transformation team is working hard towards asserting the University's position as part of the national university.
The message of Vice Chancellor Loyola was read on her behalf by Dr. Nina M. Cadiz, director of QAO.
Chancellor Jose Camacho, Jr., for his part, reminded everyone to introspect on how to further improve UPLB as an institution despite carrying the "UPLB DNA."
He emphasized that quality assurance is, in many ways, at the core of future-proofing UPLB; similar to the Johari Window, UPLB must eliminate its blind spots in order to ensure that it realizes its vision.
Dr. Alyssa M. Peleo-Alampay, assistant vice president for academic affairs, and Dr. Aura C. Matias, director of UP Diliman QAO, graced the celebration to discuss the importance of QA and introduce the Philippine Quality Assurance Award (PQA), respectively.
After the talks, Leslie G. Bolaños of the UPLB Graduate School and Quintina D. Camunias of the Accounting Office, who are both graduates of the ASPIRE Training Program, presented their proposals on behalf of their groups.
Both shared proposals on how to improve administrative processes in UPLB, with Bolaños focusing on the processing of readmission of dismissed students and Camunias on the processing of disbursement vouchers.
Dr. Cadiz closed the webinar by encouraging everyone to have a "quality mindset," apart from being "quality virus-infected" and being infused with the "prairie fire of quality."
The webinar was held via visual conferencing and Facebook Live, with Dr. Analyn L. Codilan, CFNR College QA Officer, successfully moderating it. (KAEBlanco)
Aligned with our commitment to: