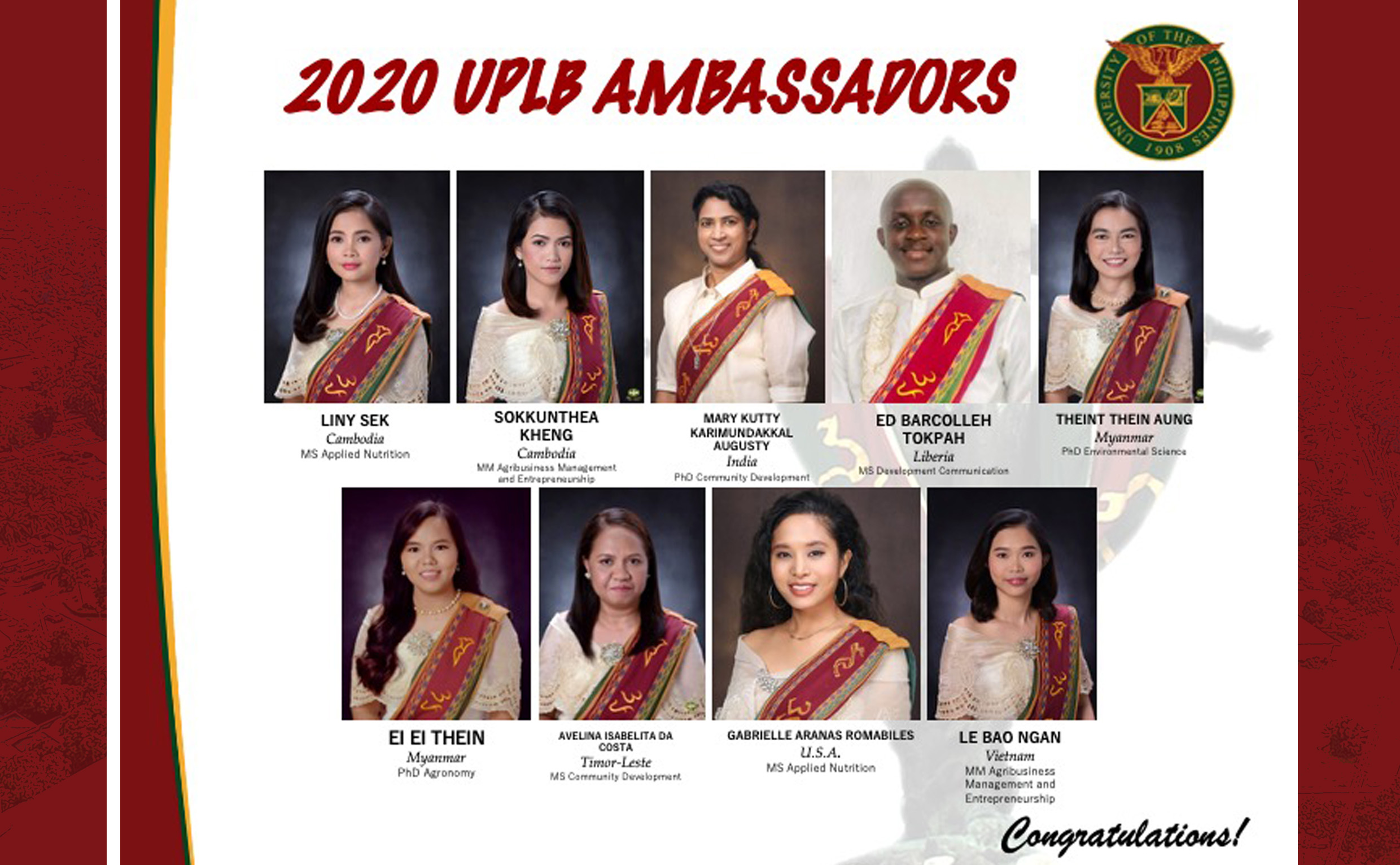 UPLB commissions 8th batch of int'l ambassadors
UPLB, through the International Student Relations (ISR) of the Office of the Vice Chancellor for Student Affairs, has commissioned the 8th batch of UPLB ambassadors from the Class of 2020.
The nine new ambassadors, presented to the public through a video uploaded on OVCSA's Facebook page on Aug. 17, come from seven countries.
They are Liny Sek, MS Applied Nutrition, and Sokkunthea Kheng, MM Agribusiness Management and Entrepreneurship, both from Cambodia; and Theint Theint Aung, PhD Environmental Science, and Ei Ei Thein, PhD Agronomy, both from Myanmar.
Joining them are Le Bao Ngan, MM Agribusiness Management and Entrepreneurship, from Vietnam; Avelina Isabelita Da Costa, MS Community Development, from Timor-Leste; and Mary Kutty Karimundakkal Augusty, PhD Community Development, from India.
Completing the set of new UPLB ambassadors are Ed Barcolleh Tokpah, MS Development Communication, from Liberia; and Gabrielle Aranas Romabiles, MS Applied Nutrition, from USA.
All of them officially earned their degrees during UPLB's virtual graduation held on Aug. 15.
ISR opened the application online and screened each applicant. The roster of ambassadors was finalized on Aug. 12.
According to Roselle V. Collado, head of ISR, UPLB ambassadors are envisioned to help the university in its internationalization efforts as they assume their positions in various institutions in their home countries.
"In government or even in the academe, they may help UPLB internationalize by encouraging others to take their advanced degrees here in UPLB to build an able workforce in their institution, and by sharing the expertise and innovative ideas they were able to pick up from UPLB," she said.
"Their presence in key positions may open opportunities for international collaboration for UPLB. As more opportunities for exchange are explored, UPLB can even send its own faculty and staff to these countries to widen their horizon," Collado added.
UPLB has commissioned a total of 92 UPLB international alumni as ambassadors since the program's inception in 2013. (Jessa Jael S. Arana)