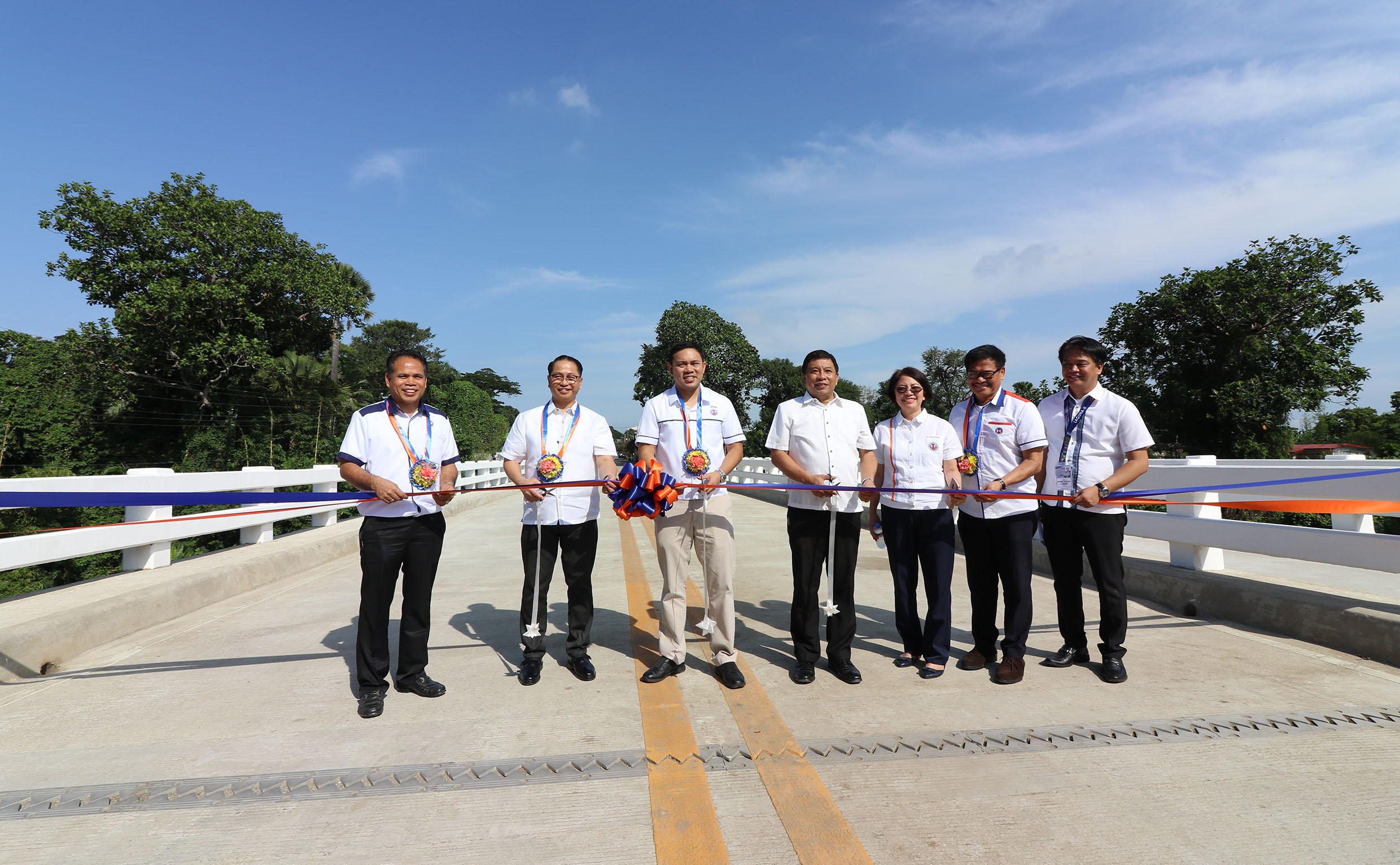 UPLB, DPWH inaugurate Ela St.-Pili Drive bridge
What used to be a foot bridge that spanned across Molawin Creek from Victoria Ela St.(formerly Silangan St.) to the Pili Drive area has been replaced by a 2-lane concrete 60-meter bridge with a segregated bicycle and pedestrian lane, and  protected on both ends by soil erosion mitigation structure.
The yet-to-be-named bridge was formally opened on Nov. 20 through a ribbon cutting ceremony graced by Public Works Sec. Mark Villar, UP President Danilo Concepcion, and Chancellor Fernando C. Sanchez, Jr.
President Concepcion and Chancellor Sanchez expressed their gratitude to the Department of Public Works and Highways (DPWH) and Sec. Villar for facilitating the provision of funds for the bridge project.
Chancellor Sanchez noted that the bridge will help improve the accessibility around the campus, improve traffic flow and will complement what will later rise as the UPLB business district near the area.
For his part, Sec. Villar congratulated UPLB for its new infrastructure and expressed his continuing support for UP.
He also gave an update on the other on-going infrastructure projects – buildings and road improvements – that are taking shape in the campus in collaboration with DPWH.
Together with Chancellor Sanchez were other UPLB officials who witnessed the inauguration ceremony, namely: Dr. Sue Liza C. Saguiguit, assistant to the chancellor and director for alumni relations; Dr. Marish S. Madlangbayan, vice chancellor (VC) for planning and development; and Dr. Roberto G. Visco, assistant VC for community affairs.
Also present were DPWH officials, including Undersecretary Rafael C. Yabut; DPWH IV-A Regional Director Samson L. Hebra; DPWH-Laguna II District Engineer Juliana D. Vergara and Assistant District Engineer Jeffrey D. Jamias; and Anna Mae Y. Lamentillo, chairman of the Build, Build, Build Program and a UPLB alumna. (KEAraguas)