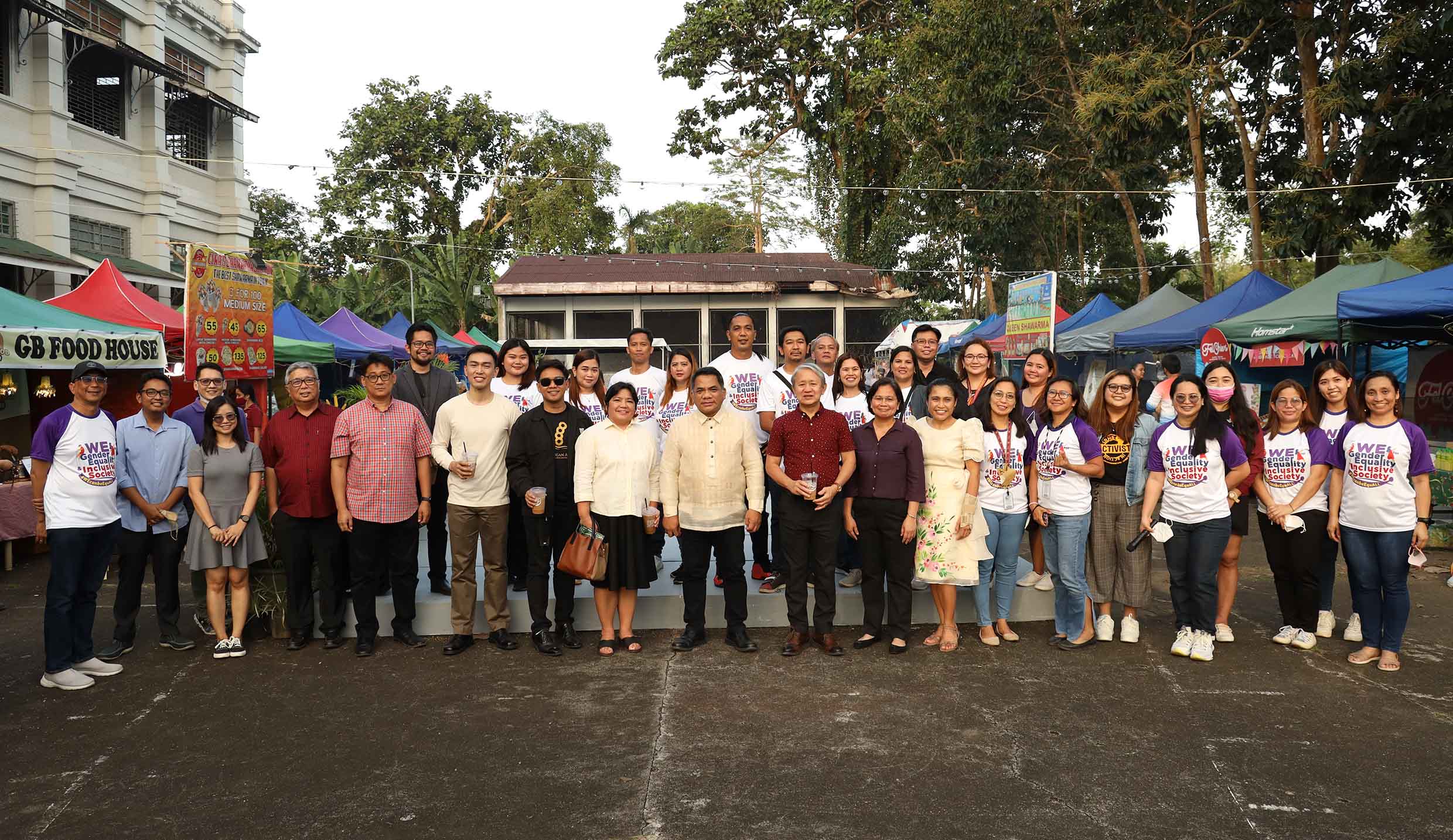 UPLB GC kicks off women's month with "Kalakalan 2023"
The official opening of the Kalakalan 2023 trade fair on March 6 to celebrate women's month became one of the kick-off events of the UPLB Foundation Week festivities.
Dr. Jennifer Marie Sunga-Amparo, the assistant to the vice chancellor for administration and director of the Business Affairs Office, officially opened Kalakalan 2023, highlighting women-led businesses. Kalakalan 2023 is hosted by the UPLB Gender Center (UPLB GC).
Dr. Sunga said that since last year, three offices, UPLB Gender Center, Ugnayan ng Pahinungod, and the Business Affairs Office, collaborated to organize an event related to women's empowerment during the women's month celebration.
Amparo said that she hoped that this event would serve as an inspiration. According to her, it offers a platform for women-led enterprises to help them in their business, training and capacity building, and to help promote their products and services.
Chancellor Jose V. Camacho, Jr. expressed his support for the initiative. In his message, he said that he appreciated the women for their support and participation in the opening of the UPLB Foundation Day celebrations. Camacho also highlighted women's contribution to nation-building, advancing entrepreneurship and innovation, and making women's lives more productive.
"We must be gender-aware in terms of giving more opportunities not just in our classrooms, in teaching, science, and technology, but in all aspects of our lives, to make our lives better and to enhance the welfare of others," Camacho said.
Prof. Annie Liza Pintor of the Gender for Rural Development Office (GRDO) and coordinator of the UPLB GC gave the background of Women's Month and this year's theme to 2028, "WE for gender equality and inclusive society."
Pintor said that this activity sends a message that the university is not discriminating against those who are not in gender roles but are hiring people based on their capabilities. She also said that these activities are not only to showcase just the women but to send a message that they are partners with men and everyone in society.
"One day, the world will be inclusive to everyone," Pintor said.
Supporting the opening activities were heads of various UPLB offices: Limbay Lahi O. Espaldon, Ugnayan ng Pahinungod director; Dr. Emilia A. Lastica-Ternura, UPLB Office of Anti-Sexual Harassment coordinator; Paully May Z. Valencia, UP Society of Research, Extension, and Professional Staff president and member of the Gender and Development Technical Working Group; Crissar Joy D. Mundin, Philippine Safe Abortion Advocacy Network coordinator; Dr. Benevieve Villanueva, assistant to the vice chancellor for community affairs and University Housing Office director; Dr. Agham Cuevas College of Economics and Management dean; Dr. Emil John C. Cabrera, Technology Transfer and Business Development Office director; Prof. Mark Lester M. Chico, Office of Public Relations director; and Prof. Nelson Vincent Querijero, UPLB Gender Center director.
Vice Chancellor for Community Affairs Roberto P. Cereno thanked the participants and the bazaaristas who participated in the event. He encouraged patronizing these businesses and the organizers to continue holding these events for a stronger UPLB community.
Kalakalan 2023 ran from March 6 to 11 at the former Baker Hall basketball court. UPLB-GC has lined up other activities to celebrate women's month. These may be viewed on the UPLB Gender Center's official Facebook Page. (KEAraguas)
Aligned with our commitment to: