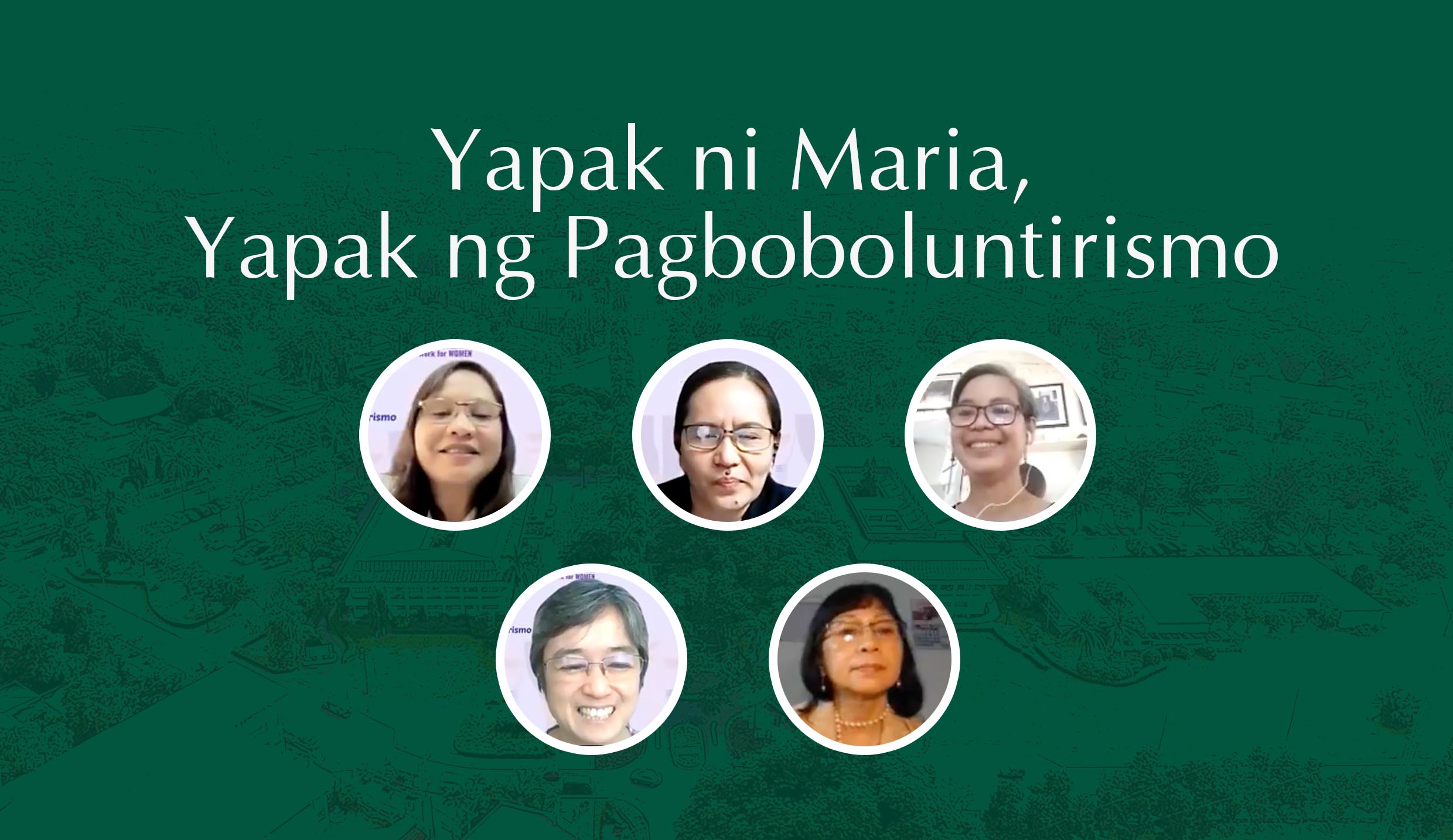 UPLB GC, Pahinungod hold webinar on women volunteerism
In celebration of women's month, the UPLB Gender Center together with the UP Ugnayan ng Pahinungod held the webinar "Yapak ni Maria, Yapak ng Pagboboluntirismo" on March 21.
The webinar assembled women in volunteer work to share experiences of empowerment and volunteerism and gender equality in the volunteer service.
Ela Victoria F. Samargo, chief volunteer service officer of the Program Coordination, Monitoring and Evaluation Division of the Philippine National Volunteer Service Coordinating Agency, gave an overview of volunteerism and its importance in women empowerment and gender equality.
The webinar tackled two topics, one on volunteer organizations and women empowerment advocacies, and the other on volunteer experiences, challenges, and opportunities on the ground.
Arlene Mahinay, head of the Voluntary Service Overseas or VSO Philippines Country Programme, shared stories about women empowerment and gender equality.
VSO Philippines is working on peacebuilding in Bangsamoro areas and out-of-school youth projects in Manila, Davao, Cotabato, Cebu, and General Santos.
Mahinay said that they had to find out the communities' concerns and secure their commitment to follow through with the project before VSO proceeded with activities such as conducting gender awareness dialogue and workshops.
She also shared her experiences of hurdling challenges such as the physical and emotional demands of their work, discouragement, and security issues.
Maria Lourie Victor, head of the Indigenous Peoples Education Office shared to the audience her journey as a woman volunteer. In her presentation, she described how gender impacted her involvement and how it became a factor in volunteering.
Victor said that she realized that volunteerism relies heavily on interpersonal relationships and that gender can be deemed important for the community where the volunteer is assigned. She further shared the importance of health, self-care, and respect in performing tasks.
Victor discussed gender stereotypes in volunteerism, especially in the distribution of tasks, although she had noted changes and flexibility in task assignments.
She encouraged volunteers to continue to nurture the space for dialogue that volunteer initiatives provide and expressed her hopes to deepen the basic and fundamental respect for human dignity regardless of one's gender identity.
Precious Leaño, co-founder of the non-profit organization, Art Relief Mobile Kitchen, shared experiences of cooking for others in the time of disasters and the stories of women achievers in serving low-income and COVID-affected communities.
Leaño said that most of their volunteers are women, especially those assigned as location chiefs. They were able to continue their operations using cash and in-kind donations that they received. In closing, Leaño said that tasks are not limited to gender and that the intention to help is what matters.
Serving as reactors were Dr. Jennifer Marie S. Amparo, faculty member and assistant to the vice chancellor for administration, and Dr. Blesshe L. Querijero, faculty member and Pahinungod volunteer from UPLB.
An open forum immediately followed to address questions from the audience.
Chancellor Jose V. Camacho, Jr. expressed his support for the advocates of gender equality in the UPLB community, and for their programs and initiatives that serve and empower women and the LGBTQ+ community.
According to Chancellor Camacho, gender equality plays a fundamental role not only in eliminating poverty and attaining prosperity but in breaking the cycle of depression which prevents women from gaining access to opportunities that can potentially help them succeed.
"Women empowerment should be and must be a movement toward the collective well-being of all women. And empowering women is a crucial step towards achieving a gender-equal society," he added.
Also in attendance were Kathe Lyn L. Tamisin, head of the UPLB Pahinungod's Community Programs Section; Director Maria Beatriz Inzon of the Office of Student Activities; and Director Jose Limbay Lahi O. Espaldon of the UPLB Ugnayan ng Pahinungod.
In his closing remarks, Espaldon said that they wanted to highlight social constructs that encapsulate how the community is served and expressed his hopes that the Pahinungod, with its communities and volunteers, would be reunited for a new discourse and go to new places where they can bring volunteerism.
The event was attended by over 70 participants on virtual conferencing and was streamed live on UPLB Pahinungod's Facebook. (KEAraguas)