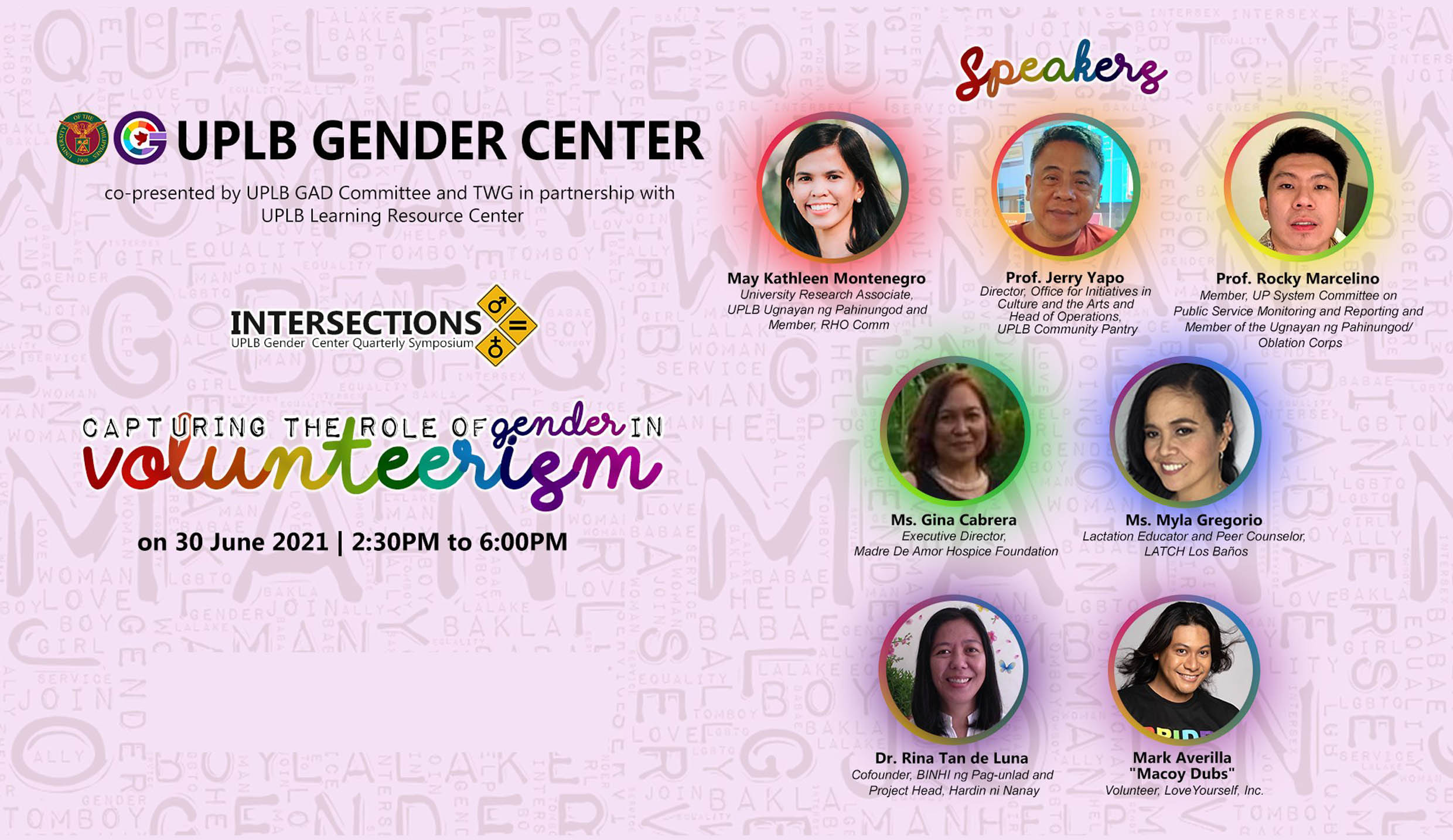 UPLB GC wraps up PRIDE month with a call for the 'Spirit of Volunteerism'
The month of June ended with the UPLB Pride community culminating Pride month with a webinar on capturing gender roles in volunteerism.
The webinar was held on June 30 as part of "Intersections 2," UPLB Gender Center's (UPLBGC) quarterly symposium with members from academe, health sector, and social media influencers with various advocacies sharing highlights of and challenges in volunteerism especially during the pandemic.
May Kathleen Montenegro, a researcher at Ugnayan ng Pahinungod, shared statistics on volunteerism in the organization. Montenegro said that majority of the volunteers are females, emphasizing the importance of gender equality, equal opportunities, and non-discrimination in volunteerism.
Director Jerry Yapo of the Office for Initiatives in Culture and the Arts, shared his experience as a volunteer at UPLB's community pantry. As volunteer head of operations, Yapo saw to it that the community pantry gathered constituents to participate in the movement inspired by the Maginhawa community pantry. They catered to non-UPLB beneficiaries and even customized the gift packs aside from the necessities with a gift bag for gender-specific health care essentials.
Former Assistant to the Vice Chancellor for Student Affairs Rocky Marcelino, shared his experience last year working at the forefront of UPLB's pandemic response. Marcelino discussed how their projects evolved from providing food for students in and outside of the UPLB campus to reuniting the students with their families during the lockdown. Marcelino said that their accomplishments cannot be attributed to just one person alone because it is the community effort that made it possible.
Gina Cabrera, executive director of Madre de Amor Hospice Foundation, has been volunteering for several years. Known for providing palliative care for patients, the foundation conducted house visits and provided assistance to help improve the quality of life of cancer-stricken community members.
Lactation Educator and Peer Counselor of LATCH Los Baños, Myla Gregorio, shared the organization's services that are aimed at providing education and support to mothers and teaching them the proper way of breastfeeding. Although the organization's services are targeted at mothers, they are not excluding the fathers who are also part of the process and of a support system of the family.
Dr. Maria Catalina Tan de Luna, co-founder of BINHI ng Pag-unlad and project head of Hardin ni Nanay, did not let her profession hinder her from taking up passion projects in helping communities. A veterinarian and a faculty member at UPLB, de Luna took up a short course in organic farming in 2014, not knowing that she would be able to apply her knowledge six years later. De Luna's passion and interest in organic farming led her to spearhead community garden projects in Laguna, involving stay-at-home mothers in the community as primary stakeholders and beneficiaries of the garden produce. She is now the director of the Office of Off-Campus Programs of the UP Professional School for Agriculture and the Environment.
Mark Averilla, a volunteer at Love Yourself, Inc., shared to the audience how his search for purpose led him into volunteering. Averilla, a member of the LGBTQIA+ community and known as "Macoy Dubs" on social media, uses his online influence to spread awareness about LGBTQIA+ health, most importantly, HIV testing.
Volunteerism did not come without challenges as the guest speakers also spoke about the difficulties they experienced and how they were able to overcome them. For Yapo, he says that the spirit of volunteerism is innate in the UPLB community. He stressed the importance of working with like-minded individuals to achieve one's goals.
Marcelino advised that in volunteering, one should focus on the goal and the beneficiaries and not mind the negativity such as politics and online bashing to not affect one's duties.
Cabrera shared to the audience the challenges of finding volunteers for the hospice as the pandemic also added to the difficulty of recruitment. As a result, volunteers extended their working hours, sometimes giving up their weekends to serve the patients. The hospice shifted to virtual assistance to continue to provide their service.
For Gregorio, advocating breastfeeding has become challenging because of scheduling issues. Like Madre de Amor, LATCH also learned to be creative by conducting virtual breastfeeding counseling sessions which they try to improve as they navigate through the new normal.
De Luna's professional background did not hinder her form stepping out of her comfort zone to make use of her passion to reach out and help a community. In the process, she was able to collaborate with private companies which extended their help by providing free farming seeds. She said she was also able to establish a new network of friends and realized from volunteering the importance of gaining the community's trust.
Averilla said that volunteerism can be quite tiring and reminded fellow volunteers to always go back to their reason and purpose for volunteering. He ended his talk by encouraging fellow volunteers to support each other's advocacies.
Chancellor Jose V. Camacho, Jr. expressed his support for UPLBGC's programs and activities on gender equality with the hope to enrich the discourse and to enlighten minds on it. Chancellor Camacho issued a collective call to action and commitment toward helping break gender stereotypes and promote gender equality in volunteerism.
"What truly matters is not a single and grandiose act, but committed and consistent actions over time," Camacho said.
The online symposium was attended by various audiences from UPLB including Atty. Eric Paul Peralta, director of UPLBGC, members of the UPLB academic community, as well as online participants from all over the Philippines. Streamed live on UPLBGC's Official Facebook Page, the session was co-presented by the UPLB Gender and Development Committee, Technical Working Group, and the UPLB Learning Resource Center. (KEAraguas)