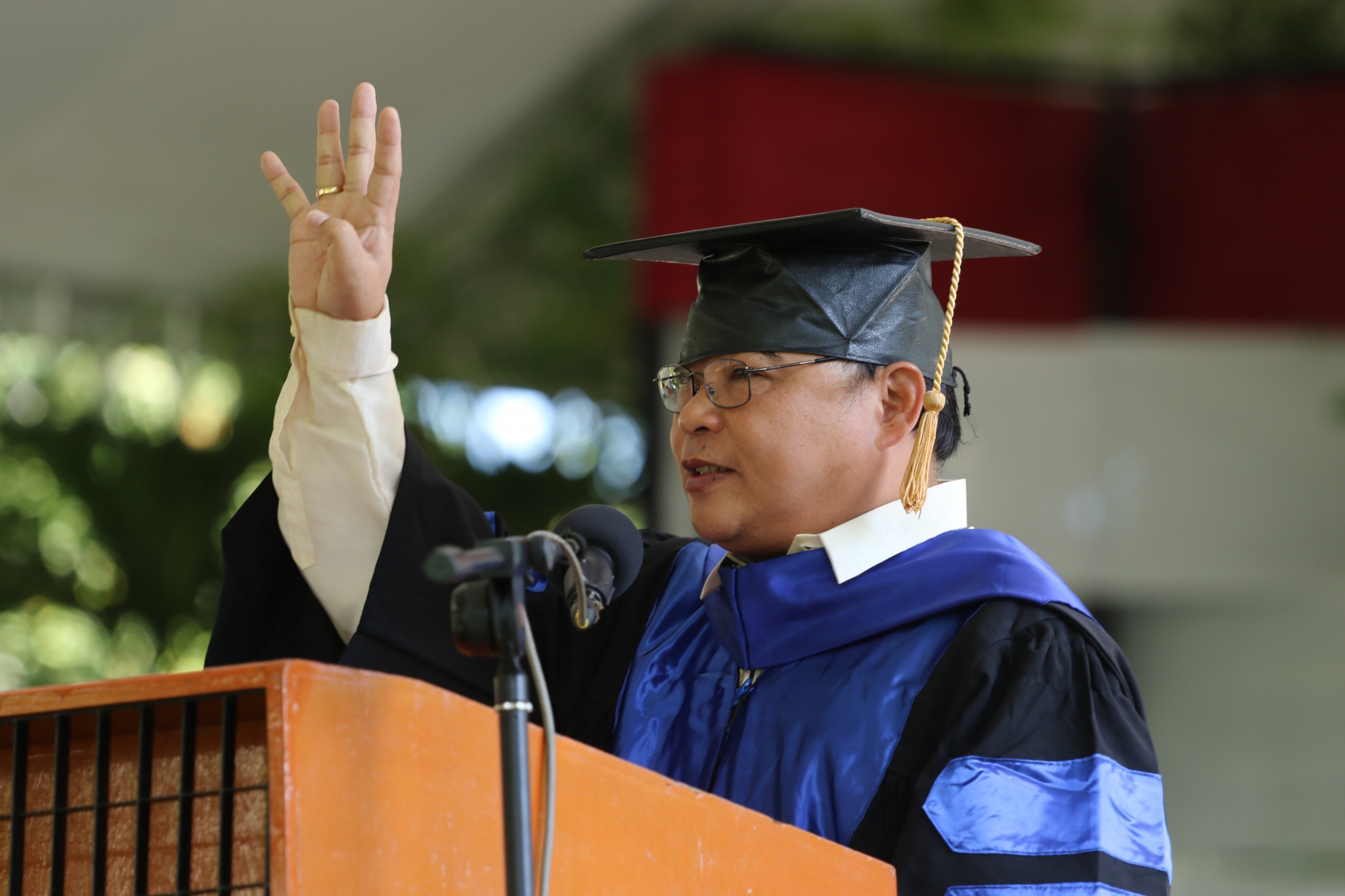 'UPLB grads are leaders' – Maejo U chief exec
"Love" is a key to success.
In his own mnemonics called LOVE, which stands for "leadership," "opportunity," "very adept," and "ethics," Dr. Weerapon Thongma encouraged UPLB's graduating master's and doctorate students to embrace those four concepts in order to be successful.
Dr. Thongma, acting president of Maejo University in Thailand and a PhD Extension Education alumnus of UPLB, had this message as the guest speaker at the Graduate School (GS) Hooding and Recognition Ceremonies on June 21 at the DL Umali Freedom Park.
Three hundred fifty-eight postgraduate students attended the ceremony, a day before officially receiving their degrees at the university's 47th Commencement Exercises.
The graduating UPLB postgraduate students, Dr. Thongma said, are incoming leaders of their communities and organizations.
As future leaders, Dr. Thongma said that they should enrich their respective skills while being respectful of other people and culture.
"It's not only academics that [will] make you succeed in life, but the human skills [as well]," he reminded them.
During the ceremony, 73 graduating PhD holders received their academic regalia from Dr. Portia G. Lapitan, vice chancellor for academic affairs, respective deans, and advisers. Assisting them were Dr. Jose V. Camacho, Jr., dean of GS, and Dr. Myrna G. Carandang, university registrar.
Among the PhD recipients was a posthumous PhD Environmental Science holder, Anacleto M. Caringal, who died in a motorcycle accident. His mother received his PhD regalia.
Reynold M. Caoili, PhD Agricultural Engineering, bagged the Academic Excellence Award for the doctorate level, while Romel A. Arrobang, MS Agricultural Engineering, the same award for the master's level.
The two obtained the highest general weighted average (GWA) and delivered their respective addresses. Nine others received the Academic Achievement Awards for making it to the top five of each level.
Pahinungod pins were given to Renmar James P. Dacones (MS Agricultural Engineering) and Joveth L. Vicenal (MS Animal Science) for their service to UPLB's volunteer corps.
Dr. Lapitan, in a message she delivered on behalf of Chancellor Fernando C. Sanchez, Jr., urged the graduating class to pursue public service.
"I want you to think of public service more deeply and broadly as a variety of opportunities to dedicate oneself to others," she said. (Mark Jayson E. Gloria)