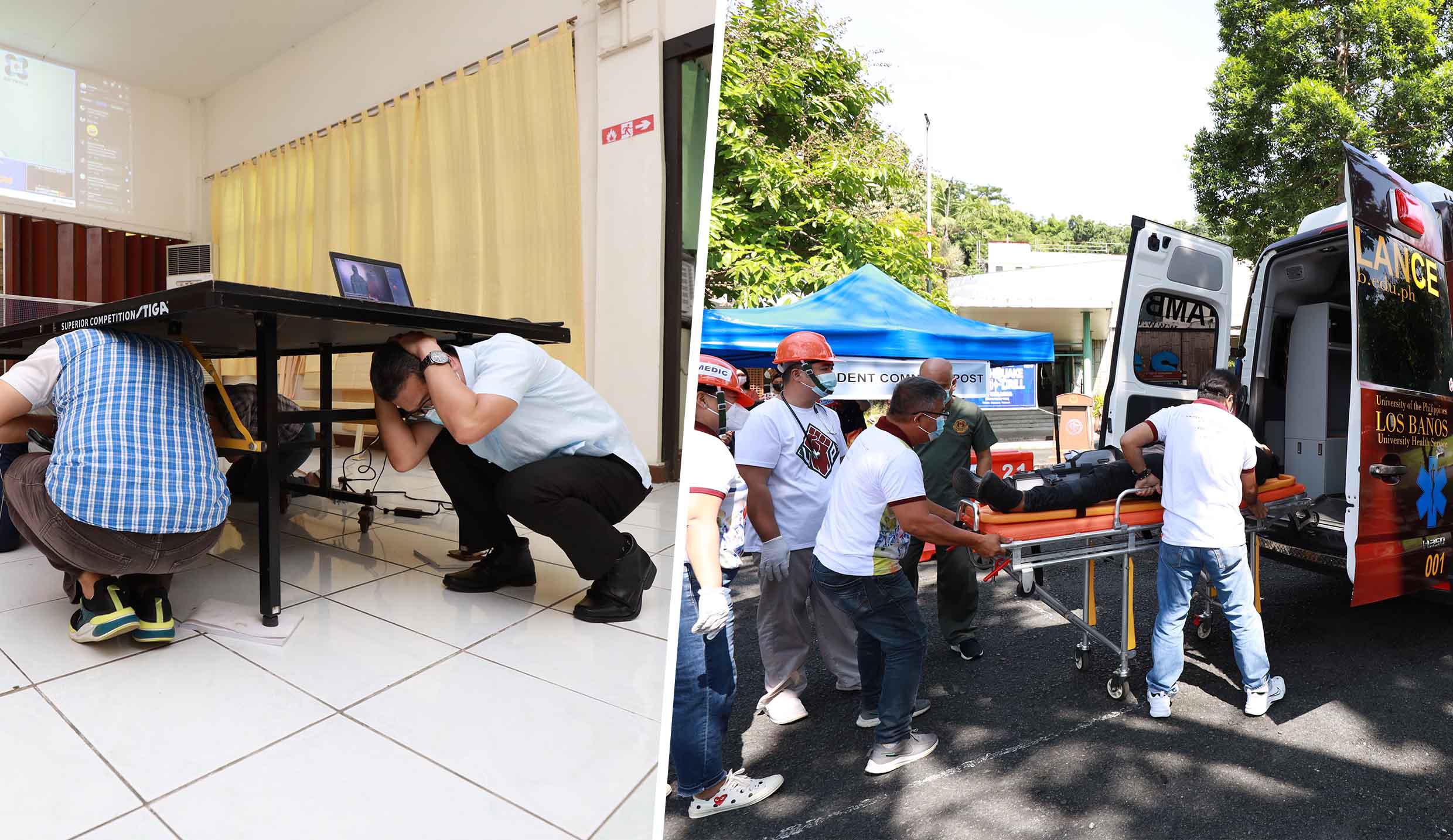 UPLB GS and SSO join 2nd Quarter NSED
At the sound of the alarm on June 9 at exactly 9am, university personnel vacated their respective offices and gathered in an open area, simulating the "duck, cover, and hold" protocol in case of an earthquake.
The earthquake drill was led by the Security and Safety Office (SSO) of the Office of the Vice Chancellor for Community Affairs in collaboration with the Graduate School (GS) as part of the 2nd Quarter Nationwide Simultaneous Earthquake Drill (NSED).
The NSED aims to boost disaster awareness and preparedness in relation to earthquake scenarios and other similar events.
The drill simulated a fire incident and a search and rescue operation with a trapped victim. University Health Service personnel headed by Dr. Pilipinas O. Tejerero, a medical officer, also participated in providing first aid to the victim.
Response for a magnitude 7.2 earthquake scenario was also simulated for the drill. Jonathan D. Maliwat, special police assistant chief of the University Police Force and section chief of the Crisis and Emergency Response Unit of the SSO, acted as the Exercise Controller and managed and directed the Incident Command System members.
Observers and evaluators from the UP Resilience Institute were present to critique the exercise and the team's performance.
Also present during the drill were Atty. Aladdin P. Dominguita, officer-in-charge of the SSO, and Dr. Jomar F. Rabajante, dean of GS.
Joining in the earthquake drill were personnel from GS, the Quality Assurance Office, Office of Internal Linkages, Gender Center, Business Affairs Office, Office of Anti-Sexual Harassment, and Office for Institutional Development in Higher Education. (Alva Marie H. Tirones.)