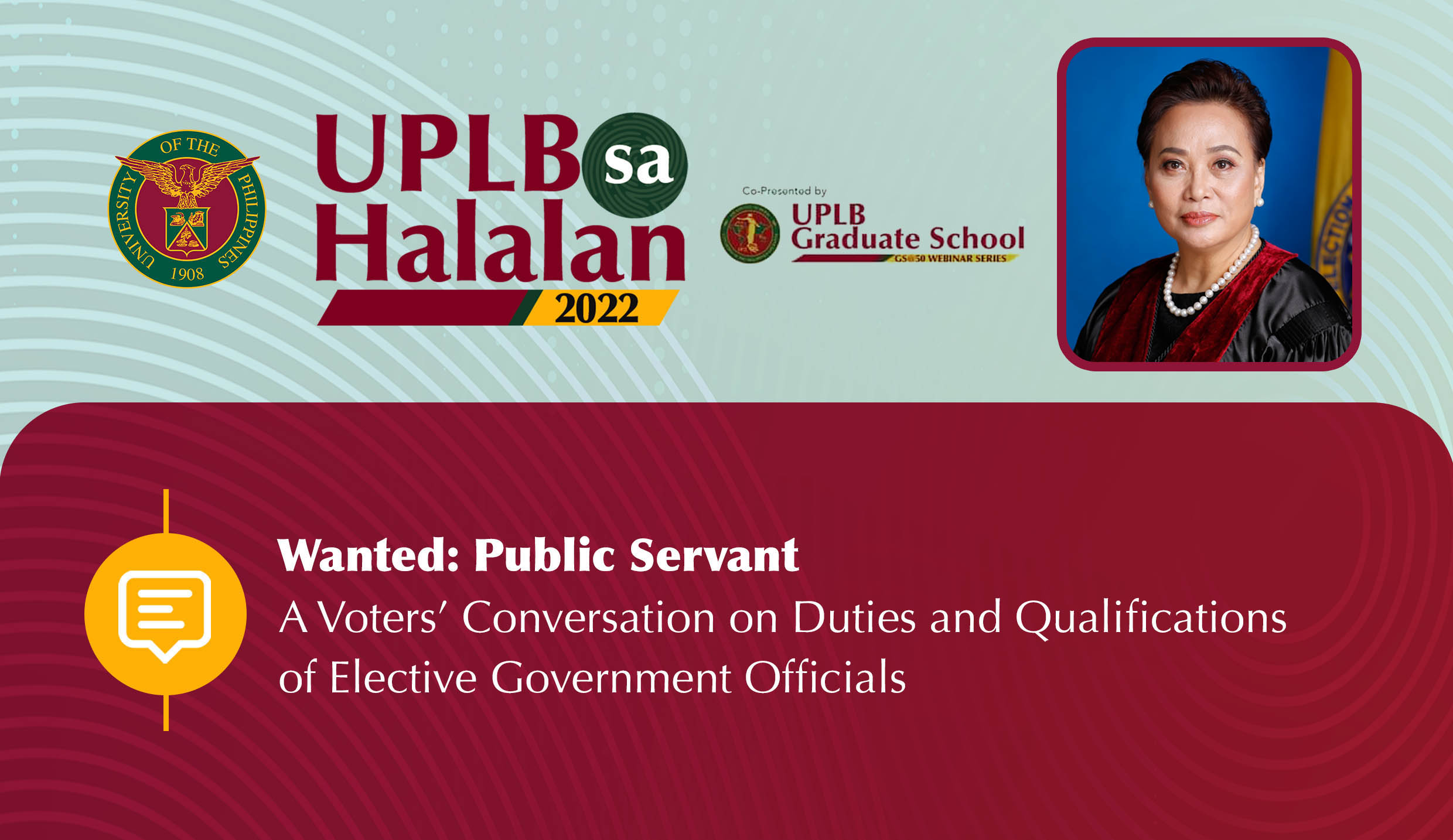 UPLB-GS holds voters' conversation 'Wanted: Public Servant'
The UPLB Graduate School spearheaded the "Wanted: Public Servant" webinar on Feb 28 to discuss the duties and qualifications of elected government officials.
This webinar is part of the #UPLBsaHalalan2022 series and the 50th year anniversary celebration of the UPLB Graduate School.
It was moderated by Linus Van Plata, a faculty member at the College of Arts and Sciences.
The webinar focused on the duties and responsibilities of different elected positions in government, as well as the skills and qualifications needed for candidates to effectively function in their elected roles.
Dean Jomar Rabajante of the UPLB Graduate School gave his thoughts on the ripple effects of voting for a good candidate. Good candidates, he said, can be identified based on their track record and their plans in relation to the 17 Sustainable Development Goals of the United Nations.
The webinar was graced by former Philippine Commission on Elections (COMELEC) Commissioner Rowena Guanzon, who gave a spirited message to the viewers and attendees to be more candid in supporting candidates for the upcoming elections in the efforts.
She mentioned the dangers of disinformation and vote-buying, and the importance of choosing a leader who is capable of leading the country's economy to recover from the effects of the pandemic.
Dr. Ronilo Jose Flores, associate dean of the UPLB Graduate School, gave the closing remarks for the event, and graciously thanked the organizers for the much-needed event in the face of the 2022 elections.
The webinar can be viewed on UPLB's official FB Page. (Kristel Hope Villafuerte)