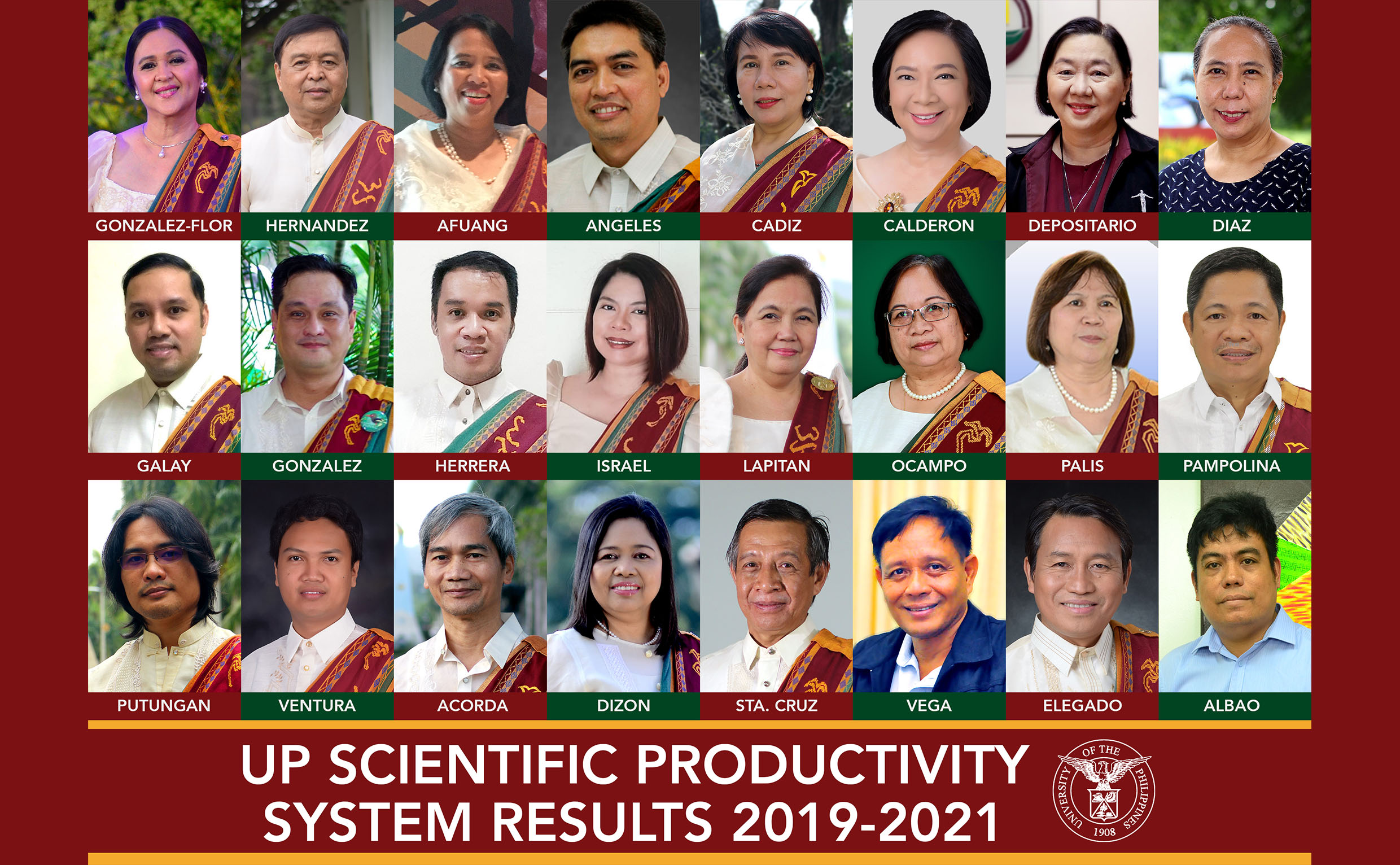 UPLB has 24 new, reappointed UP Scientists
The roster of UP Scientists from UPLB keeps growing, as it welcomes 18 new appointees and maintains six holders of the prestigious university title for 2019-2021.
These 24 faculty members were officially appointed to the UP Scientific Productivity System (SPS) at the 1353rd meeting of the UP Board of Regents on Sept. 2.
Newly appointed as UP Scientist 2 are Dr. Benjamina Paula Gonzalez-Flor of the College of Development Communication and Dr. Jose E. Hernandez of the Institute of Crop Science of the College of Agriculture and Food Science (CAFS-ICropS).
UPLB's new UP Scientist 1 recipients are Dr. Amado A. Angeles of the Institute of Animal Science (IAS); Dr. Katherine Anne C. Israel of the Institute of Food Science and Technology; and Dr. Eureka Teresa M. Ocampo of ICropS, all of CAFS.
Dr. Leticia E. Afuang, Dr. Nina M. Cadiz, Dr. Maria Genaleen Q. Diaz, and Dr. Juan Carlos T. Gonzalez of the Institute of Biological Sciences; Dr. Marvin U. Herrera and Dr. Darwin B. Putungan of the Institute of Mathematical Sciences and Physics (IMSP); and Dr. Florencia G. Palis of the Department of Social Sciences, all of the College of Arts and Sciences (CAS), were also appointed as UP Scientist 1.
Dr. Dinah Pura T. Depositario of the College of Economics and Management, and Dr. Jey-R S. Ventura of the College of Engineering and Agro-industrial Technology received the UP Scientist 1 appointment for the first time.
Completing UPLB's circle of new UP Scientist 1 are Dr. Margaret M. Calderon, Dr. Portia G. Lapitan, and Dr. Nelson M. Pampolina of the College of Forestry and Natural Resources; and Dr. Remil L. Galay of the College of Veterinary Medicine (CVM).
Meanwhile, two UP Scientists from UPLB were promoted. They are Dr. Josefina T. Dizon of the College of Public Affairs and Development, from UP Scientist 1 to UP Scientist 3; and Dr. Renato SA. Vega of CAFS-IAS, from UP Scientist 2 to UP Scientist 3.
Four retained their UP Scientist ranks: Dr. Jezie A. Acorda of CVM and Dr. Pompe C. Sta. Cruz of CAFS-ICropS as UP Scientist 3; Dr. Francisco B. Elegado of the National Institute of Molecular Biology and Biotechnology as UP Scientist 2; and Dr. Marvin A. Albao of CAS-IMSP as UP Scientist 1.
These UPLB professors were appointed alongside 25 from UP Diliman, 11 from UP Manila, and one from UP Open University.
In 2019, 11 from UPLB were awarded as UP Scientists for 2018-2020. A year before that, the university had 31 appointees.
The UP SPS award is valid for three years. Aside from the honor attached to the rank, UP Scientists also receive monetary awards during their appointment. (Juan Paolo A. Aquino)
Aligned with our commitment to: