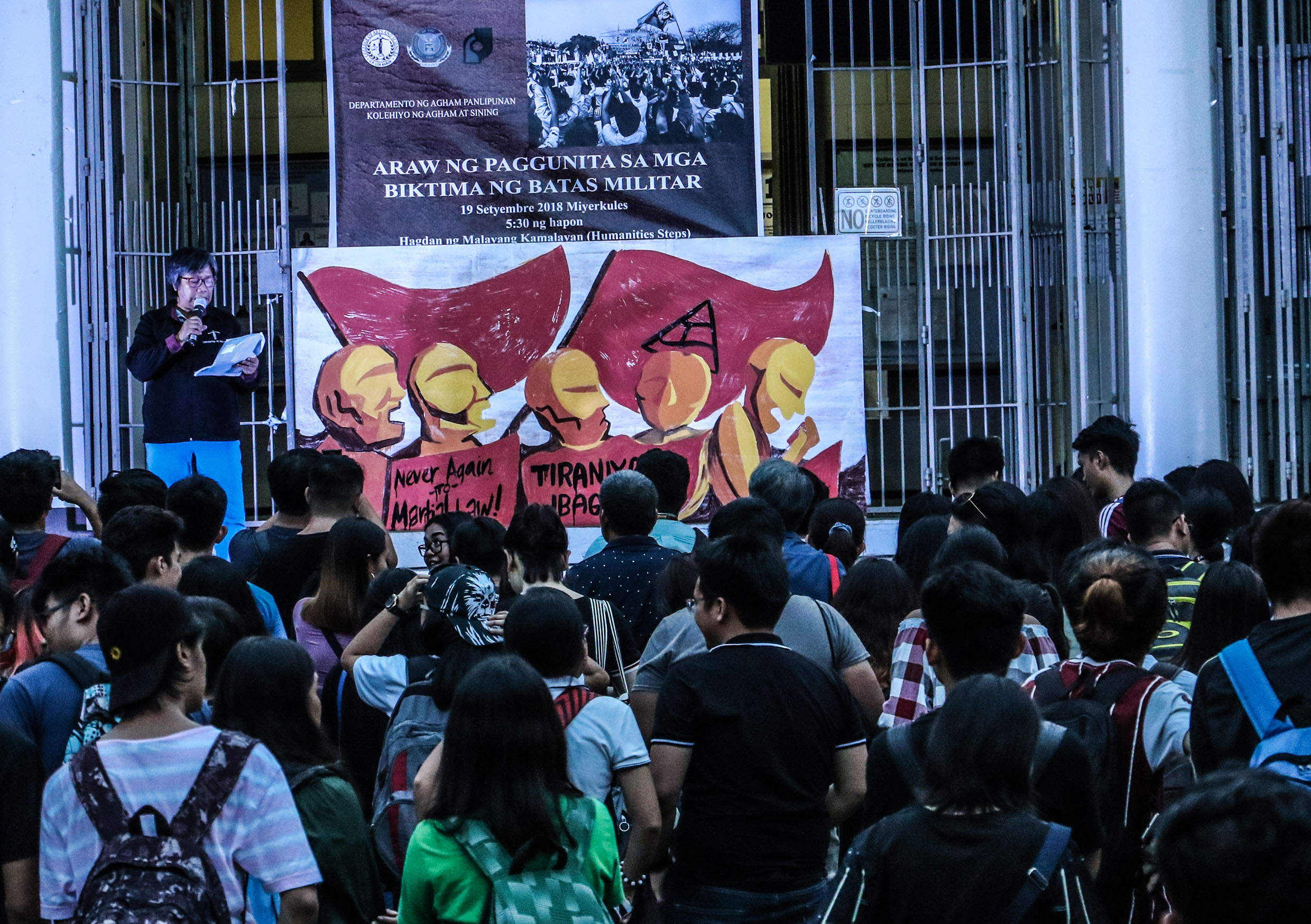 UPLB honors Martial Law heroes
 As the sun set in to give way to what would become a drizzly evening, UPLB students, rushing from their classes, flocked in front of the Humanities Building on Sept. 19.
They converged around the Hagdan ng Malayang Kamalayan, known to past generations of UPLB students as the Humanities Steps, which had been transformed into a mini stage.
As the program started, the "millennials" listened–some, quite intently–to original compositions, satiric novelties, poems, and moving biographies of martyrs.
It was not a typical gathering, but rather a special tribute to the heroes of Martial Law, held two days before the 46th anniversary of its declaration.
On Sept. 21, 1972, then President Ferdinand E. Marcos signed Proclamation No. 1081, putting the Philippines under Martial Law.
"Mapapansin ninyo na halos lahat ng sektor ng lipunan ay apektado ng Batas Militar. Walang sektor ang hindi sinanto ng Rehimeng Marcos,"said Dr. Roderick Javar, head of the Division of History of the Department of Social Sciences, College of Arts and Sciences (CAS-DSS).
Dr. Javar retold the heroism of Macliing Dulag, a community leader in Kalinga who was killed during Martial Law as he opposed the plan to build hydroelectric dams in Chico River, one that threatened the people's environment and culture.
Meanwhile, Humanities faculty member Jethro Pugal and student Care Balleras, respectively, recalled the stories of Archimedes Trajano and Liliosa Hilao, student activists who died during the Martial Law.
Eugene Crudo looked back at the bravery of three Martial Law martyrs – Ninoy Aquino, Melito Glor, and Medardo Arce; while Gloria Melencio cited some historical accounts of Martial Law survivors based on her research. Crudo and Melencio are both faculty members who teach history at the CAS.
Fellow history faculty member Ma. Reina Boro-Magbanua honored slain Martial Law activist Lorena Barros by reading the latter's penned poems 'Sampaguita' and 'Two Poems,' as well as 'Sa Ngalan ng Ina, ng Anak, ng Diwata't Paraluman' by Lilia Quindoza Santiago.
Musical numbers that are relevant to Martial Law were presented by the DSS-CAS faculty members, SAKBAYAN UPLB, ARTIST, Inc., and Tulisanes.
Martial Law-period University Student Council chairs, Atty. Filemon Nolasco and Banie Cambronero, recalled the difficulty that UP student activists went through in fighting against the dictatorship.
The program, spearheaded by CAS-DSS, was held two days after UP President Danilo Concepcion issued Proclamation Number 1 Series of 2018, which sets aside Sept. 21 of every year as "UP Day of Remembrance."
The said proclamation authorizes and encourages in UP "the holding of special lectures, meetings, and ceremonies devoted to the commemoration of UP's participation and sacrifice in the struggle against martial law and to the continuing education of our students, faculty, and staff on the importance of academic freedom, civil liberties, and human rights in our society."
As the song "Bayan Ko" played towards the end of the cultural night, the people who had converged lit candles to remember the heroes of the Martial Law era. (Mark Jayson E. Gloria)