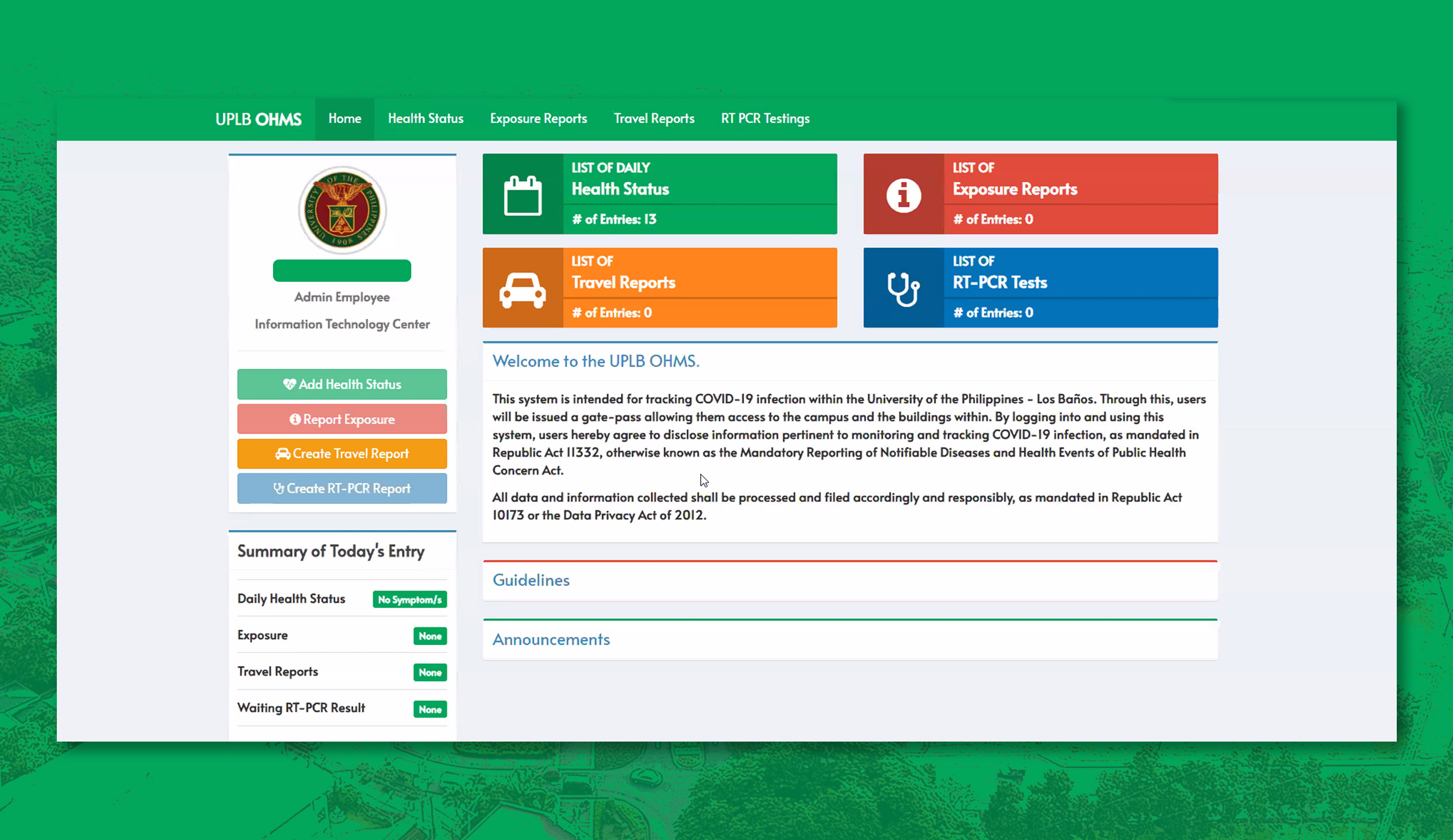 UPLB implements online health monitoring system
UPLB has piloted the use of the newly-developed UPLB Online Health Monitoring System (OHMS) at the University Health Service (UHS) and the Abelardo G. Samonte Hall. OHMS is a contact tracing tool that aims to protect the UPLB community from exposure to COVID-19.
Before being admitted into their respective office buildings, personnel need to accomplish OHMS to check for symptoms of COVID-19 with the intent of ensuring that there will be no transmission of the disease in the offices. Campus-wide rolling out of the OHMS is expected within February.
OHMS can now be accessed anywhere via the Internet. UPLB personnel who do not have online access may instead report through text messaging or by coordinating with their OHMS officer.
In relation to this, the Office of the Chancellor issued Memorandum No. 001 s. 2021 directing constituents on the creation of individual and office OHMS accounts.
It will be recalled that on Jan. 11, the UPLB COVID-19 Prevention and Mitigation Team headed by Dr. Jessie Imelda F. Walde, medical director of UHS, inspected UPLB offices and buildings to check on the implementation of minimum health standards and compliance with protocols of contact tracing.
The team initially visited the College of Development Communication, Institute of Biological Sciences, UPLB Main Library, AG Samonte Hall, and the Executive Offices including the Office of the Chancellor.
According to Dr. Walde, their team received expressions of appreciation from the different offices for their efforts on inspecting the areas and making science-based recommendations.
The team will soon call for a meeting of UPLB unit heads and building administrators to orient them on engineering requirements for prototype laboratories in preparation for the new normal and reopening of the campus. (Juan Paolo A. Aquino)