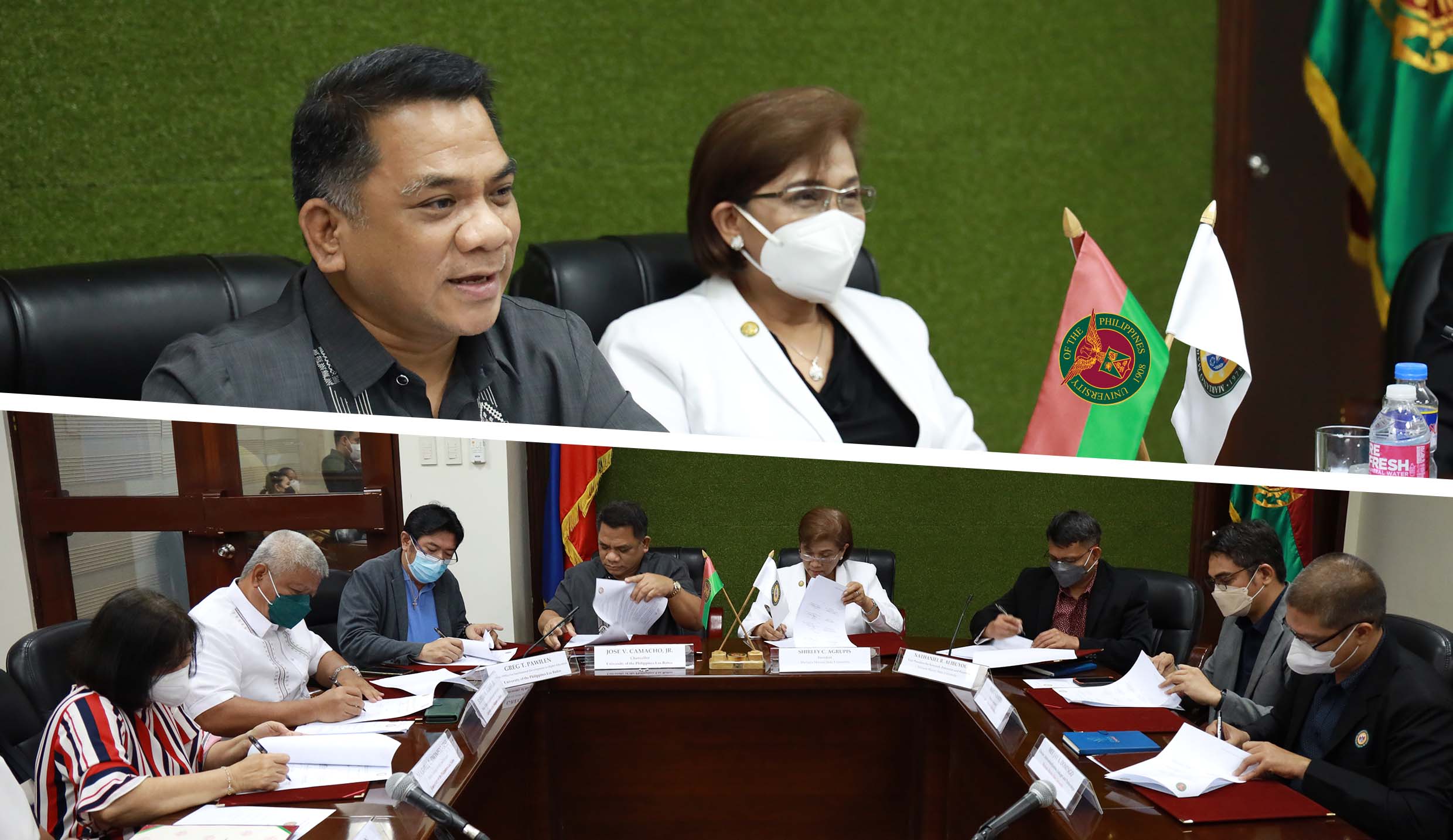 UPLB inks MOU and MOA with MMSU
UPLB has formalized a new partnership in Batac, Ilocos Norte by signing both a Memorandum of Understanding (MOU) and a Memorandum of Agreement (MOA) with the Mariano Marcos State University (MMSU) on June 9.
Chancellor Jose V. Camacho, Jr. and Dr. Shirley Agrupis, president of MMSU and an alumna of MS Botany at UPLB, led their respective delegations at the MOU and MOA signing.
In his message, Chancellor Camacho said that the agreement will formalize the rewarding and beneficial relationship between UPLB and MMSU.
He added that UPLB is proactive in establishing strong linkages with other higher education institutions in accordance with UP's mandate as the country's national university to perform a unique and distinctive leadership in higher education and development.
Dr. Agrupis likewise recognized the leadership of UPLB in its academic standards, research, and extension. She expressed MMSU's commitment to the partnership to ensure its success.
The MOU formalized the agreement to develop academic and educational cooperation between the two higher education institutions and will usher in collaborative activities in the academic areas of interest, on a basis of equality and reciprocity.
The MOA supports the implementation of an internship program for MMSU's BS Biology students at the UPLB Museum of Natural History (MNH).
The ceremonial signing was attended by university officials from UPLB and MMSU.
The MOU signing was witnessed by Dr. Greg T. Pawilen, director of the Office for Institutional Development in Higher Education (OIDHE); Dr. Elpidio M. Agbisit, Jr., dean of the College of Agriculture and Food Science; and Dr. Maribel L. Dionisio-Sese, dean of the College of Arts and Sciences.
Dr. Marian P. De Leon, director of MNH, witnessed for the MOA signing.
They were also joined by Dr. Eileen Lorena M. Mamino, assistant to the Chancellor;      Dr. Fernando O. Paras Jr., vice chancellor for planning and development; Dr. Janette H. Malata – Silva, vice chancellor for student affairs; and Julie Aiza L. Mandap, OIDHE program coordinator.
Serving as their counterpart for MMSU were Dr. Bjorn S. Santos, research director; Mee Jay A. Domingo, director of Internationalization, Linkages, and Partnership; and Dr. Nathaniel R. Alibuyog, vice president for Research, Extension, and Business. Dr. Alibuyog also served as witness to the MOA for the internship program with MNH.
This marks UPLB's 26th MOU with local higher education institutions (HEIs). (KEAraguas with information from #UPLBToday)
---