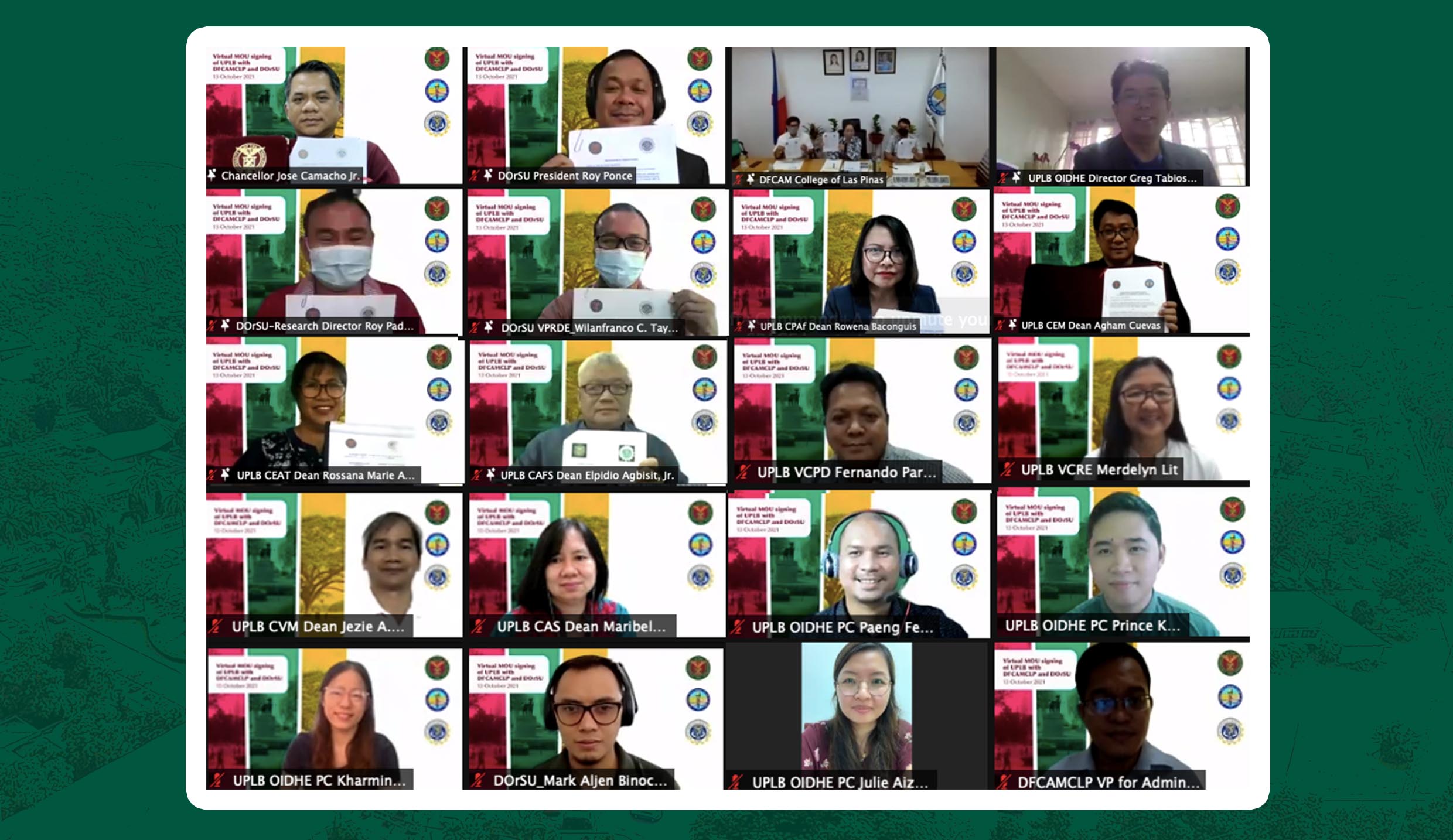 UPLB inks MOUs with new partner HEIs
A newly elevated state university in Davao Region and a local college in Metro Manila have been added to UPLB's growing network of partner higher education institutions (HEIs) all over the country.
On Oct. 13, UPLB signed a Memorandum of Understanding (MOU) each with Davao Oriental State University (DOrSU) and the Dr. Filemon C. Aguilar Memorial College of Las Piñas (DFCAMCLP) through video conferencing.
The MOUs will enable UPLB to pursue joint research, consultancy services, and exchange of information, knowledge, and faculty members with the two HEIs.
"I believe that this will be a partnership of mutual learning and improvement," said Dr. Roy Ponce, president of the City of Mati-based DOrSU, previously called the Davao Oriental State College of Science and Technology.
"We commit to put our heart, our minds, our efforts, and our available resources into this," added Dr. Ponce, whose university will collaborate with UPLB in the fields of agriculture, engineering, environmental science, biology, and education, based on a verbal agreement with officials of the UPLB Office for Institutional Development in Higher Education (OIDHE), the unit that facilitates and maintains UPLB's partnerships with local HEIs.
Meanwhile, DFCAMCLP had initially expressed its intent to collaborate with UPLB in the areas of business administration, management, economics, and education, based on a prior meeting with OIDHE.
"We are very grateful for this big opportunity as offered by UPLB," said Dr. Eugenia Guerra, president of the local university and college (LUC) of the city government of Las Piñas.
The MOUs with DOrSU and DFCAMCLP brings UPLB's signed MOUs with partners HEIs this year to 16.
UPLB has already signed MOUs with fellow SUCs Polytechnic University of the Philippines, Pangasinan State University, Tarlac Agricultural University, Pampanga State Agricultural University, Central Bicol State University of Agriculture, Visayas State University, Central Mindanao University, and Sulu State College.
It also inked the same legal instrument with the LUC University of Eastern Pangasinan.
UPLB's new partner private HEIs are St. Scholastica's College-Manila, Northwestern University-Laoag, Saint Tonis College, Inc., Wesleyan University-Philippines, and Mater Dei Academy of Sta. Maria, Bulacan, Inc.
"We take pride in this milestone – not necessarily because of the numbers that we generated – but more importantly, because this initiative has connected more HEIs together despite our distance and amid the pandemic," said Chancellor Jose V. Camacho, Jr.
"In front of us are so much potentials and future impact that would strengthen all of us in the higher education circle – for the benefit of our students and our communities," Chancellor Camacho continued.
Serving as UPLB's witnesses to these MOUs were the deans – Dr. Rowena Baconguis of the College of Public Affairs and Development and Dr. Agham Cuevas of the College of Economics and Management for DFCAMCLP, and Dr. Elpidio Agbisit, Jr. of the College of Agriculture and Food Science and Dr. Rossana Marie Amongo of the College of Engineering and Agro-industrial Technology.
UPLB's vice chancellors and deans, and the OIDHE team led by Director Greg Pawilen, also took part in the virtual program, together with their counterparts from the two HEIs. (Mark Jayson E. Gloria)