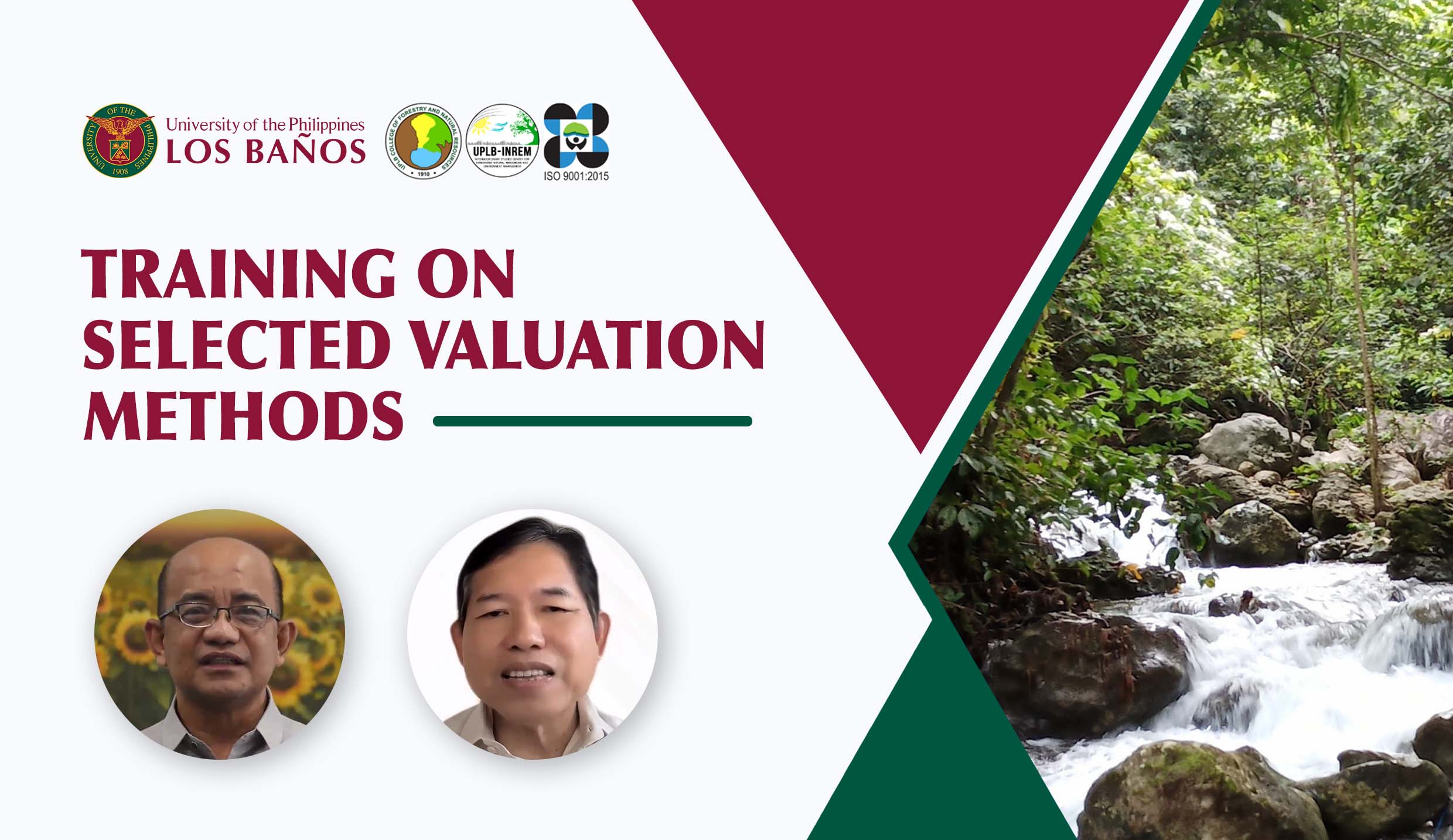 UPLB-INREM holds online training on valuation of ecosystem services
The UPLB Interdisciplinary Studies Center for Integrated Natural Resources and Environment Management (UPLB-INREM), through its DOST-PCAARRD-funded projects, conducted an online training on selected valuation methods for ecosystem services on May 18-19, 2023.
UPLB-INREM's partners from academe and government units attended the one-and-a-half day training course to learn about using economics valuation tools to guide evidence-based decision-making for natural resources and the environment.
The training course's 41 participants represented UPLB, Nueva Vizcaya State University, Quirino State University, Don Mariano Marcos Memorial State University, Mindoro State University, Southern Luzon State University, and Misamis University, and the Department of Environment and Natural Resources (DENR) CALABARZON, DENR Ecosystems Research and Development Bureau, Department of Science and Technology Philippine Council for Agriculture, Aquatic, and Natural Resources Research and Development (DOST-PCAARRD), and Provincial Local Government Units of Nueva Vizcaya, La Union, and Laguna.
In her welcome remarks, Dr. Analyn Codilan, associate dean of the College of Forestry and Natural Resources (CFNR), discussed the importance of having proper knowledge of ecosystem services values.
"When resources like goods and services are not valued or undervalued, people tend to abuse and exploit them, which may destroy the ecosystem that provides such benefits. We need to have proper knowledge and understanding of the values of ecosystem services to make well-informed decisions for the conservation and management of our ecosystems," AD Codilan said.
Dr. Reynaldo Ebora, executive director of DOST-PCAARRD, who gave the opening message, said that the importance of ecosystem service valuation studies could not be overstated in a time of growing environmental concerns and a rising need for sustainable development.
The valuation training began with an introductory lecture about ecosystem services and economic valuation, and the Productivity Change Method by Dr. Asa Jose U. Sajise of the UPLB Department of Economics, College of Economics and Management. This was followed by the Contingent Valuation Method lecture by Dr. Canesio D. Predo of the UPLB Institute of Renewable Natural Resources of CFNR.
The benefit transfer method was discussed by Marielle Baliwag, project staff of UPLB INREM's "Research for Development: Payment for Ecosystem Services Outcome for Sustainable Water Provision," or PESO SWaP Project. Dr. Sajise also gave a lecture on the basic analysis of valuation data using Stata statistical software.
The second day of the training focused on a hands-on exercise on the Contingent Valuation Methodology. Selected participants presented their output from the activity to wrap up the training.The valuation training is the second in the series of training courses and seminars conducted by UPLB-INREM through its DOST-PCAARRD-funded projects "Integration of Traditional and Modern Bioproduction Systems for a Sustainable and Resilient Future Under Climate and Ecosystems Changes (ITMoB)" and R4D: PESO SWaP in Barobbob Watershed, Nueva Vizcaya, Philippines". (Marielle Baliwag and Frances Claire Gallano, University Research Associates II, UPLB-INREM)
Aligned with our commitment to: