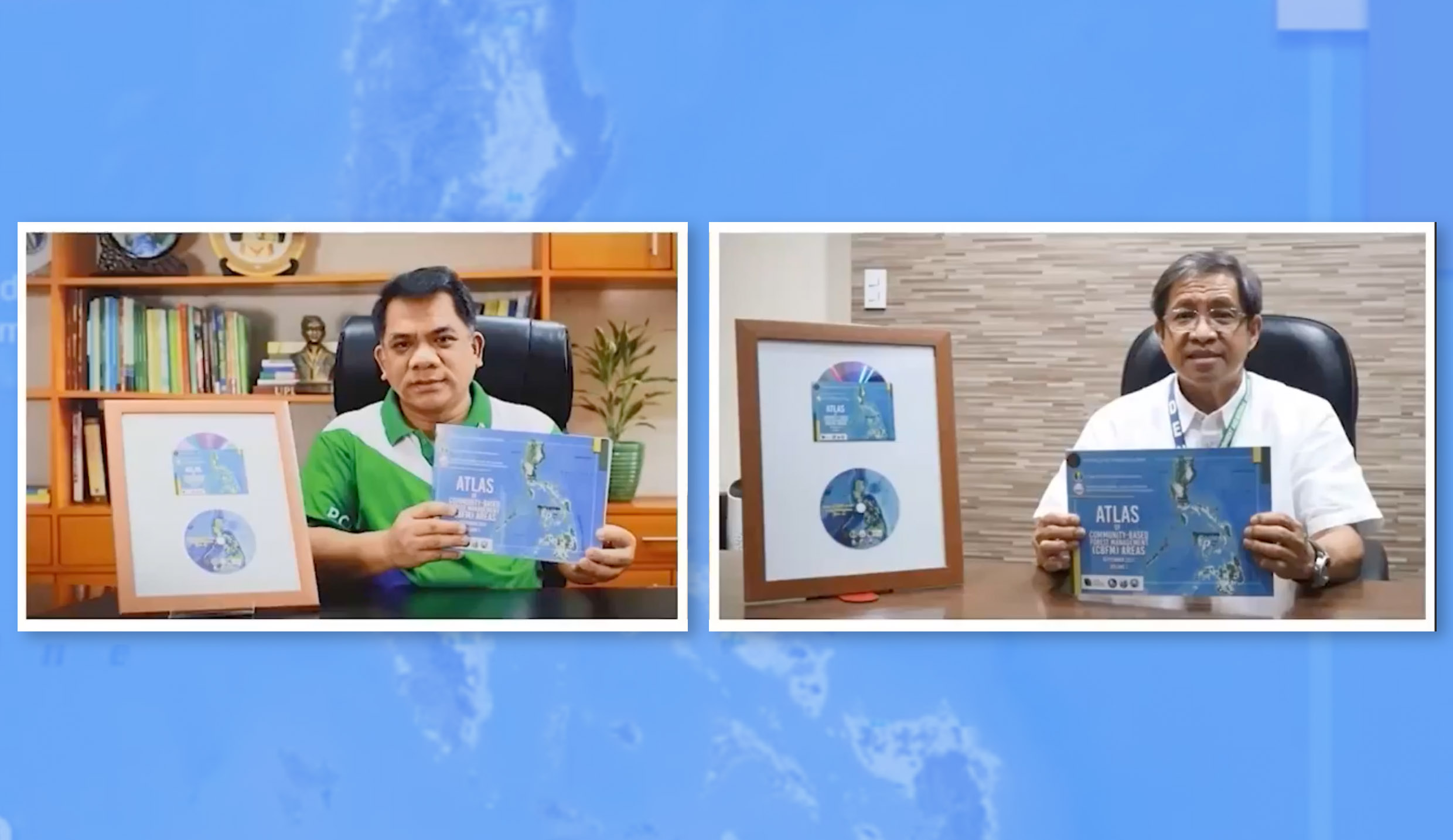 UPLB INREM turns over CBFM Atlas to DENR
The UPLB Interdisciplinary Studies Center on Integrated Natural Resources and Environment Management (INREM) turned over the Community-Based Forest Management (CBFM) Atlas to the Department of Environment and Natural Resources (DENR) at an online forum held on Sept. 15.
UPLB was represented by Chancellor Jose V. Camacho, Jr. while the Department of Environment and Natural Resources (DENR) was represented by For. Marcial C. Amaro, Jr., assistant secretary for field operations and officer in charge of the DENR Forest Management Bureau.
The CBFM Atlas is one of the outputs of the project entitled "Assessing the CBFM Program in the Philippines through Stocktaking and Forest Fragmentation Analysis" of a UPLB team led by Dr. Juan M. Pulhin, Academician of the National Academy of Science and Technology and chair of the INREM.
The turnover was Part II of the inaugural forum spearheaded by INREM entitled ShareCom for Asia to social and community forestry (S/CF) stakeholders, a platform for sharing experiences and strategies on effective implementation of community forestry.
In his message, Chancellor Camacho expressed his hopes that the Atlas will help achieve the objectives of CBFM in the next 25 years and beyond by institutionalizing within CBFM the culture of evidence-based policy and decisions making that will help achieve the goal of sustainable forest management, social justice, and poverty reduction among forest-dependent communities.
Assistant Secretary Amaro, in his response, said that the project is very timely and relevant in addressing the gaps and challenges in the management of our forests, as well as improving the socio economic conditions of our upland communities. The CBFM Atlas, according to him, is also crucial in enhancing the documentation of our CBFM-related programs and projects in the Philippines, CBFM being the national strategy for sustainable forest management.
Part II also featured the launching of the ShareCom for Asia website with Dr. Rose Jane Peras of the UPLB College of Forestry and Natural Resources walking the audience through the website that on the URL sharecom.uplb.edu.ph.
The inaugural forum that was held virtually was participated in by 250 via video conference and has earned 2,000 views on the Facebook page of the CFNR.