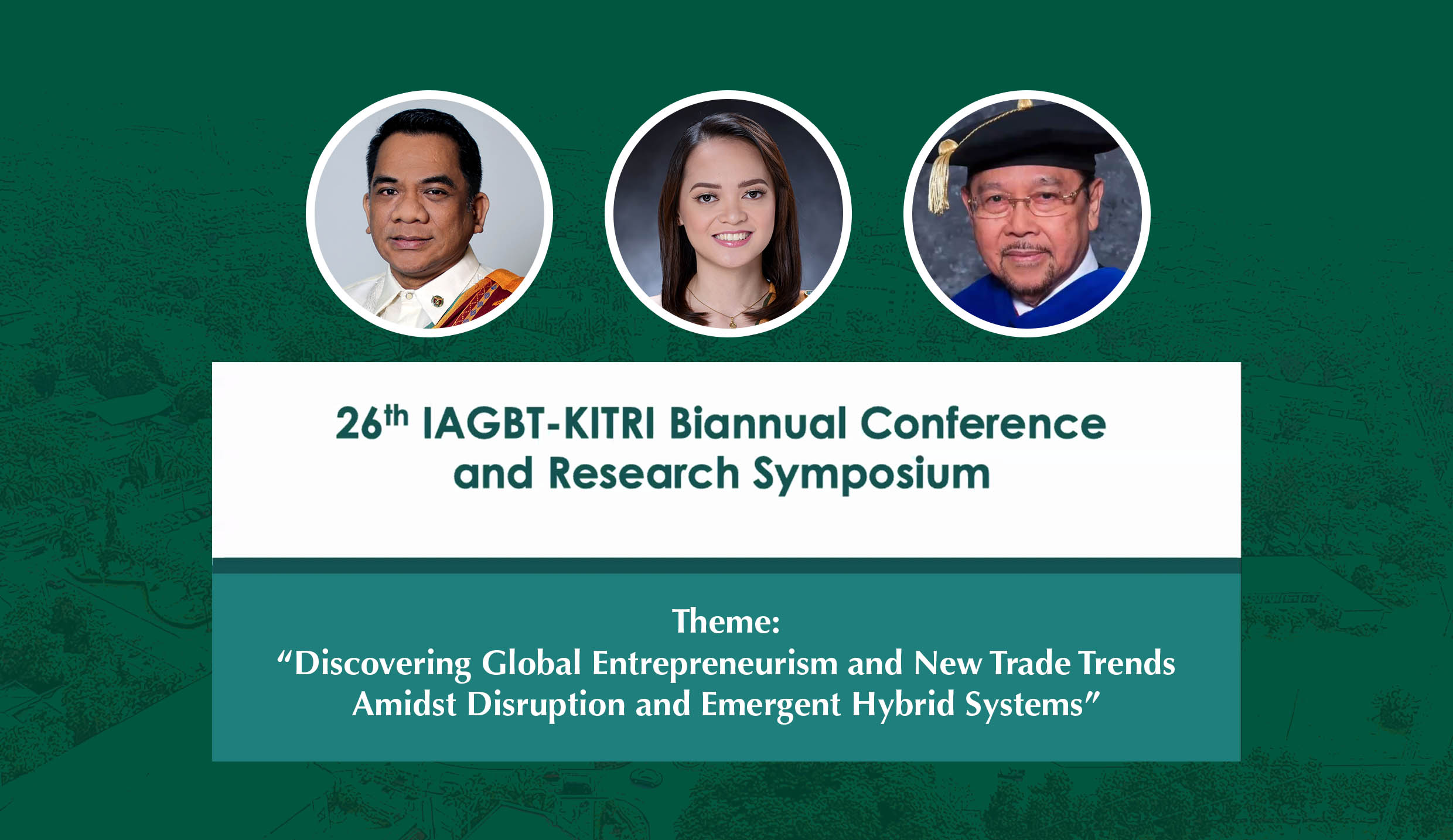 UPLB joins global economy discussions at IAGBT-KITRI conference
UPLB joins the discussion about the future of the global economy as one of the organizers of an international conference.
The 26th Biannual Conference and Research Symposium led by the International Academy of Global Business and Trade (IAGBT) and the Korea International Trade Research Institute (KITRI), held online from July 22 to 24, was participated in by 14 countries.
With the theme "Discovering Global Entrepreneurism and New Trade Trends Amidst Disruption and Emergent Hybrid Systems," the conference featured paper presentations from various academic and research institutions that discussed how the global economy could continue to develop sustainably amidst disruptive changes such as emerging new technologies, climate change, and the COVID-19 pandemic.
In his opening remarks, Chancellor Jose V. Camacho, Jr. said that the conference presents an excellent opportunity to set the groundwork for future collaborative research on various aspects of the global economy.
Keynote speaker Dr. M. Aman Wirakartakusumah, executive director of the IPMI International Business School in Indonesia, discussed how social, economic, and environmental interests can be synergized and become opportunities for growth by grounding them on an overall vision, and political and economic commitments, and constantly measuring their success.
At the end of the conference, UPLB student Angelica Natividad (BS Industrial Engineering) was recognized with the Best Paper Award for her thesis, "The impact of multi-channel retailing on overall service quality and its effects on repurchase intention."
Her paper was presented at the conference by her thesis adviser, Dr. Diana Marie R. de Silva, who was also her co-author.
Other co-authors are faculty members from the Department of Industrial Engineering – College of Engineering and Agro-Industrial Technology, namely, Engr. Maria Liezel P. Caroche, Engr. Stephanie Caridad DR. Landicho, and Dr. Josefa Angelie D. Revilla.
Natividad's research paper competed with 52 papers from other country participants in the English Session of the conference, where it bested masters and PHD-level researches, with some having support from external funding. (Jessa Jael S. Arana)