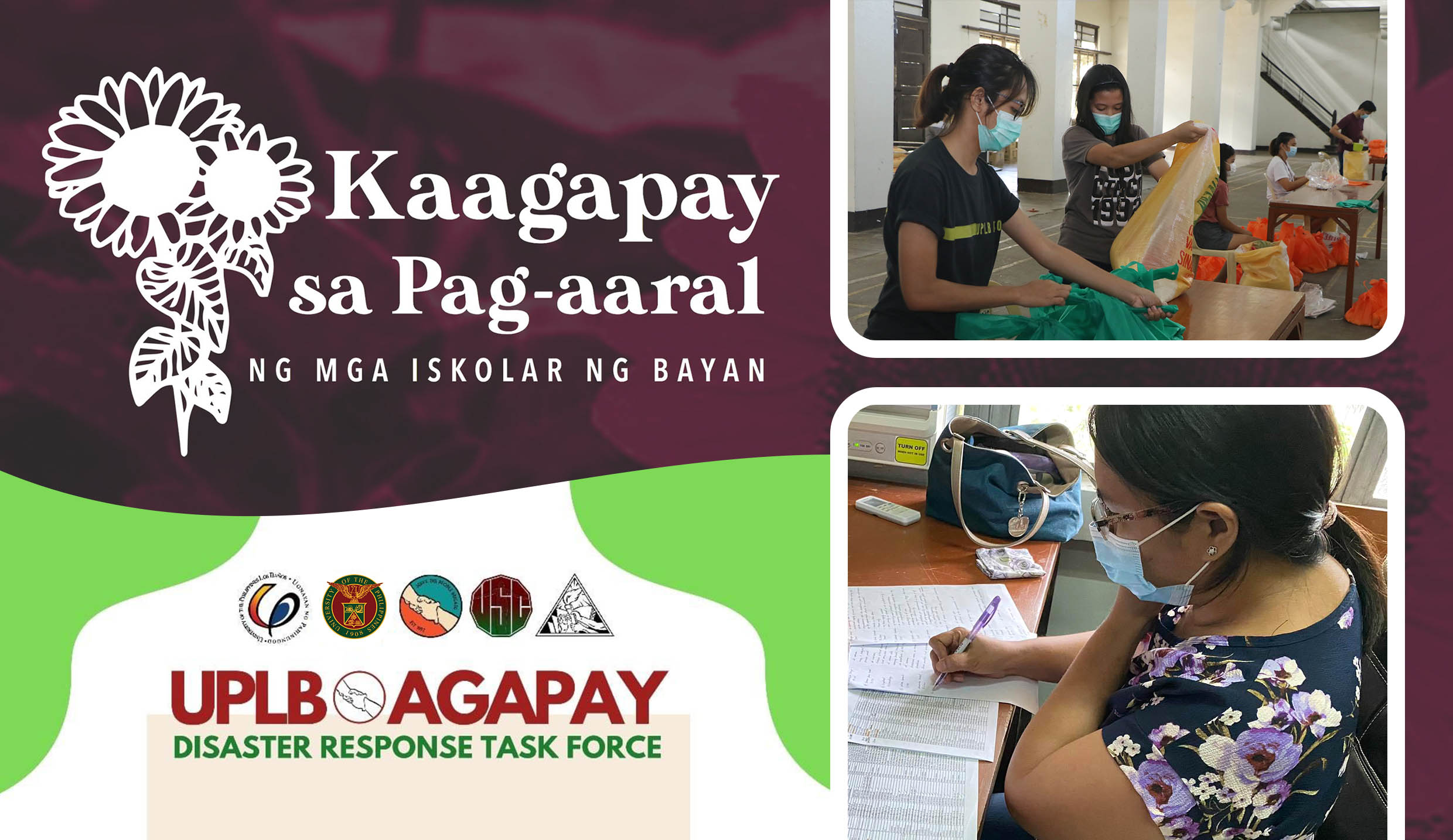 UPLB launches Agapay Program for disaster relief
2020 has felt like one disaster after another, with the eruption of Taal Volcano at the beginning of the year, the outbreak of a global pandemic that has led to one of the longest ongoing quarantine lockdowns in the world, and a series of typhoons this November that caused widespread flooding in Luzon.
As the national university with a powerful commitment to public service and an enduring tradition of volunteerism, UPLB has been highly active in the rescue, relief, and recovery efforts for these disasters. UPLB student organizations, UPLB alumni associations, initiatives by the faculty and staff of the different UPLB units, and UPLB administration-formed task forces such as Task Force Taal and Task Force Laban ng Bayan Kontra COVID-19 were and have been invaluable in amassing donations, preparing and distributing relief goods, and mobilizing volunteers meant for the benefit of the disaster victims.
However, while these separate organizations have done a good job, the observation was made that UPLB's relief efforts can be made much more efficient and effective. Thus, the Agapay program was put forward.
Agapay aims to be a long-term central platform for coordinating UPLB's response before, during, and after natural calamities and socio-economic distress. Its primary proponents include the UPLB Office of the Vice Chancellor for Student Affairs, UPLB Ugnayan ng Pahinungod, Serve the People Brigade – UPLB, and the All UP Academic Employees' Union-Los Baños. Coordinating with them are the UPLB Office of the Vice Chancellor for Community Affairs, Office of Alumni Relations, Office of Public Relations, and other UPLB units.
In keeping with the Four Key Values of the Camacho administration's Future-Proofing UPLB vision, the program will harness the cooperation and collaboration of UPLB units, community members, and stakeholders for volunteer mobilization and relief efforts during times of disaster. These efforts will be consolidated under Agapay to make UPLB's response more effective, efficient, and focused.
Underlying the entirety of the Agapay program is compassion for the people made victim by disasters.
With its establishment immediately prior to the consecutive, devastating typhoons Quinta, Rolly, and Ulysses, one of Agapay's first initiatives was to form the UPLB Agapay Student Help Desk, a proactive student directory and monitoring system for UPLB students possibly affected by the recent calamities. Manned by volunteer UPLB faculty and staff from different units, the Student Help Desk actively contacted students in the typhoon-hit areas to inquire about their well-being, as well as their capacity to continue the current remote learning set-up UPLB is implementing.
Agapay has also been consolidating the call for donations and volunteers to assist in giving relief for the victims of the recent typhoons. For more information on UPLB Agapay, as well as to know how you can help, contact the OVCSA Facebook page at facebook.com/uplbovcsa. (Albert Geoffred B. Peralta)
Aligned with our commitment to: