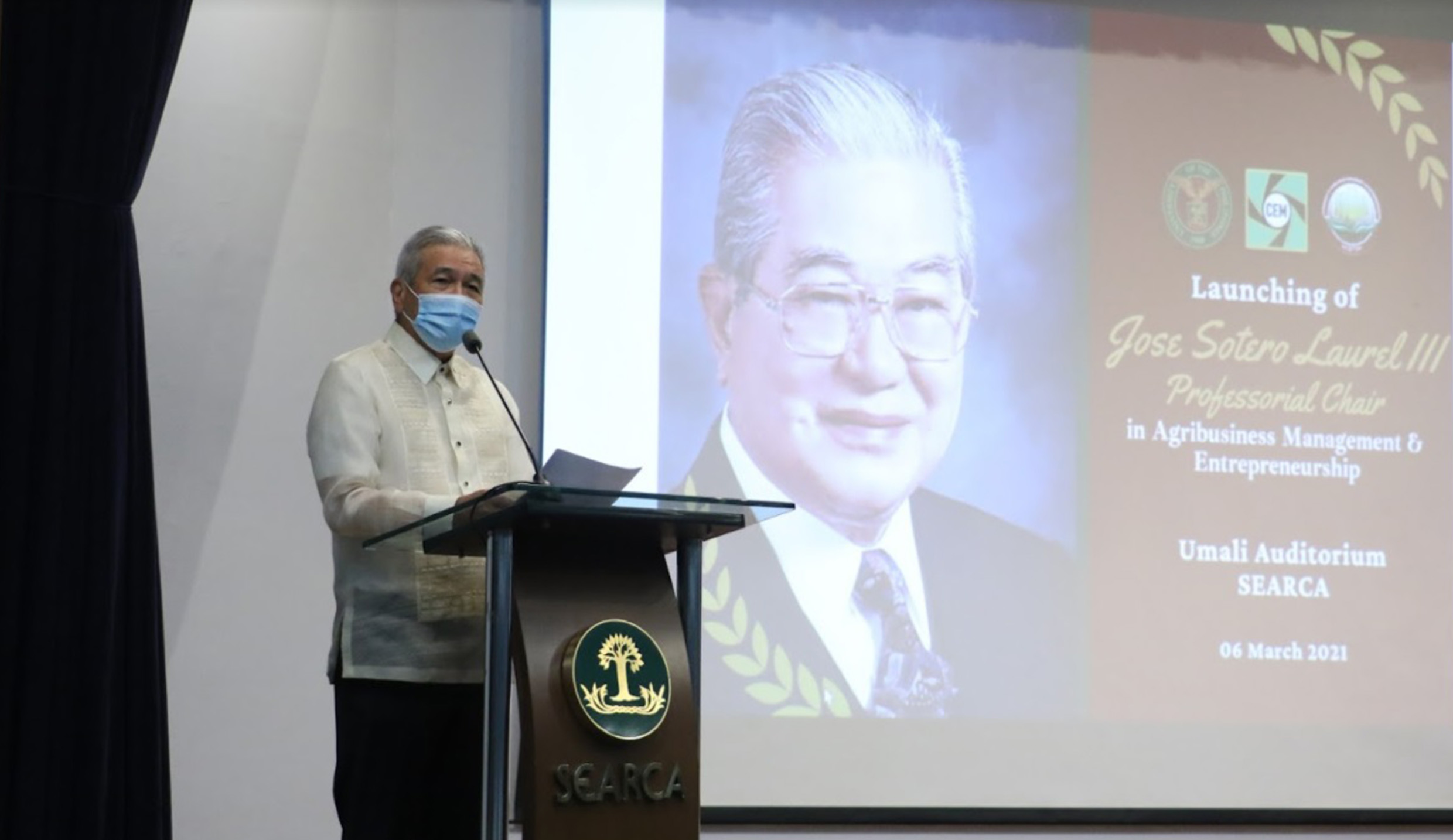 UPLB launches professorial chair for agribiz mgt and entrepreneurship
During the celebration of its 112th founding anniversary, UPLB launched the Jose Sotero Laurel III professorial chair for agribusiness management and entrepreneurship through a short but meaningful program held on March 6 at the SEARCA Umali Auditorium.
The professorial chair is sponsored by Hon. Francis C. Laurel, a son of the honoree, a graduate from UPLB (Class 1970), and a member of the UP Board of Regents.
Regent Laurel said in his speech at the launching that the idea for the professorial chair came up in 2008. According to him, it is named after his father, who is his personal hero and whom he described as "a man for all reasons."
He went on to describe his father's short but significant time in the military followed by a long and illustrious career as a diplomat and foreign relations expert especially with regard to Philippine-Japanese relations.
He touched on his father's wartime experiences and how it drove the latter to resign from the military after World War II. Regent Laurel quoted him as having described the war as "man's inhumanity to itself."
Those experiences, according to Regent Laurel, drove his father to dedicate the rest of his life to diplomatic relations, especially between the Philippines and Japan. It was a goal that the older Laurel worked on continuously to improve, as an adviser during the Garcia, Aquino, and Ramos administrations, the Philippine envoy to Japan during the Marcos Era, and up until his death in 2003.
Regent Laurel said that his father's approach to diplomacy centered around a uniquely personal and heartfelt approach. He emphasized the importance of education in strengthening diplomatic relations by establishing the ASEAN Council of Japanese Alumni, a network of scholars from all over Southeast Asia who had been educated in Japan and could thus promote the country in their respective homelands.
Jose S. Laurel III's methods and principles were crucial in inspiring the establishment of the Fukuda doctrine – Japan's post-World War II guide to foreign relations which continues to be its founding philosophy to this day.
The professorial chair was established to recognize and reward faculty members responsible for outstanding contributions to the field of agribusiness management and entrepreneurship, as well as provide scholarships for BS Agribusiness Management and Entrepreneurship students.
In attendance during the launching were the Japanese ambassador to the Philippines, His Excellency Koshikawa Kazuhiko, UP President Danilo Concepcion, UPLB Chancellor Jose Camacho Jr., CEM Dean Agham Cuevas, and alumni. (Albert Geoffred B. Peralta)