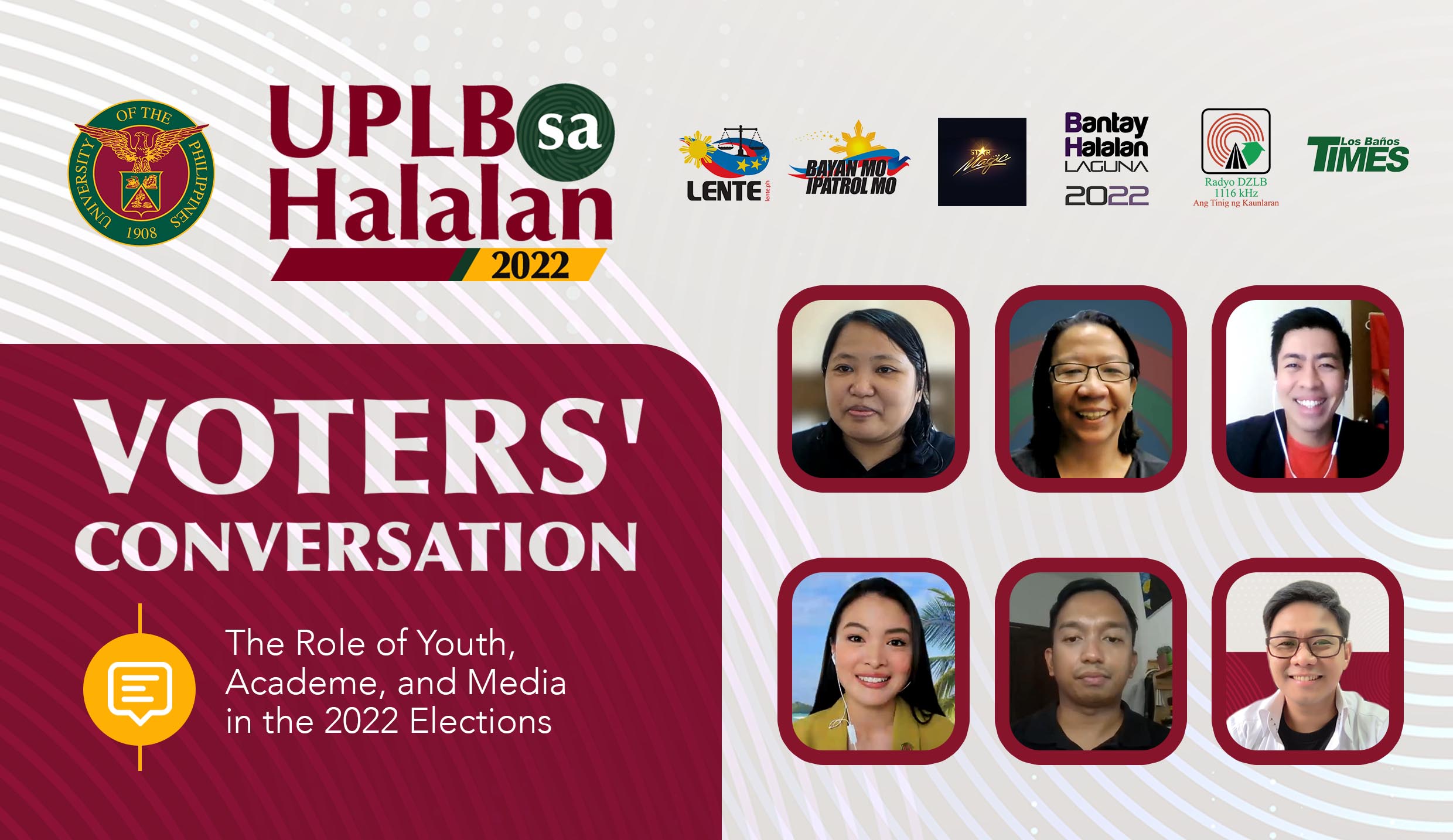 UPLB launches UPLB Sa Halalan 2022
UPLB kicked off the "UPLB Sa Halalan 2022" public service initiative on Oct. 16 with an online voters' conversation entitled, "The Role of Youth, Academe, and Media in the 2022 Elections."
The event was the first in what will be a series of forums, dialogues, webinars, and other voter education and electoral engagement activities aimed at leading up to the 2022 Philippine national elections.
In his opening remarks, UPLB chancellor Jose Camacho Jr. referred to RA 9500, also known as the UP Charter of 2008, and how it mandated UP to provide "opportunities for the development of democratic values, institutions, and practice".
"Part of the hallmarks of democracy include transparency, participation, and informed decision-making" said Camacho "and as the National University, we aim to promote and showcase these values as our community decides who our next leaders are going to be."
The voters' conversation featured Atty. Ona Caritos from the Legal Network for Truthful Elections (LENTE Philippines), Star Magic election ambassador Aya Fernandez, ABS-CBN's Bayan Mo iPatrol Mo head Rowena Paraan, and ABS-CBN reporter Jervis Manahan.
The speakers talked about a broad range of election-related topics, including how social media is changing both news coverage and the way the upcoming 2022 campaigns will be run, citizen journalism, premature campaigning, the pros and cons of the party-list system, the battle against misinformation and "fake news," and the role of the youth in both the campaign and the electoral process.
Near the program's end, Dr. Trina Leah Mendoza, chair of the Department of Development Broadcasting and Telecommunication of the College of Development Communication, sent out a call for student volunteers to join Bantay Halalan Laguna 2022, an initiative for the reporting and coverage of both local and national elections centered around Laguna.
Dr. Mendoza encouraged the program attendees from outside Laguna to look into forming their own local chapter of Bantay Halalan.
The entirety of the 3-hour program may be viewed at the Facebook page.
The public is encouraged to look out for future programs under the UPLB Sa Halalan 2022 initiative, which will be rolled out in the coming months all the way until May 2022. (Albert GB Peralta)