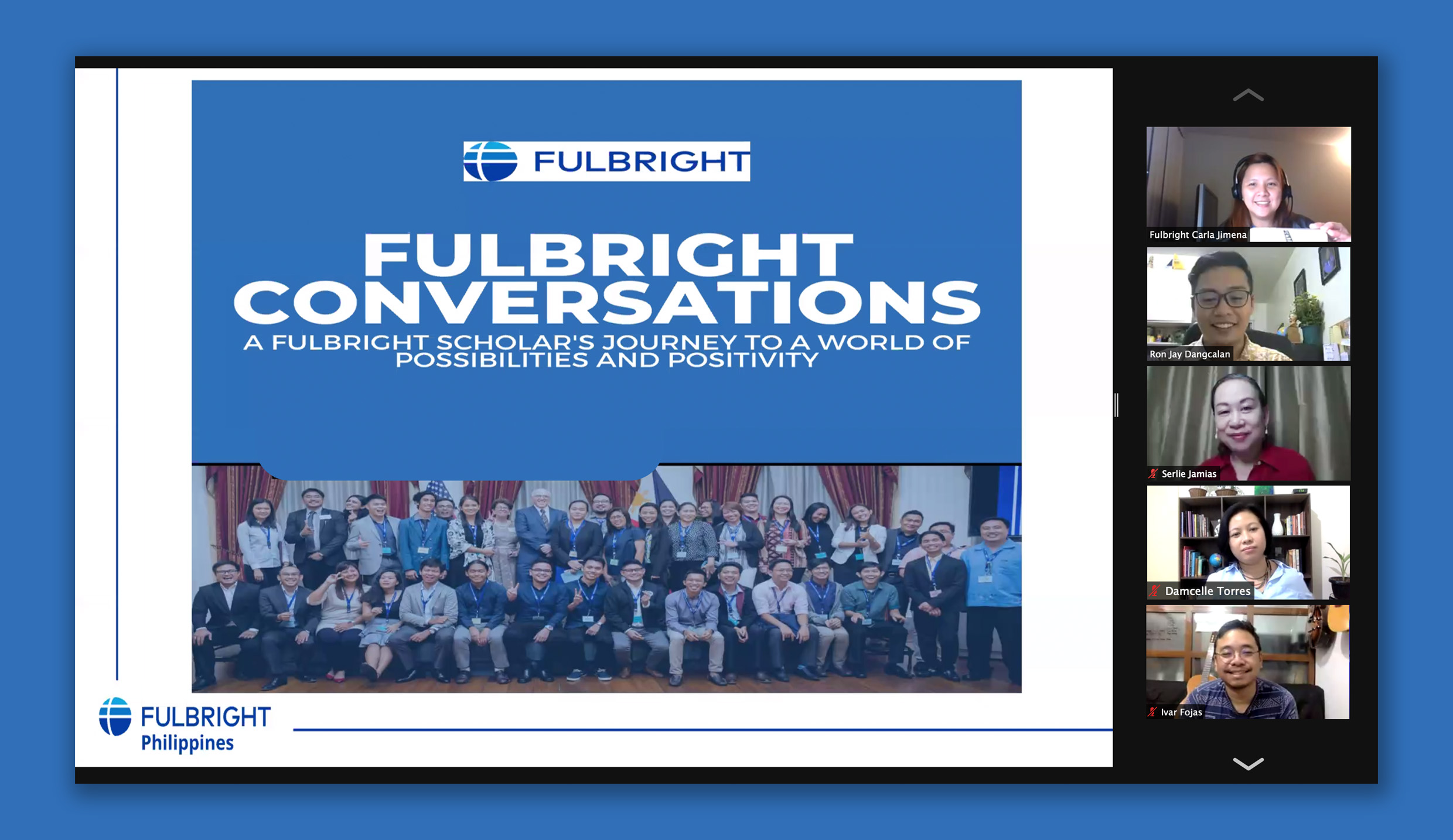 UPLB leads Fulbright PH scholar's forum
UPLB Fulbright alumni encouraged applicants from all over the country to apply for seven Fulbright scholarship programs at a webinar that UPLB spearheaded as part of its internationalization efforts.
The webinar entitled "Fulbright Conversations: A Fulbright Scholar's Journey to a World of Possibilities and Positivity," held on March 14 was coordinated by Fulbright scholars, Carla Edith G. Jimena and Ron Jay P. Dangcalan, who are faculty members at the Department of Social Development Services of the College of Human Ecology (DSDS-CHE).
It served as an orientation for prospective UPLB applicants, but was also opened to the public and was attended by other individuals from all over the country.
To inspire participants to apply, scholars from UPLB and other educational institutions served as speakers to share their Fulbright journey, from the stringent and competitive application process, to their fruitful academic life in the US, to finally going back to the Philippines to give back and serve.
One of the speakers was Dr. Serlie Barroga-Jamias, Professor at the College of Development Communication (CDC), fellow of the Hubert H. Humphrey Program, which is intended for mid-career professionals. She took her fellowship in multi-platform journalism, science communication, and media literacy in SY 2010-11 at the Phillip Merril College of Journalism of the University of Maryland College Park.
Another from UPLB was Atty. Damcelle T. Cortes, a faculty member at the College of Public Affairs and Development (CPAf). She took her Master in Public Administration in 2013 at the John F. Kennedy School of Government at Harvard University in Cambridge, Massachusetts.
Ms. Mila Tan, senior program officer of the Philippine-American Educational Foundation (PAEF) and one of the speakers, explained that the Fulbright Philippines Program offers opportunities intended for particular age and career groups in prestigious universities in the United States of America.
Generally, the programs not only provide for tuition and other fees, but also grant allowances for roundtrip airfare, monthly maintenance, and books and supplies, as well as health and accident insurance. She also said that Fulbright holds calls for application yearly.
Another speaker was Dr. Ivar-Nicholas Fojas, a former faculty member at the Department of Humanities of the College of Arts and Sciences. A professional classical guitarist, he took his degree in Doctor of Music at the University of Arizona in Tucson in 2011.
Two other speakers were Jonathan Flores, who is currently doing his MS in Biological and Agricultural Engineering at the Washington State University and Raymund Lara Paclibar, who is currently taking a non-degree program in English as a Second Language at Gonzaga University in Washington State under the Foreign Language Teaching Assistantship Program.
Atty. Cortes, Dr. Fojas, and Mr. Flores were grantees of the Fulbright Foreign Student Program.
The speakers enjoined the participants to apply in the Fulbright program to broaden their perspective in their chosen fields and introduce them to their counterpart experts in the US, thus allowing them to serve their respective institutions better. They were also advised to take the application process seriously, to have a clear vision for themselves, and to have public service as their mindset.
The Office of International Linkages (OIL), led by Director Anna Floresca F. Firmalino, officially endorsed the webinar to faculty, staff, and students, through the International Relations Officers of colleges and units (Miguel Victor T. Durian).