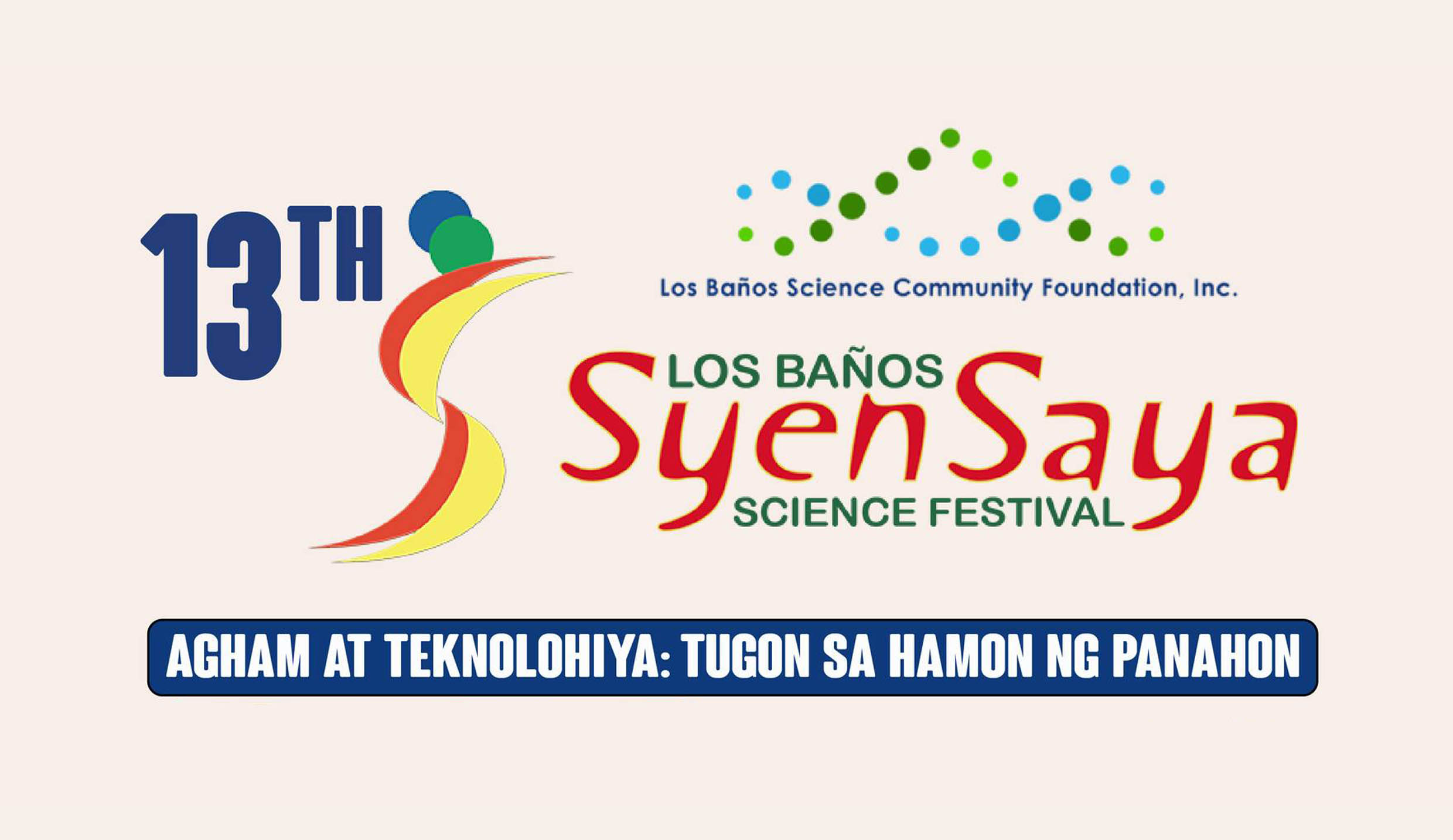 UPLB-led research win PARFI R&D Award at 13th SyenSaya Science Festival
UPLB researchers won the Los Baños Science Community Foundation, Inc. (LBSCFI)-Philippine Agriculture and Resources Research Foundation, Inc. (PARRFI) Research and Development Award at the 13th SyenSaya Science Festival conducted virtually on Nov. 26.
Receiving the PARFI R&D Award under the research category were Dr. Gina D. Balleras, Dr. Virginia R. Ocampo, Dr. Pompe C. Sta. Cruz, Dr. Gerardo F. Estoy, Jr., and Dr. Barbara L. Caoili for their project "Inoculation of Entomopathogenic Fungi as Endophyte in Rice: A Viable Biological Control Against Brown Planthopper."
The winners were awarded at the Syensaya R&D Awarding and Closing Ceremony held on the third and last day of the Syensaya celebration that LBSCFI has traditionally been holding as part of the National Science & Technology Week celebration.
The celebration had for its theme,"Agham at Teknolohiya: Tugon sa Hamon ng Panahon."
The 2021 LBSCI Youth Science Awards were also given out during the virtual program.
Proclaimed first placer was Dianne Marien K. Alano, for her project on the Production of Anti-Bioaerosol Respiratory Face Mask from Saba (Musa acuminata x balbisiana) Stem Fibers and Chicken (Gallus gallus domesticus) Egg Membrane.
The second place winners were Justine Kate P. Albero, Maxenne D. Ignaci, and Chinatu C. Okano for their project on In-vitro Anticoagulation Effect of Ethanolic Chili Pepper (Capsium frutescens L.) Fruits Extract on Blood Types O+ and A+.
Recognized as third placer was Faye Allen S. Ilagan for her project on Antigenotoxic Effects of Quercetin from Onion (Allium cepa Linn.) Scales in Allium cepa-based Test.
All winners are from the Trece Martires City Senior High School.
The finalists in the Youth Science Awards are Joshua Em P. Alcachupas, Lady Nicole DC. Aguilar, Jabez Melki DC. Boniao, Carl Christian M. Dolores, Andrew Lawrence C. Orig, and Perseus Gabriel N. Pascua for their project, "Utilization of Banana (Musa acuminata (AA Group) 'LAKATAN') Peels and Malunggay (Moringa olifera) Seeds as Main Ingredients for Water Purifying Tablets."
Serina U. Fahrenbach, Lee Andrea A. Baracol, Mariel Katrina T. Miranda, Rosalie S. Arcillas, and Erikka C. Mediarito also won as finalists for their project, "Effects of Greywater on the Germination of Chinese Cabbage (Brassica rapa chinensis L.)."
A third group was also proclaimed as finalists, composed of Marvs Kaye Q. Rosario, Pio Santiago G. Bernardo, Abram Carlo O. Dela Viña, Jamie D. Lualhati, Abriane May T. Nora, Daphne Nicole S. Quinsayas, for their project, "The Effects of the Use of Soil Improvers (Charcoal, Coffee Ground, Coir Dust) on the Soil Content (Nitrogen, Phosphorus, Potassium, and pH Level)."
All of the finalists are from Christian School International in Los Baños, Laguna.
The program also featured a spoken word poetry contest.
Claiming the top spot was Bryan Edward S. Ramilo, with his piece "Siyensya Pasensya," which was featured during the program.
Winning second place was Karla Marijoy M. Tan, with the piece "Ang Siyensya at Teknolohiya sa Panahon ng Pandemya," delivered by Cherry Rose F. Piñon.
Coming in third place was Melinda O. Mondoñedo, with the piece "Pagbangon."
Dr. Melinda dela Peña Bandalaria, chancellor of the UP Open University, gave the closing remarks wherein she applauded the participants for using science to help respond to and face the challenges of the times.
To view the livestream of the event, as well as the spoken word pieces, visit the LBSCFI FB Page.
Syensaya kicked off with an opening program [A1] on Nov. 24 and continued on Nov. 25 with a technoforum[A2] discussing COVID-19 vaccines and herd immunity.
LBSCI is one of the four science communities founded by the Philippine Department of Science and Technology (DOST) in 1984. It aims to foster the spirit of sharing of resources and expertise among various research agencies in Los Baños. There are over 24 Los Baños-based member agencies of LBSCFI. (Kristel Hope Villafuerte)