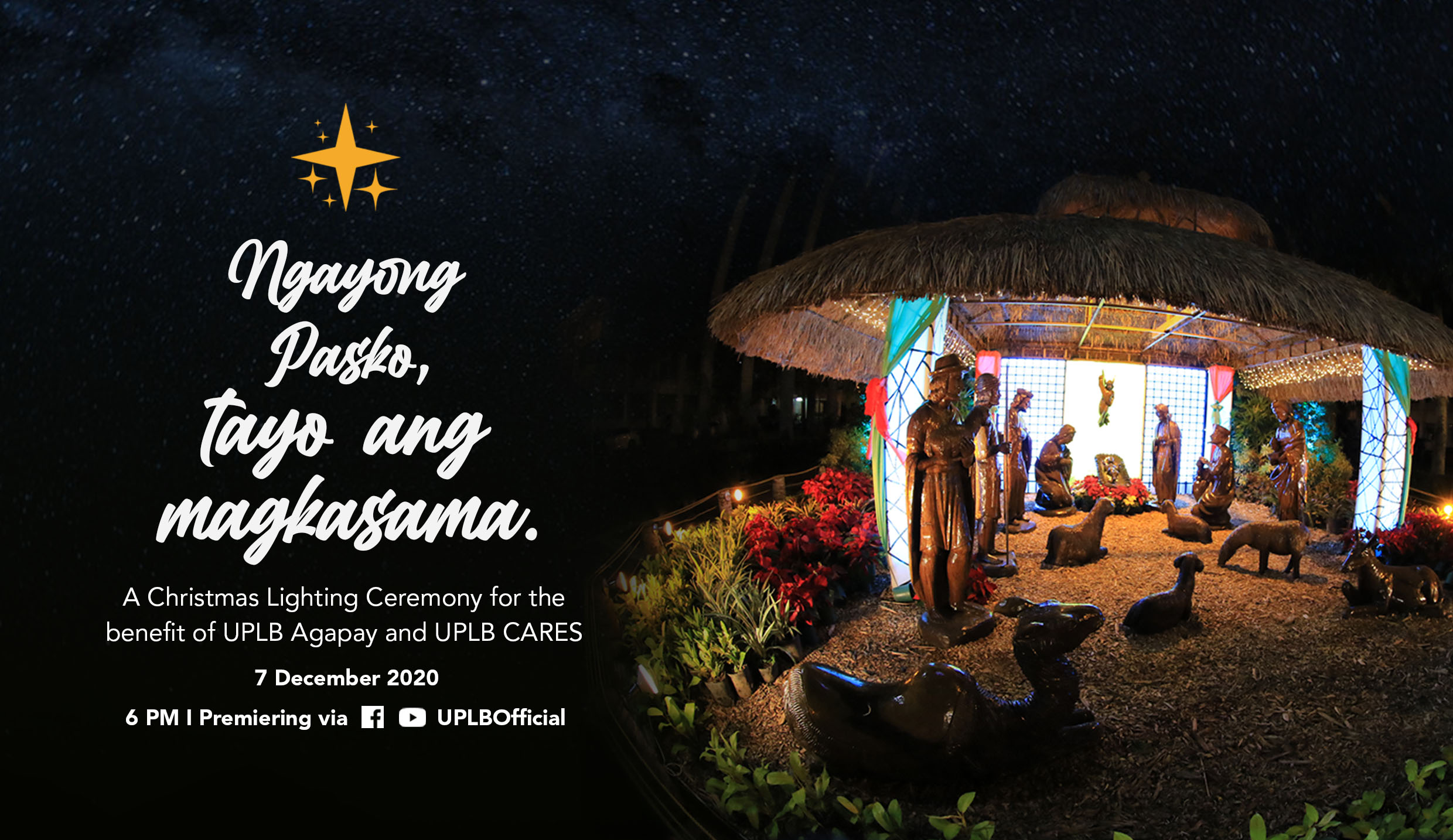 UPLB lights up campus for Christmas to light up students' world
The traditional Christmas lighting ceremony of UPLB will not be the lighting ceremony we all have been accustomed to.
First of all, in keeping with UPLB's collective goal of a simple yet meaningful ceremony, it will feature only the Nativity Tableau, which is really the reason for the season; unlike in the past years of tall Christmas trees and Christmas villages that were guaranteed to draw the crowds for the opportunity to shoot photos.
Secondly, this year gives UPLB a treat despite being held virtually, with the special performance of "Asia's Songbird," Ms. Regine Velasquez-Alcasid.
Ms. Velasquez-Alcasid leads local performers in providing the UPLB community who may be apart in this time of the pandemic but will be one in spirit in tonight's Christmas lighting ceremony.
Simply entitled "Ngayong Pasko, Tayo ang Magkasama," it is meant to light up the UPLB students' world in the midst of remote learning and spread cheer amidst the pandemic and the recent calamities.
Ms. Velasquez-Alcasid's performance is her way to contribute to the third reason that sets this Christmas lighting ceremony apart from those of Christmases past because this one is all about caring and sharing.
"Ngayong Pasko, Tayo ang Magkasama" is aimed at raising funds for two programs of UPLB: one to help students who are having difficulties in adjusting to remote learning and the other to contribute in efforts to help victims of recent calamities.
UPLB CARES or UPLB Connectivity Assistance for Remote Students aims to provide learning support systems and assistance to UPLB students in their transition to remote and flexible mode of learning.
There are currently 627 UPLB students who need help with gadgets or connectivity for remote learning, of whom only 55 have been provided assistance under the UP System Student Learning Assistance System (SLAS).
SLAS is part of the university's COVID-19 Crisis Action Plan to address the needs of vulnerable students, particularly those who could be at a considerable disadvantage under the flexible and remote modes of learning.
The UPLB Agapay Program is the university's central platform for coordinating response before, during, and after natural calamities and socio-economic distress. It is anchored on UPLB's commitment to public service and volunteerism.
Donations to UPLB CARES and UPLB Agapay Program may be made to the following bank accounts of the UPLB Alumni Association: Philippine National Bank (PNB) for dollar donations (account number 246460028491) or Landbank of the Philippines LBP) for peso donations (account number 1891011446)
"Ngayong Pasko, Tayo ang Magkasama" is going to be premiered at 6 PM via UPLB Official's Facebook Page and YouTube Channel.