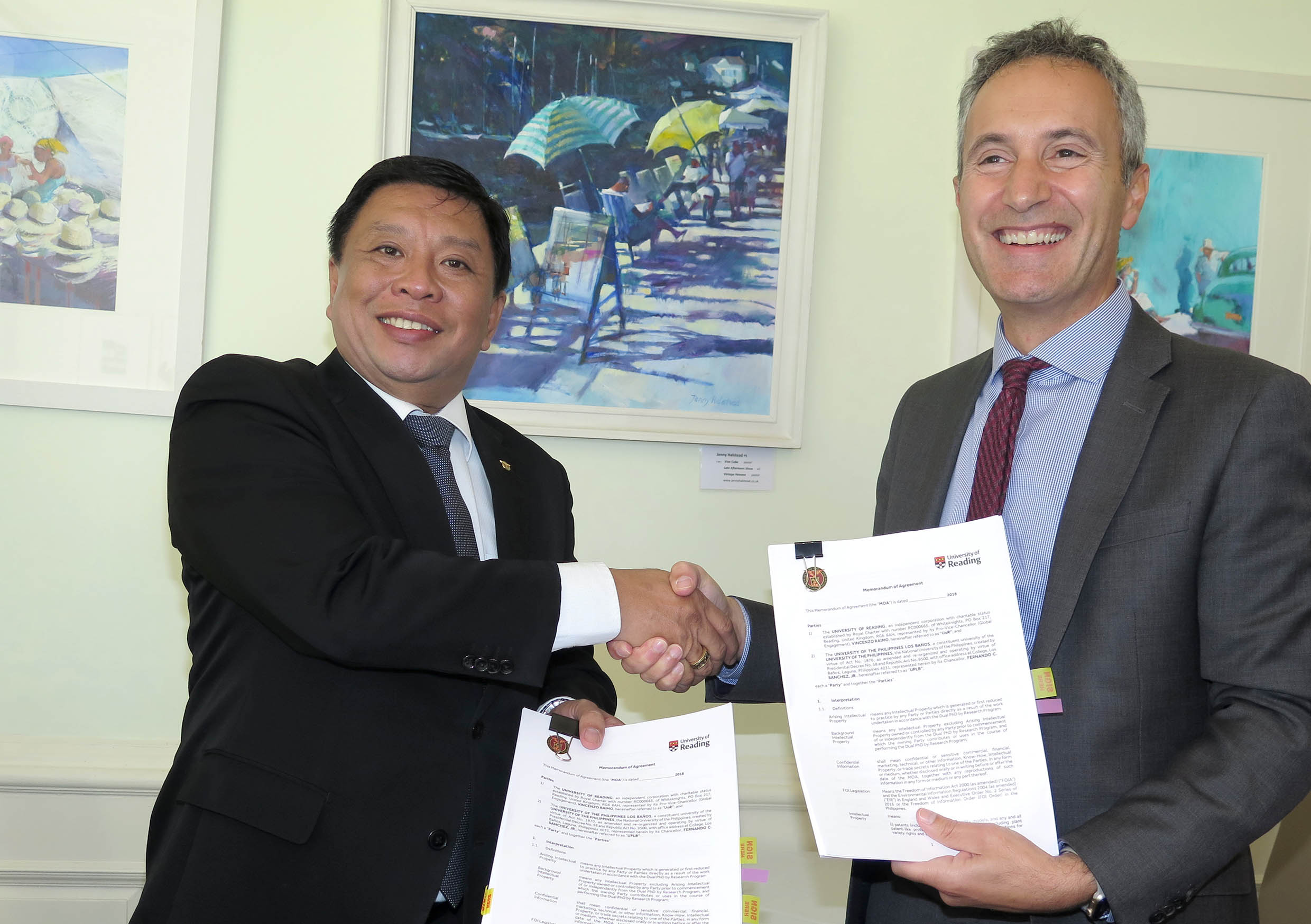 UPLB links with UK universities
Chancellor Fernando C. Sanchez, Jr. led a delegation of faculty members in a visit to three universities in the United Kingdom to hold partnership and rapid benchmarking meetings on joint graduate programs and collaborative research.
The group, which also included Graduate School Dean Jose V. Camacho, Jr., first visited the University of Reading where they signed the Memorandum of Agreement to implement the Dual PhD by Research Program and discussed plans to expand the UPLB-University of Reading partnership.
It will be recalled that the UP Board of Regents unanimously approved the Dual PhD by Research at its meeting on May 31, 2018. The program, proposed by the Graduate School, is the first of its kind in the country.
The approval of the program set the requirements that need to be satisfied in the offering of a Dual PhD by Research program with a reputable HEI in the Philippines and abroad. Other than the Uni of Reading, UPLB will implement the program with Curtin University of Australia and with the UP Mindanao
School of Business, and with other reputable universities in the country and abroad. The Uni of Reading visit was also highlighted by the turnover-induction of four faculty members and researchers from UPLB who will be the pioneer batch to take the Dual PhD by Research at the Uni of Reading.
These are Aldo Gavril Lim of the College of Development Communication, Guinevere Madlangbayan of the College of Public Affairs, and Emmanuel Genesis Andal and Richard Daite, both of the College of Economics and Management.
Dr. Camacho hailed the sending of the pioneer batch as [a sign that] one of UPLB's academic partnership initiatives is now bearing fruit. The Dual PhD by Research with the University of Reading is implemented under the auspices of the British Council-Commission on Higher Education (CHEd) Transnational Education-Joint Development of Niche Programmes. The program is funded by the British government and CHEd.
After the visit at the Uni of Reading, the UPLB delegation proceeded to the University of Surrey and the University of Liverpool for the next academic partnership meetings on joint graduate programs and collaborative research.
With the delegation to the United Kingdom were CEAT Dean Dr. Arnold Elepaño, dean of the College of Engineering and Agro-Industrial Technology; Dr. Rex Demafelis, vice chancellor for research and extension; Dr. Eduardo Torres, dean of the College of Veterinary Medicine. Dr. Simplicio Medina, director for international linkages; and Anna Firmalino, faculty member at the College of Economics and Management. (Josephine M. Bo)