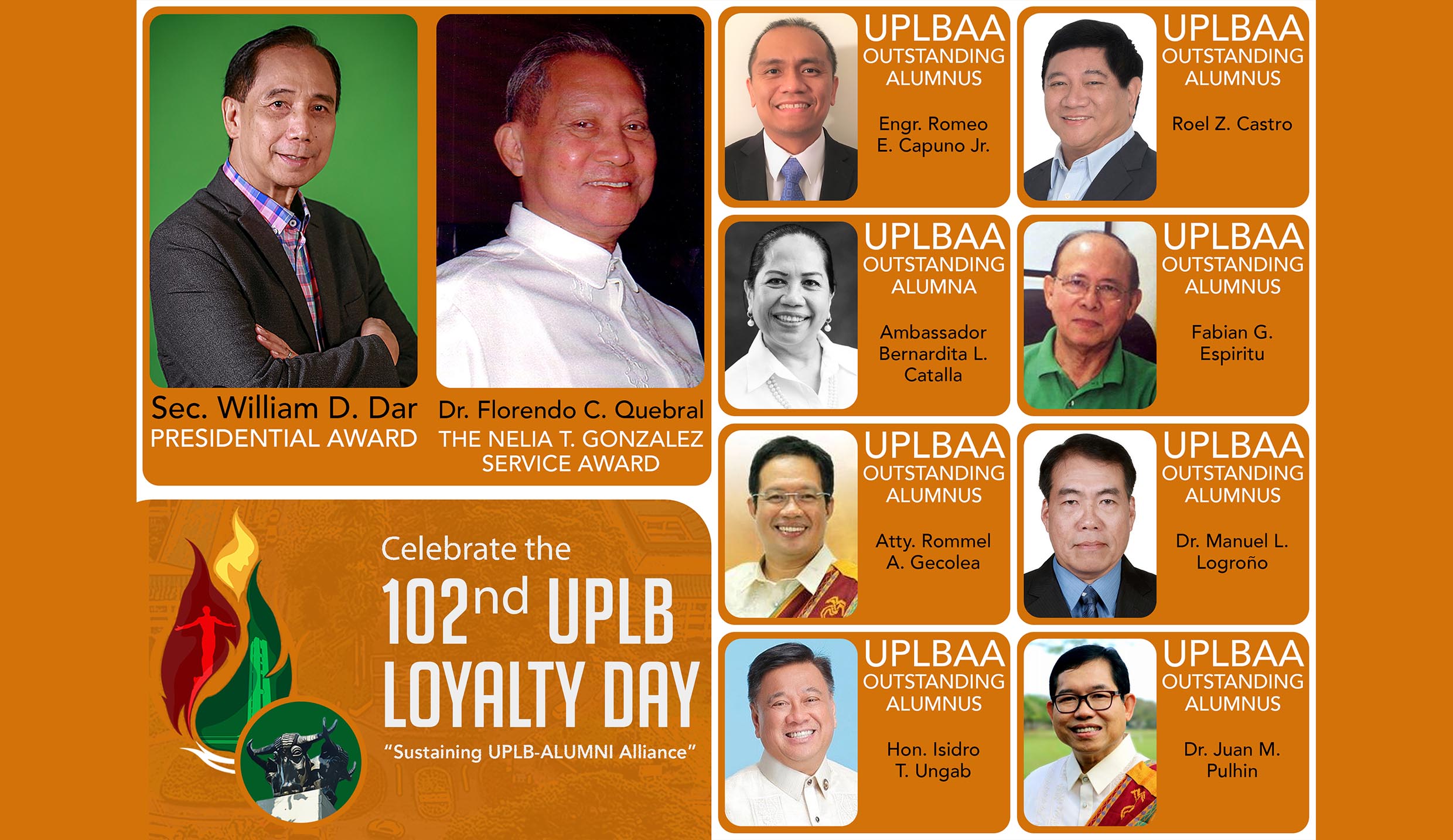 UPLB Loyalty Day 2020 to reach alumni online
UPLB's century-old festivity that has become the university's own alumni homecoming celebration will have its first online edition this year as the on-going pandemic continues to prevent the holding of large social gatherings.
UPLB, UPLB Alumni Association (UPLBAA), and the jubilarians led by the Class of 1970, have been working together to stage the 102nd Loyalty Day, A Virtual Celebration.
This year's Loyalty Day theme is "Sustaining UPLB-alumni alliance."
Two pre-recorded presentations will be premiered on Oct. 10 on social media.
First is the virtual reunion that will run from 9 to 11 AM. This video presentation will virtually bring back the alumni to the campus by featuring UPLB landmarks.
It will also present this year's jubilarians, or those who graduated from UPLB in the years ending in 0 and 5.
On the same day, from 2 to 4 PM, UPLB will honor 65 alumni and four families who will receive awards under different categories.
One each will be honored as recipients of the UPLBAA Presidential Award and the Nelia T. Gonzalez Service Award. Seven will receive the Golden Jubilarian Award; three the Special Award for the Prelude; and eight will be named The Outstanding UPLB Alumni Awardees.
A total of 45 alumni from nine colleges and one school will receive college alumni association honors.
Four families who have produced at least three generations of UPLB graduates will be given the Multi-Generation UPLB Alumni recognition.
These programs on Oct. 10 and seven webinars that are slated from Sept. 23 to Oct. 8 will take the place of traditional activities usually highlighted by the Prelude to Loyalty Day, Loyalty Day Parade, and Fellowship Night that were cancelled this year because of the on-going pandemic
The seven webinars, the schedule of which will be posted on the UPLB website and on social media soon, are going to be headlined by designated jubilarian groups.
Among the topics to be presented are UPLB's national and international impacts, the alumni's contribution to food security in the country, and the university's past experience in the nationwide Masagana 99 agricultural program.
According to Dr. Cristino Collado, chair of the Class of 1970, this year's golden jubilarians, these webinars are specific to the experiences and ideals of the jubilarians, which would hopefully inspire younger generations to contribute to national development. (Mark Jayson E. Gloria)