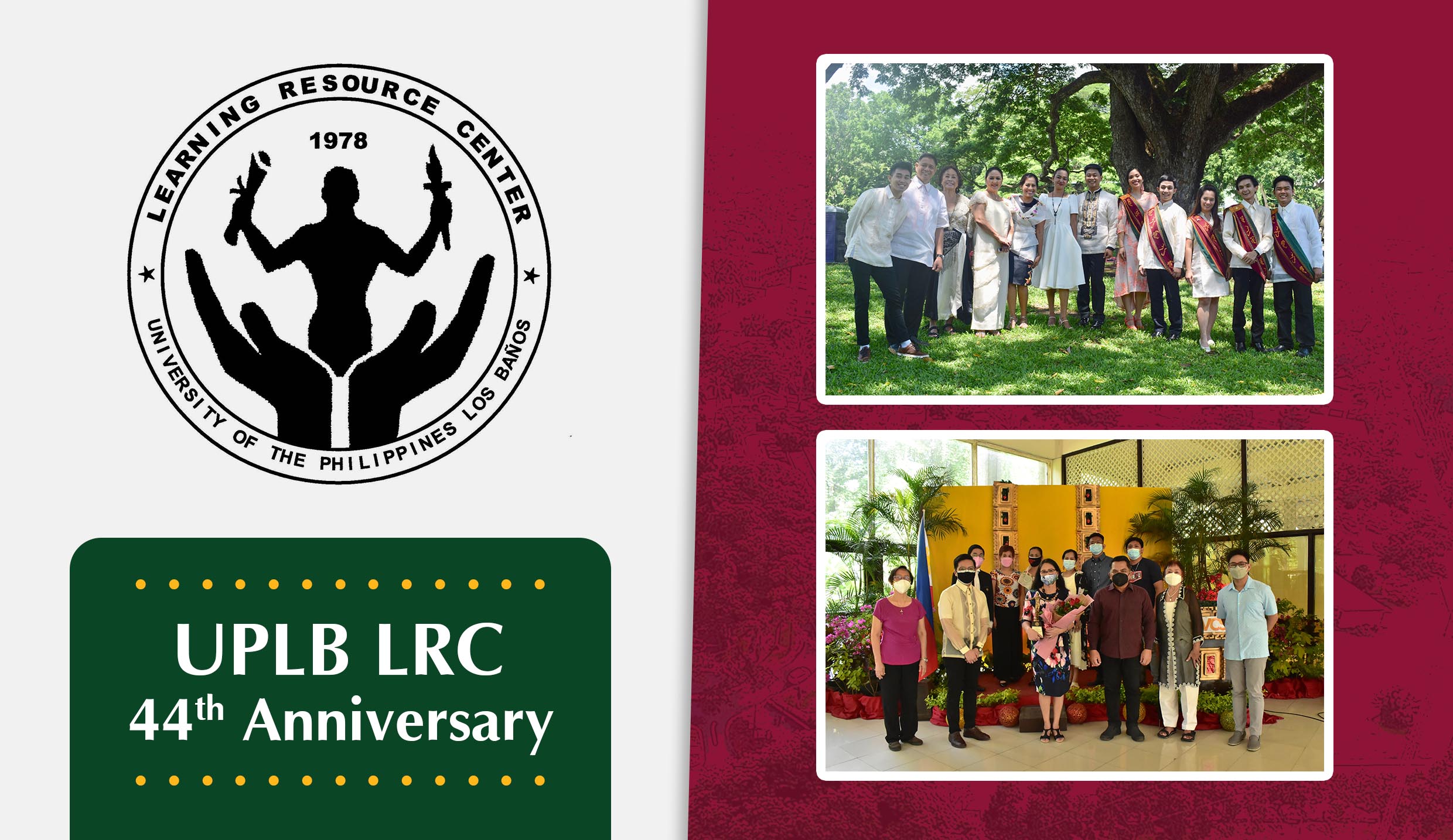 UPLB LRC celebrates 44th Anniversary
The UPLB Learning Resource Center (LRC) held a month-long celebration of its 44th Anniversary in February by holding a variety of fun activities involving students and personnel.
LRC posted weekly trivia questions about its history and programs in its social media accounts.
Testimonials from former and present scholars, tutors, social media followers, webinar attendees, UPLB faculty, and former staff were shared during the celebration. The LRC also received video messages from university officials and former directors.
Chancellor Jose V. Camacho, Jr. extended his congratulations to LRC and underscored the importance of LRC's services in providing academic support to UPLB students through the Agricultural and Rural Development Scholarship (ARDS), Bridge Program tutorials, customized training sessions, and other student-centered programs.
Chancellor Camacho said that LRC quickly adjusted during the pandemic and was able to provide a wealth of information in the form of webinars covering a variety of topics such as academic and professional development and mental wellness.
Professor Emeritus Virginia C. Cuevas, who once served as director of the UP System LRC, likewise expressed her wishes for the Center to have more productive years of innovative learning assistance to UPLB students.
A message was also given by the Office of Public Relations Director Mark Lester M. Chico who served as LRC director from 2014 to 2017. Director Chico led LRC's elevation from the then Learning Resource Program, of which he was coordinator from 2012 to 2014.
He expressed his excitement for the many achievements that LRC will make in the coming years. "I am so happy and honored to be part of our service to our students as they achieve academic excellence," he said.
UP Scientist and Professor at the College of Development Communication, Dr. Benjamina Paula G. Flor, LRC director from 2017 to 2021 also sent her greetings to LRC.
According to her, the four and a half years she spent as administrator of LRC was very satisfying.
"Work at LRC is just like play. A small group of five including me had accomplished so much. Without that family factor, it would have not been possible or that rewarding," Dr. Flor said.
She also expressed her delight at other LRC units within the UP System who look up to UPLB LRC because it has established good practices as shown by various programs and services.
UPLB LRC was established in June 1978 in conjunction with the implementation of the ARDS Program.
In 2014, the UP Board of Regents extended the Center's mandate to further promote academic excellence not just to local undergraduate students, but also to international undergraduate and graduate students.
LRC continues to implement the following programs: ARDS, Bridge Program, Recruitment of the Best and the Brightest, Together Everyone Achieves More or TEAM Learning Sessions, Providing Learning Alternatives to the Youth, Exchange Students' Challenges Experienced and Lessons Learned, and LRC C.A.R.E.S. or Creative Activities, Recreational and Educational Resources.
LRC also offers customized training sessions for personnel and students. (Sheryl Edd P. Hermosa-Ebron & Joshua Michael G. Jonas)