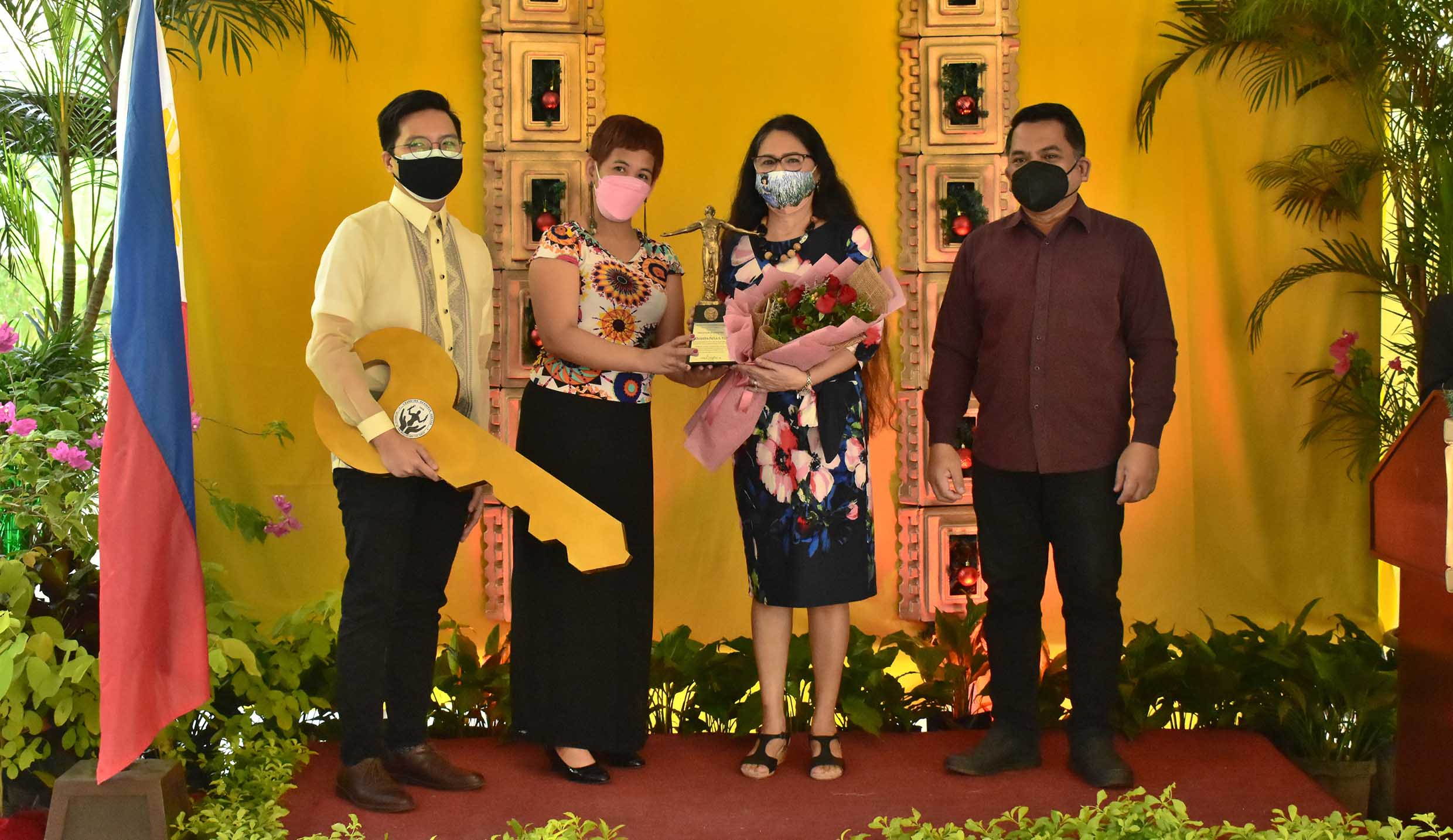 UPLB LRC is now under OVCSA
The UPLB Learning Resource Center (LRC) is now under the supervision of the Office of the Vice Chancellor for Student Affairs (OVCSA).
The transfer from the Office of the Vice Chancellor for Academic Affairs (OVCAA) to OVCSA was formalized in a turnover ceremony held last Dec. 23 at the lobby of the Student Union building.
A parallel turnover ceremony for LRC director, from Dr. Benjamina Paula G. Flor to John Mervin L. Embate, assistant professor at the College of Development Communication (CDC), was also held during the program.
University officials and people who prominently figured in the establishment of LRC, or in whose lives LRC played a role, participated in the event.
They were led by Chancellor Jose V. Camacho, Jr. who thanked LRC for serving as his "home within a home away from home" when he was just a student of UPLB and a scholar of the Agricultural and Rural Development Scholarship Program (ARDS).
Chancellor Camacho thanked the present and previous administrators of LRC for their unwavering support and initiatives for ARD scholars and UPLB students.
He recognized Public Relations Director Mark Lester M. Chico, who served as Learning Resource Program Coordinator from 2012 to 2014 and then LRC director from 2014 to 2017, for leading the elevation of LRC back into a Center from a Program under the then Office of Student Affairs. He also acknowledged Director Chico's efforts in spearheading the building of LRC's own office at the ground floor of the Student Union Building.
Chancellor Camacho likewise honored Dr. Flor for her dedication and service particularly for instituting Learning Life Skills, a daily meal program for ARD scholars and LRC tutors, and for offering LRC programs online especially at the onset of the pandemic.
He said that he looks forward to LRC and OVCSA embarking on providing necessary and possible support services and programs to aid students in realizing their personal and professional aspirations.
National Scientist Emil Q. Javier, former UP president and UPLB chancellor, reminisced in his message how the Center became valuable to students over the years.
It was during his term as UP president when LRC was institutionalized across all UP campuses with UPLB LRC as model.
He said that LRC became a favorite learning hub or "tambayan" of UPLB students. He expressed his hopes for the Center to continue to be effective and productive even under new circumstances.
A message was given by Dr. Maria Cynthia Rose B. Bautista, UP vice president for academic affairs, stressing the importance of LRC.
"The turnover of the baton of leadership from one dynamic director to another is extremely heartening for me because it reflects the significance UPLB is giving to the Learning Resource Center and the students who will benefit from its programs," VP Bautista said in her message.
Richard Philip A. Gonzalo, UP assistant vice president for student affairs, also delivered a message where he said that the LRCs were created in the UP campuses to develop learning assistance programs and promote academic excellence in a caring and nurturing environment.
As part of the student affairs family, he ensured his utmost support to LRC's endeavors.
Academician and Professor Emeritus Dr. Virginia C. Cuevas who also served as former UPLB and UP System LRC director, provided a brief history about the Center.
She aligned the history of the Center, established in June 1978, with the implementation of the ARDS Program, which was created in October 1977 through Presidential Decree 1209.
According to her, the role of the Center is to supplement, complement, and coordinate all learning assistance programs in each UP campus to ensure that the goal of promoting academic excellence is realized.
Dr. Flor, the outgoing director and also the OIC dean of CDC delivered her turnover speech through a poem, narrating her journey and experiences as director of the Center.
She thanked her team as well as the many friends and benefactors she met at LRC.
She emphasized the importance of the care and nurture the Center must continue to provide for ARDS scholars and other UPLB students and stakeholders whom the Center serves through its programs and services.
After her speech, Dr. Flor presented a mock-up key to symbolize the bequeathal of leadership and responsibility as LRC director to Embate.
Chancellor Camacho and Vice Chancellor for Student Affairs Janette H. Malata-Silva awarded an oblation statuette to Dr. Flor for her invaluable service as director of LRC from 2017 to 2021.
In his acceptance speech, Embate acknowledged the people involved in the learning initiatives of LRC, including its previous administrators, friends, and benefactors.
He assured LRC's continued support to future proof UPLB, emphasizing what he referred to as three sources of strength and opportunities: the changing landscape of Learning, the overflowing Resources from partners and friends, and the drive to serve students, which lies at the Center of its existence.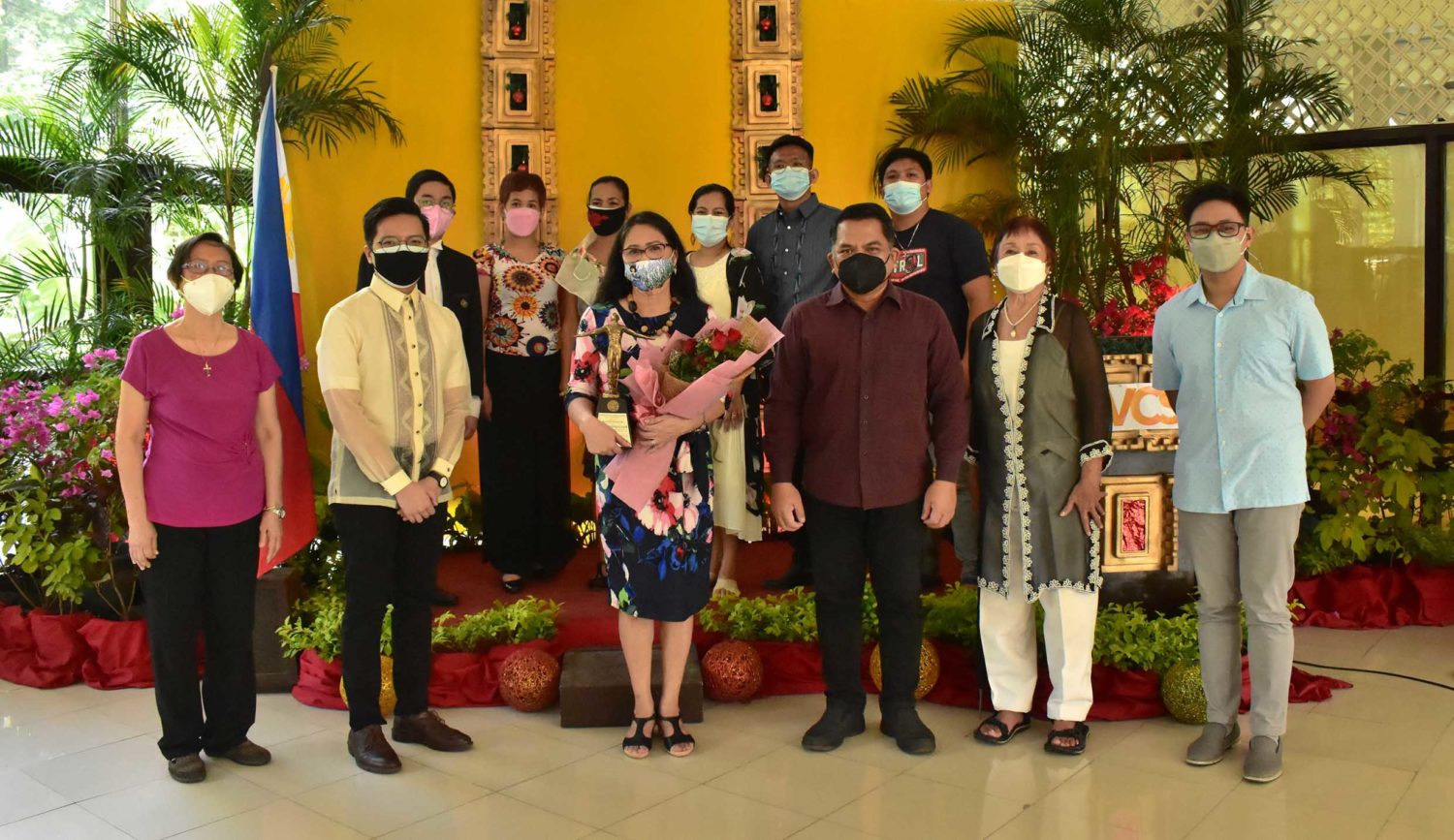 Also at the event were Dr. Dahlia Aspillera, a benefactor of LRC, former LRC directors, OVCSA officials and personnel, CDC faculty members, LRC staff, and guests.
Dr. Malata-Silva welcomed LRC to its new "home" in her welcome remarks at the beginning of the program.
She expressed confidence in LRC being able to support and complement the mandate of OVCSA in providing centralized academic enhancement and support activities to UPLB students.
Jickerson P. Lado, assistant to the vice chancellor for student affairs and director of the Office of Scholarships and Grants closed the program by thanking guests and the people behind the success of the turnover ceremony.
He expressed his excitement as "LRC journeys together with OVCSA."
The transfer of LRC from OVCAA to OVCSA is pursuant to Administrative Order No. 399 Series of 2021 of the Office of the Chancellor issued on Dec. 1, 2021.
A recording of the ceremony may be accessed at the OVCSA Facebook Page. (Joshua Michael G. Jonas)