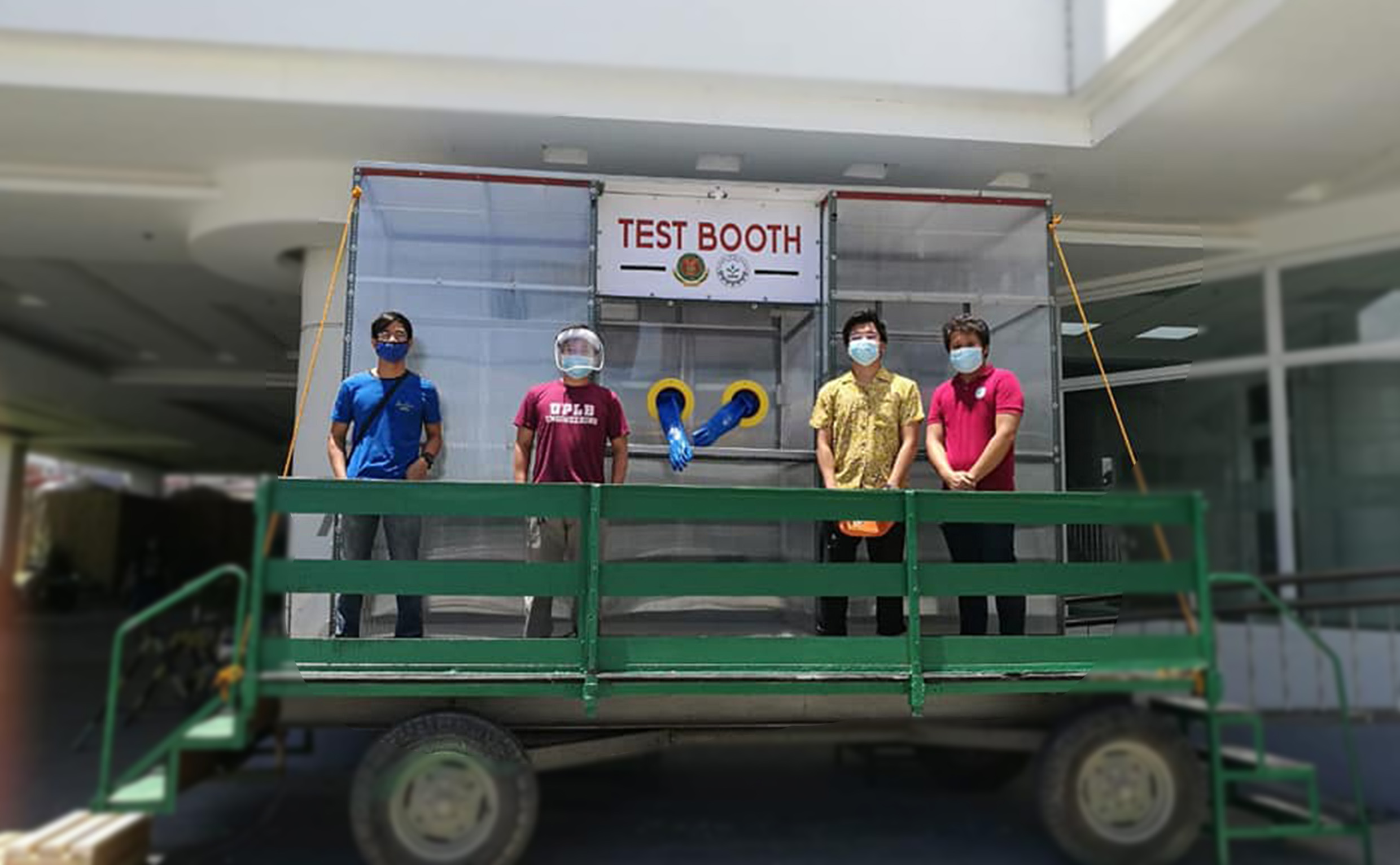 UPLB makes upgraded COVID-19 swabbing booth
Swabbing booths for COVID-19 testing have become imperative to protect the lives of medical frontliners who collect sample specimens from suspected and probable patients.
As the university moves to help alleviate the shortage of medical equipment and materials that has severely crippled operations in hospitals, it has identified the making of swabbing booths as one of the priority outputs of the UPLB Task Force LB Kontra COVID-19.
In particular, a team under the task force's Technology and Facility Innovation Committee has designed a swabbing booth that helps address this problem, as well as other issues such as storage, documentation, and mobility.
The swabbing booth, a working prototype of which was delivered to Healthserv Los Baños Medical Center on May 14, has a three-section system to correspond with the swabbing process.
The first section is where the medical technician interviews and verifies the patient, and records their information.
The patient would then proceed to the second section manned by another health worker who will conduct the actual swabbing using the booth's built-in gloves to avoid physical contact while getting the nasopharyngeal and oropharyngeal swabs.
The collected samples would then be transferred to the unmanned third booth for cold storage while awaiting transport to a testing center.
The booth has the following features: a physical barrier between the medical technician and the patient, built-in gloves, built-in system for ventilation, disinfection, infectious waste disposal, proper storage system for collected samples, and an integrated data management system for the administration and labeling of samples.
According to Mark Anthony Baldoz, faculty member at the Industrial Engineering Department of the College of Engineering and Agro-Industrial Technology who led in its design and fabrication, the booth is constructed from polycarbonate materials, acrylic, and stainless steel.
Since it is sealed, pressurized, and well-ventilated, health workers can forego the use of full personal protective equipment, Baldoz noted.
It can also be mounted on a trailer for mobility should it be needed to be transported to other places.
Due to it being a working prototype, some features such as the paired smartphone app meant to streamline the patient interview and verification process, and lapel microphones and speakers to facilitate communication are not yet available.
Baldoz, however, said that the prototype was fully functional and could immediately be used for sample collection.
Healthserv Los Baños Medical Center through its chief medical officer, Dr. Rhodora Ocampo, requested UPLB to make the swabbing booth.
According to Baldoz, the utility model and industrial design for the upgraded swabbing booths are already in the works.
Baldoz further said that collaborations with local manufacturers are encouraged to promote and mass produce the technology, as well as, to foster job generation amidst the pandemic.
For collaboration requests and technology licensing, interested parties may contact the UPLB Office of the Vice Chancellor for Research and Extension and UPLB Technology Transfer and Business Development Office, respectively.
The Technology and Facility Innovation Committee also fabricates ventilator parts, disinfection chambers, face shields, ear guards, intubation boxes, and even ventilated bed hoods upon request.
The members of the team that fabricated the swabbing booth are Dr. Ralph Gallegos, Kathleen Baldoz, Lizbeth Mariano, Engr. Stephanie Landicho, Engr. Mikel Angelo Yap, Christian Vaso, Engr. Alvin Joseph Dolores, and Kimjay Rosano, all faculty members of CEAT.
CEAT's Center for Agri-Fisheries and Biosystems Mechanization (BIOMECH) also provided technical assistance along with Dr. Victor Rodulfo, Dr. Omar Zubia, Engr. Jonathan Orozco, and WHO consultant Christine Ceblano.
Materials for the trailer bedding were provided by the University Planning and Maintenance Office through its director, Dr. Marloe Sundo, while materials for the booth fabrication were provided by BIOMECH, the IE department, and from donations and contributions of the team members. (Albert Geoffred B. Peralta)
Aligned with our commitment to: