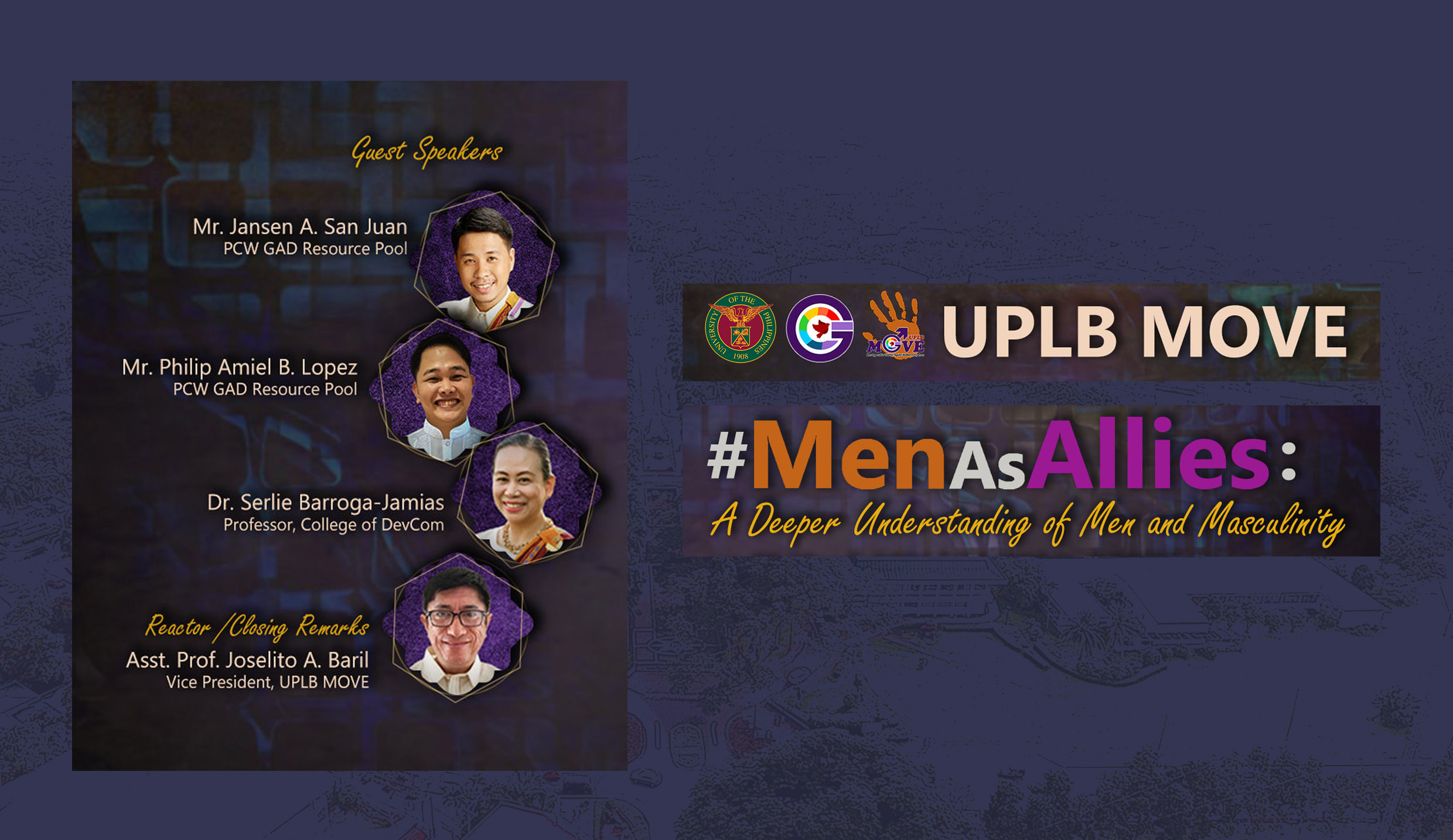 UPLB MOVE shows how "Men are Allies" via online symposium
UPLB Men Opposed to Violence Against Women Everywhere (MOVE) hosted an online symposium titled, "Intersection: Men are Allies," on March 25.
The event was a venue to learn from three speakers: Philip Amiel B. Lopez, project development officer and regional gender and development officer of the Pantawid Pamilyang Pilipino Program at the Department of Social Welfare and Development Field Office Region IV-A; Jansen A. San Juan, member of the CALABARZON Gender and Development Resource Pool under the National Economic and Development Authority and member of the National Gender and Development Resource Pool of the Philippine Commission on Women; and Dr. Serlie Barroga-Jamias, faculty member at the Department of Development Journalism of the College of Development Communication and chair of the UPLB Anti-Sexual Harassment Council concurrent to her position as then vice chancellor for community affairs of UPLB from 2014 to 2020.
Lopez, as the first speaker, discussed the topic on different types of masculinity. In his presentation, he discussed the importance of gender equity, and how men are also stakeholders in the conversation. Lopez highlighted the benefits of caring masculinity, how men are entitled to express emotions, and how it benefits different aspects of relationships.
San Juan covered the issues and challenges of cisgender and transgender male in the society. He cited the burdens brought about by old ways of thinking of what a man should be. For cisgender male, it is the pressures from the expectations of the society that can cause insecurity and depression, while for transgender male, it is the discrimination and the lack of support system that takes a toll on their psychological and mental health.
Jamias shared real-life stories and interviews of couples benefiting from harmonious relationships brought about by their shared gender roles. During her talk, Jamias also shared how the media can play a role in gender-equity in the county and how men can be allies through socialization.
MOVE spearheads trainings and campaigns that aim to end all forms of violence against women in the UPLB community. Attending the event were Vladimir Amatorio, and Joselito A. Baril, president and vice president of UPLB MOVE, respectively; Atty. Eric Paul Peralta, director of the UPLB Gender Center, as well as UPLB staff and MOVE members. The event, moderated by MOVE member Raymand Cabrera, also served as the venue for The He for She Symposium and is available online at the UPLB MOVE Facebook Page. (KEAraguas)